Bike taxi service Bikxie launches cashless payments with MoboMoney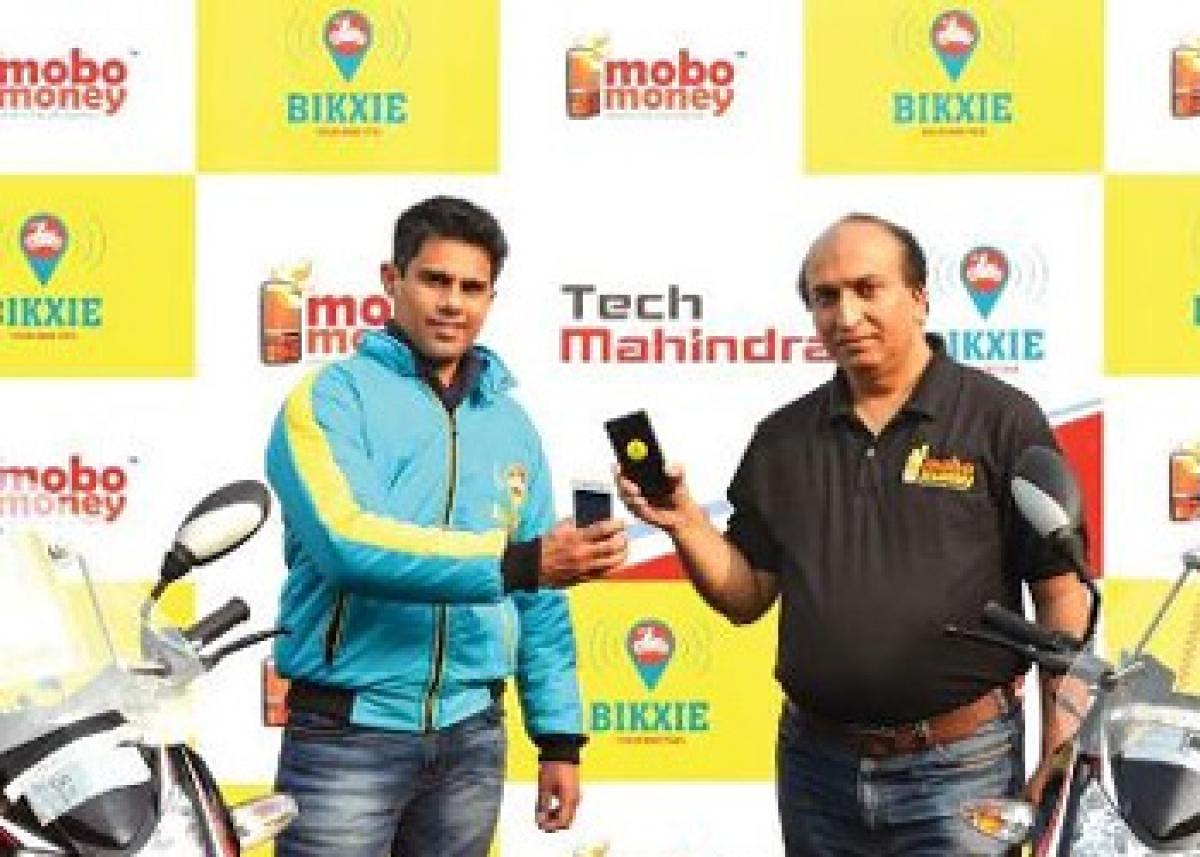 Highlights
Bikxie, the two-wheeler taxi service provider has exclusively tied up with MoboMoney to offer cashless rides to its passengers.
New Delhi : Bikxie, the two-wheeler taxi service provider has exclusively tied up with MoboMoney to offer cashless rides to its passengers.
An innovation from Tech Mahindra, MoboMoney is a first-of-its kind 'Tap and Pay' digital payment solution. It serves as an offline wallet and can be used even by commuters not having the mobile app or a smart phone.
Bikxie will offer free MoboMoney tags to its users from designated centres in Gurgaon which can be further used to make payments via NFC devices carried by Bikxie drivers.
Along with its safe, quick and cost-effective two-wheeler taxi service, the company has now made paying for this service fast, simple and cashless, thus revolutionising the daily commute experience of travelers in India.
Using a MoboMoney tag is convenient and completely secure. The data in each transaction is protected by a unique encryption which offers added assurance to users. Customers can recharge/top-up the tags either through an app or by giving cash at designated centres with amounts ranging from Rs 10 to Rs. 10,000.
Speaking on the tie-up with MoboMoney, Mohit Sharma, Co-Founder and Chief Executive officer, Bikxie, said: "This association brings together the synergies of two brands, Bikxie and Tech Mahindra, committed to elevating the daily interactions of Indians. With the MoboMoney tag, Bikxie users simply have to hop on to their two-wheeler taxis without any worries of carrying their wallet or exact change, etc. During rush-hour, travellers often end up spending precious minutes haggling with rickshaw and auto drivers or scrambling for change. This tie-up seeks to completely eliminate such inconvenience and make daily rides more convenient. We are looking for a long term strategic association with MoboMoney."
Vivek Chandok, Head - Consumer Business, Tech Mahindra Limited sai: "Tech Mahindra, as part of its strategy to drive Digital Payments adoption in India, is looking for partnerships that leverage technology and go-to market alliances. We aim to significantly expand the offline payment ecosystem by eliminating all barriers in the payment experience. The core values of MoboMoney and Bikxie are fully aligned - we both offer technology-based solutions to critical problems. While Bikxie solves the issue of last-mile connectivity, we are here to help consumers tide over the problem of petty cash and ensure faster and seamless transactions."
Bikxie is a reliable and cost-effective two-wheeler taxi service based in Delhi-NCR. The on-demand service, currently available in Gurgaon, aims to eliminate the problems of last mile connectivity in the city and gradually across the country.
While Bikxie services are available through an app, commuters can also hail the two-wheeler taxis from metro stations, malls, popular markets, housing complexes and universities. Every ride on Bikxie is tracked and comes with the guarantee of utmost safety which makes it the most viable choice for commuters.
Subscribed Failed...
Subscribed Successfully...