Chandrababu Naidu's fight is only to keep up value of his lands: CM YS Jagan Mohan Reddy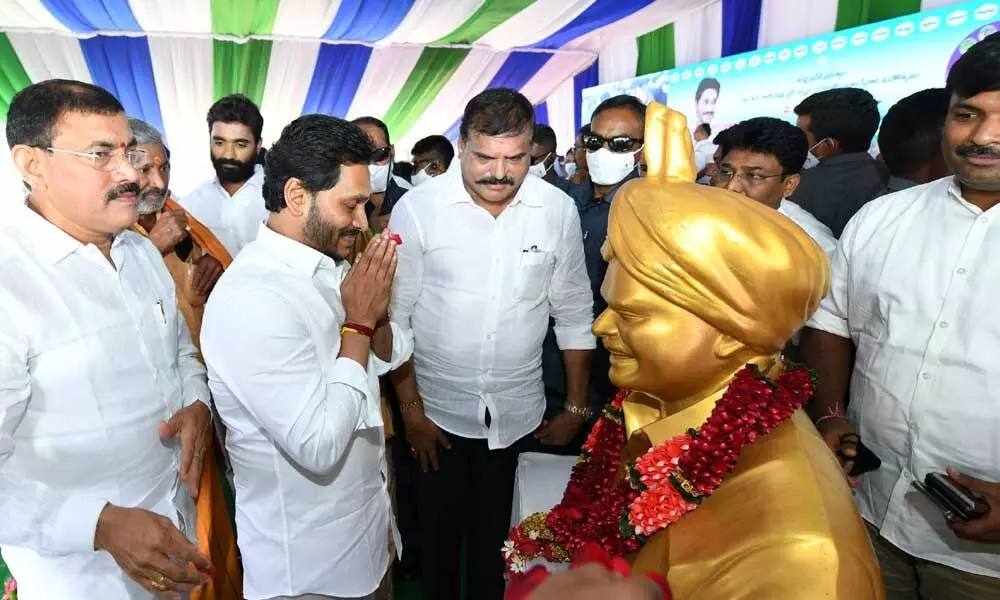 Highlights
Referring to Amaravati agitation, Jagan says during BC Sankranti meet that Naidu is fighting for the lands he acquired through nefarious means and insider trading
Narrates a slew of welfare schemes aimed at benefiting Backward Classes, which he says, are Backbone Classes
Vijayawada: Taking a dig at TDP chief and former chief minister N Chandrababu Naidu, Chief Minister YS Jagan Mohan Reddy said while the empowerment of BCs was going on here, a parallel meeting was being organised by the "rejected Chief Minister" with a narrow mind to safeguard his interests and that of his coterie to keep up the value of land, acquired by "nefarious means" including insider trading. He was referring to the meeting of Amaravati Joint Action Committee held in the capital region marking one year of agitation against the capital shifting.
He said the broad-mindedness of their government in empowering BCs, whom they consider as Backbone Classes, stands in contrast to the meeting of Chandrababu Naidu, he said in a passing remark while speaking at the swearing ceremony of newly appointed chairpersons of BC corporations here on Thursday.
Listing out the number of schemes one by one with full data like total amount spent, total beneficiaries and sub-total of BC beneficiaries and the amount spent on them, the Chief Minister said in a lighter vein that the list of schemes is so long that no one else can remember all the names drawing peals of laughter.
Listing out the welfare schemes, he said, towards Amma Vodi, the government had spent Rs 6,500 crore to benefit 82 lakh students and 43 lakh mothers, of which 19.66 lakh are BCs. Similarly, under Rythu Bharosa, Rs 13,500 is being given to 50 lakh farmer families by spending Rs 6,750 crore and of them, 23.69 lakh are of BC community. Under housing for the poor, the government will be distributing over 31 lakh house site pattas on December 25, of which 15.92 lakh women beneficiaries are from BC community and of the total 2.62 lakh TIDCO houses, 1.53 lakh houses are going to be given for BCs. Under YSR Nethanna Nestham, nearly 81,000 families were benefited by receiving Rs 384 crore and all are BCs.
Through YSR Matsyakara Bharosa 1.07 lakh BC families, Jaganannna Chedhodu 2.27 lakh BC families, Aarogyasri 5.24 lakh BCs, Aarogya Asara 1.38 lakh BCs, Pension Kanuka 30.27 lakh BCs and Aasara 42.60 lakh BC women have been benefitted.
Deputy Chief Minister Dharmana Krishnadas, Amzath Basha, ministers Peddireddi Ramachandra Reddy, Chelloboyina Venugopala Krishna, Botcha Satyanarayana, Gummanuru Jayaram, P Anil Kumar Yadav, M Sankara Narayana, Muttamsetti Srinivas, Vellampalli Srinivas, Kodali Sri Venkateswara Rao, Perni Venkataramaiah alias Nani, Kurasala Kannababu, Audimulapu Suresh, Seediri Appalaraju, MPs Pilli Subhash Chandra Bose, Mopidevi Venkataramana, Gorantla Madhav, Margani Bharat, MLA Janga Krishna Murthy, Pondicherry minister Malladi Krishna Rao, and other leaders and party members were present at the event