Jana Sena lambasts government in Vijayawada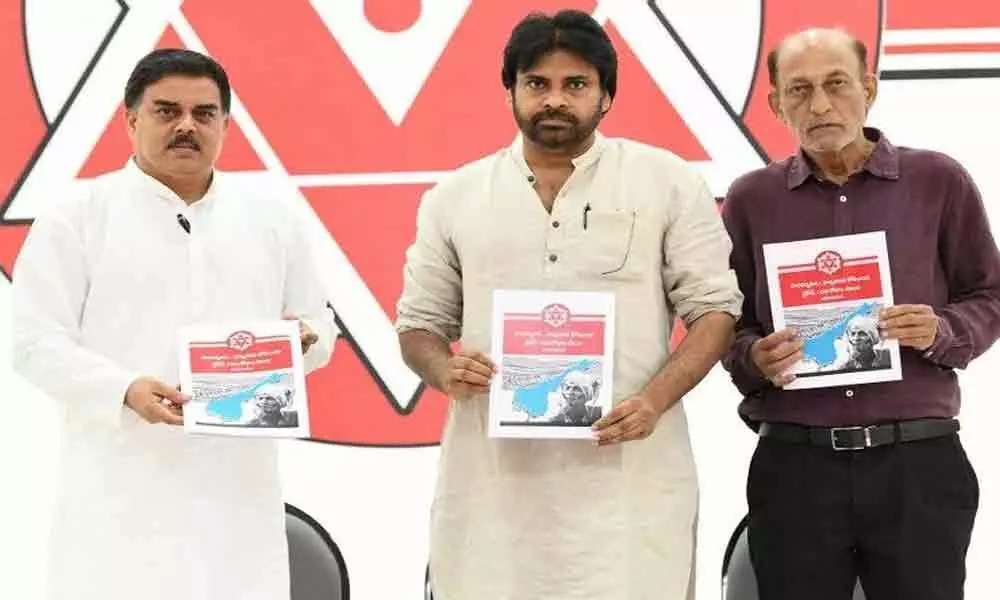 Highlights
Jana Sena chief Pawan Kalyan on Saturday released a 33-page report.
Vijayawada: Jana Sena chief Pawan Kalyan on Saturday released a 33-page report. terming the State government as anti-people. The ruling party has been announcing the schemes only to mislead the people, but it has failed to fulfil the election promises.
The report further said there is no transparency in the government's policies and their implementation. Jana Sena's main aim is to expose the lapses after carefully examining the facts, he said. The report was not merely intended to criticise the government, he explained.
Pawan Kalyan said nearly one lakh building workers had be deprived of their livelihood because of scarcity of sand. The illegal sand mining being carried out by the MLAs was one of the reasons for the defeat of the previous TDP government.
He recalled that the YSR Congress government came to power by assuring the people that the illegal business in sand would be brought to an end. But there was no transparency in the present sand policy, he regretted.
The State was already reeling under 2.58 lakh crore debt burden. Additionally, Rs 50,000 crore are required to implement the Navaratnalu schemes. How the government would mobilise the funds, he asked.
There was no information about the economic situation in the Chief Minister's dashboard. The State government cancelled the Power Purchase Agreements (PPAs) violating the Centre's guidelines. The investors would lose faith in the government, he said.
He said the people entertained doubts about the government's move on Machilipatnam port. The people harboured suspicion that the government was trying to hand over the port to the Telangana government.
The government's actions, he said, would lead to loss of lakhs of jobs and investment in ports. He found fault with the YSR Congress leaders for humiliating the Kia Motors Chief Executive Officer with their attitude.
He said the government had stopped the works on Polavaram project and also the construction of Amaravati capital city. The Asia Pulse and Paper Mills Company was shifting its proposed unit from Prakasam district to Maharashtra. The State had lost nearly Rs 25,000 crore worth of investment and lakhs of jobs, he said.
Saying that the ruling party had accused the TDP of making Rs one lakh crore corruption, the actor-turned politician wondered whether the government could unearth the illicit money and put it use for development of the State. The government promised four lakh jobs. But the workers of YSR Congress had been appointed as village volunteers, he said.
The government, he said, had failed to control Krishna floods when the Rayalaseema districts were starved of water. The Misters went round the former Chief Minister's residence.
He said that the government failed to solve farmers' problems and provide basic amenities to students in schools. Jana Sena leaders Nadendla Manohar and A Khan were also present.