Vizianagaram: Agri research station bags award for millet research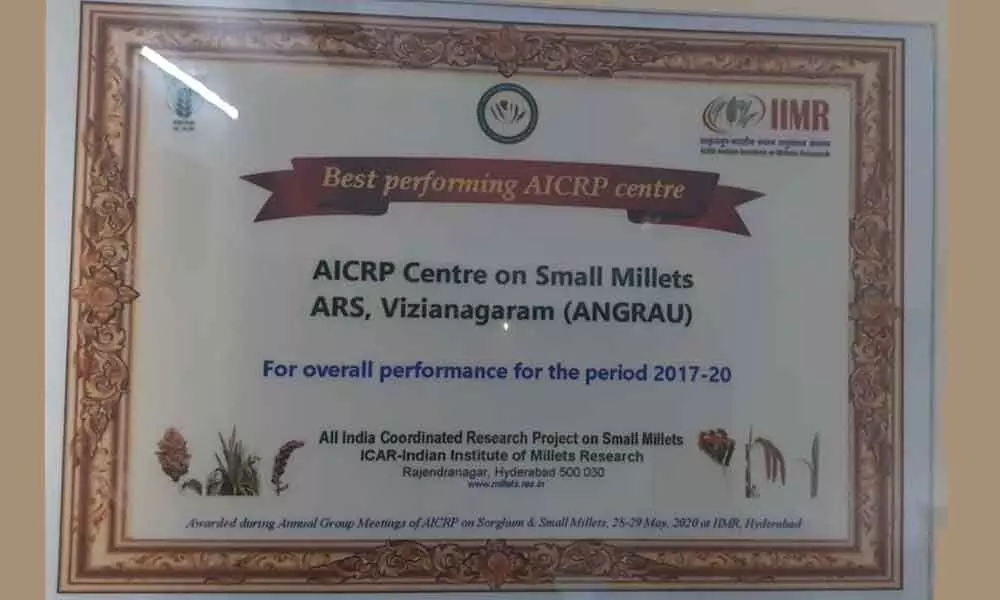 Highlights
ICAR Director General Dr Trilochan Mohapatra announces the award from Hyderabad for inventing new varieties of ragi which are rick in iron and zinc
Vizianagaram: Agricultural Research Station of Dr N G Ranga Agricultural University here received Best Research AICRP Award from Indian Institute of Small Millets, a body of ICAR (Indian Council of Agricultural Research) for the years 2017-20. This is for the fourth in a row that institution got the honour.

In 2016-17 too this institution was selected for the Award. ICAR director general Dr. Trilochan Mohapatra announced this in a virtual conference from the Indian Institute of Small Millets Research campus at Rajendra Nagar, Hyderabad.
Vizianagaram-based research station is got national recognition by inventing two new varieties of ragi called Vegavathi-(VR929), Indravati-(VR1101) which have more nutritional values in terms of iron and zinc. This research station also prepared new varieties like Suvarna Mukhi-(VR988). The scientists working in this research station published at least 25 articles in national and international journals about millets. Principal scientist of this Agricultural Research Station Dr T S S K Patro said that efforts of their scientists Dr N Anuradha, (plant breeding), Dr Y Sandhya Rani (soil scientist), Dr U Triveni, Dr M Srinivas made them proud.