World Environment Day 2020: Brother-Sister Duo Sitara And Gautam Plant Saplings On This Environment Day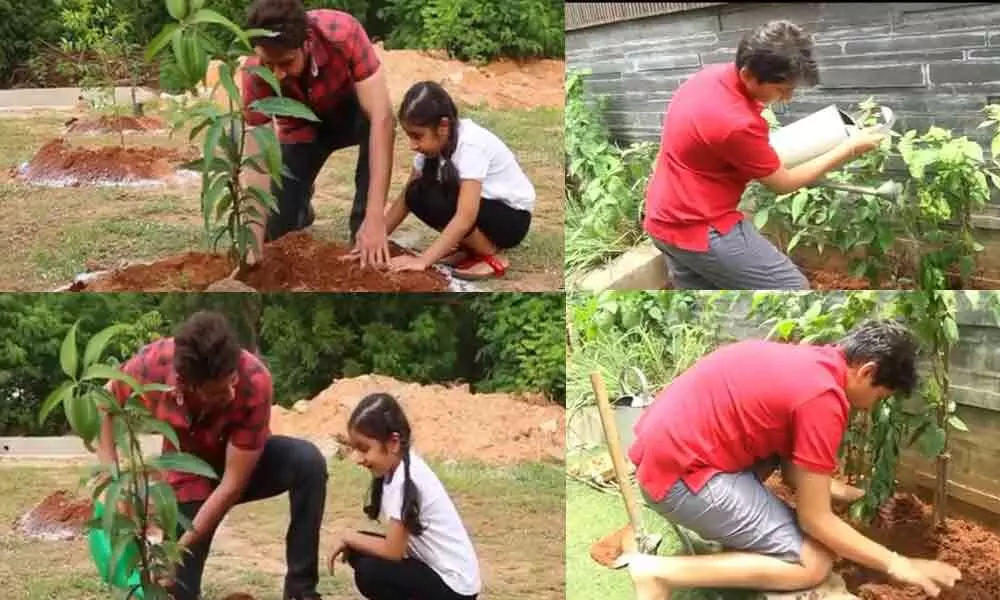 Highlights
Tollywood Prince Mahesh Babu and his dear wife Namrata always stay ahead in responding on social issues.
Tollywood:
Tollywood Prince
Mahesh Babu
and his dear wife Namrata always stay ahead in responding on social issues. Today being
World Environment Day
, this couple stated that nature and we are interlinked by urging their fans to protect nature with their social media posts. Even their children Sitara and Gautam posted the videos plating trees on their social pages. They both took to their Instagram accounts and dropped the videos of watering plants.
We Hans India have collated the posts of Mahesh, Namrata, Sitara and Gautam and presented it for our readers… Have a look and get inspired!!! Do plant a tree and lend your hand to protect the mother nature…
Mahesh Babu
Through this post, Mahesh Babu shared the post of UN which reads #For Nature… He also shared a quote of Dalai Lama "It is our collective and individual responsibility to preserve and tend to the environment in which we all live. - Dalai Lama" (sic) Underlining the importance of creating a healthy ecosystem, he added, "Nature and us, we're interlinked. By protecting nature we're protecting ourselves. These challenging times have exposed the vulnerability of human life, for us to survive well, it's important to create a healthy & balanced ecosystem."
Mahesh also urged his fans to protect nature through this post… "While we all stay home safe, let our voices be heard. Let our actions and words be the change. The future of humanity depends on us! ‬Save water, save trees, save electricity, reduce carbon emissions, save forests, save our oceans, save animals! Choose what's important to you! Start today! Let's do this together! This #WorldEnvironmentDay, It's time #ForNature.
Namrata Shirodkar
Namrata also urged her fans to save nature and jotted down the importance of mother nature through her post. Going with the image of Earth, she stated that "Be The Change You Wish To See In The World". Alongside this post, Namrata has penned down a note and made her fans know the importance of nature…
"2020 has been an awakening! It's our Mother Earth trying hard to reach out to us!!! Maybe she's trying to tell us something! It's time to listen... We need to take care of her a little more... Show her much love, be kind to her children, the seas, the trees, the skies... We need to devote a little time from our everyday lives towards her so she can heal. We have to be kind and gentle to her. All the answers lie with us and the way we live!! Bring about the change in this lifetime of ours so that the next few generations reap the benefits along with us! Start with anything that is important to you. Save water! Save electricity! Save trees! Save our forests! Save our animals! It's up to us to make the change! Be the change! #WorldEnvironmentDay #TimeForNature #SaveTheEarth 🌏
Sitara Ghattamaneni
This little girl is seen planting a tree and then watering it along with her father Mahesh Babu… She also urged her fans to plant more trees to save the environment.
Gautam Ghattamaneni
Even Gautam has made his fans know the importance of planting trees with this video… Along with plating a sapling, he also watered the plant and asked fans to nurture the nature…
We request all and sundry to get inspired with these videos and do at least plant a tree on this 'World Environment Day'…
Interested in blogging for thehansindia.com? We will be happy to have you on board as a blogger.