Hyderabad: Congress to launch month-long protests against Centre's farm laws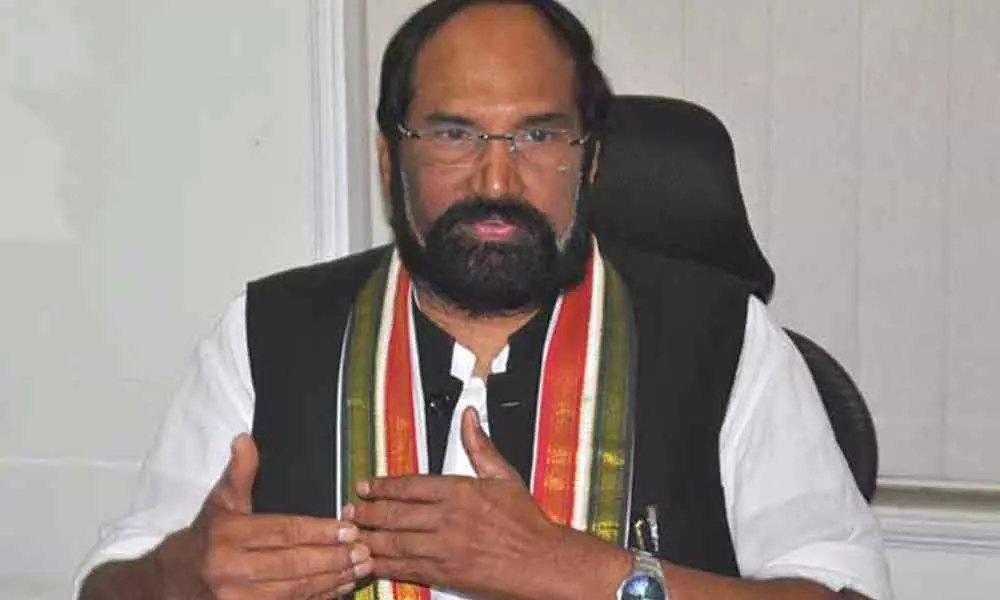 Highlights
The DCCs are asked to extend support to the other parties agitating against the 'anti-farmer laws'
Hyderabad: The State unit of the Congress party would launch a month-long agitation from September 25 against the new anti-farmer laws of the BJP government at the Centre.

Addressing the video conference with the DCC presidents on Tuesday, TPCC president N Uttam Kumar Reddy assured new AICC Incharge Manickam Tagore of active participation of the entire Congress cadre in the proposed agitation besides extending support to the protests being organised by the Left parties and other farmers' organisations. In his address, AICC incharge Manickam Tagore said that the DCCs must play an important role in the agitation against the new anti-farmer laws of the BJP government. The agitation would continue till the BJP government withdraws the controversial Bills. He alleged that Prime Minister Narender Modi was trying to hand over the entire farming sector in India to his corporate friends like Adani.
Describing the DCCs as the backbone of the party, Tagore assured that all DCCs would be given due recognition and importance. He said no major decision would be taken without consulting the DCC presidents. A new system would be put in place to incorporate the views and suggestions of DCCs in the strategy. He said various parameters would be set and DCCs would be involved in the decision-making process including the selection of candidates. He asked them to keep themselves ready for next elections in terms of infrastructure and other requirements. The AICC incharge directed the DCC presidents to begin enrolment of voters for Graduates Constituencies of Telangana Legislative Council. He also asked them to strengthen the party's organisational network at Panchayat Raj level and finalise the names of mandal presidents at the earliest. He asked the entire Congress cadre to work as a team to achieve the goal of bringing Congress to power in 2023 Assembly elections. He reminded that Congress president Sonia Gandhi had given several sacrifices to grant statehood for Telangana. Therefore, he said it should be the duty of all Congress leaders and workers to bring the party to power in Telangana.