Hyderabad: Damaged roads pile up misery on public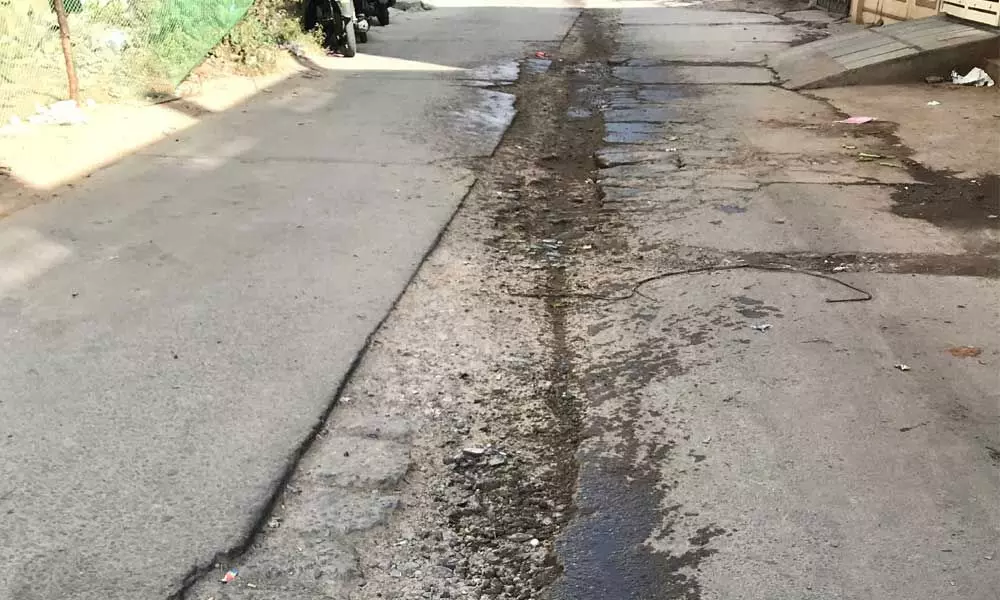 Highlights
The continuous sewerage overflow in this area is not only creating nuisance to commuters but also damaging the roads
Goutham Nagar (ward-141) which comes under Secunderabad Zone and under Malkajgiri Parliamentary constituency has a total of 52,177 voters. In the previous GHMC elections in 2016, R Shirisha (TRS) won with 13,487 votes against the nearest rival, M Shyamala (TDP) with 6,680 votes. But this time a new contestant has been fielded by TRS. Even though TDP was the runner up in 2016, this time it is believed that the major battle would be between Congress and TRS, all the bigwigs from both the parties are taking part in the election campaign. While Congress MP, A Revanth Reddy, is taking the matter with prestige and seen campaigning here regularly.
Pressing Issues

According to the locals, amongst the several issues include irregular water supply in some of the areas, even though the drinking water pipelines are well connected, and damaged roads. In few localities, the internal roads are severely damaged. Besides this, there is no proper sewage system.
"In Ekalavya Nagar, the road conditions are so bad besides the commuters suffering, in cases of emergency, even the ambulances or fire tenders would not be able to reach the destination in time. And when it rains, the sewerage overflow creates problems for both pedestrians and commuters. There is an urgent need for restoring roads and put an end to the sufferings of the locals" said V Ravi, a resident of Ekalavya Nagar.
"We have a water connection for getting drinking water. But what is the use when we don't get the water regularly and supply is for a limited number of days. This is the pressing issue currently for the residents, besides damaged roads" said R Seetha, a local.
"Sewage system needs to be upgraded, as the existing network of pipelines is unable to cater to the needs of the growing population. The continuous sewerage overflow in this area is not only creating nuisance to commuters but also damaging the roads. We complained to the concerned authorities about it, but no one has responded to this. Though the present corporator has done few developments in this division, still there is more to be done," said Siddha Ramulu, a resident of Malikarjuna Nagar.
IN THE FRAY

• Mekala Suneetha – TRS
• Chintala Anjamma – TDP
• S Santoshi - BJP
• T V Tapaswini Yadav – INC
Interested in blogging for thehansindia.com? We will be happy to have you on board as a blogger.