Hyderabad: Don't befriend burqa-clad woman, Raja Singh suggests Hindu women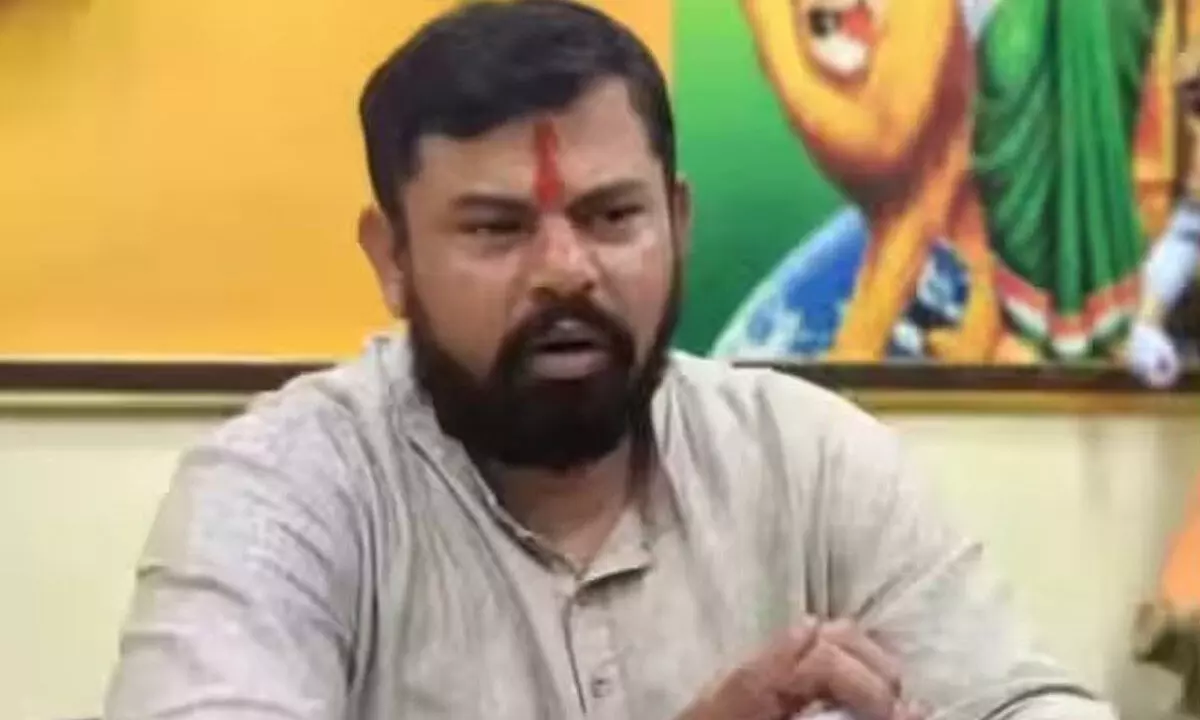 Highlights
Says earlier the Hindus were worried about Aftab and now even Ayesha has also become a matter of worry
Hyderabad: The Goshamahal MLA and the suspended BJP leader T Raja Singh has made the headlines for yet another controversial statement which would harm the communal harmony. It is learnt that in Adilabad, the MLA referring to Muslims was seen suggesting Hindu women not to befriend burkha-clad women.

"The He one who dons a tilak (mark on forehead) he is my brother, he is a Hindu, he is my friend. I will only befriend him. And my sisters, don't befriend a burqa-clad woman," said Singh.
"There was a time when we only had the threat of Aftab, but now Aisha has also become a threat," Singh added, according to a video that has gone viral on social media.
"One Ayesha makes Hindu girls meet Muslims boys. So, we should beware of them," he claims.
It is mention here that Raja Singh was suspended in 2022 August after made derogatory remarks against Prophet Muhammad. This was in response to the State government allowing comic Munawar Faruqui to hold a show in Hyderabad despite pushback from Singh and other right-wing activists.

In May, 2023, Union Minister G Kishan Reddy had said that Singh will soon be back in the BJP.
It is also to mention here that after making derogatory remarks on Prophet Muhammed which eventually disturbed the communal harmony in Hyderabad, Singh was arrested under the Preventive Detention (PD) Act, and is currently out on bail after Telangana High Court released him on conditional bail. The court placed certain conditions for his release, including not passing inflammatory comments in public (and also from holding public meetings in general).
In April, the Goshamahal MLA T Raja Singh made headlines certainly over his hate speech incidents. In such one case yet again, the Shahinayathgunj police registered a case against BJP suspended MLA for allegedly delivering hate speech during Sri Rama Navami Shobha Yatra procession taken out in Hyderabad. The case is booked under Sections 504 and 505 (2) of IPC.
In a video, T Raja Singh himself revealed a case booked against him. "One more case is booked against me in Shahinayathgunj police station. Two days ago, a case is booked against me at Afzalgunj police station. I have said nothing wrong against any religion. This the 10th case booked against me after I came out of jail after High Court set quashed the PD Act detention" said Raja Singh.
The MLA said he is only reiterating the demand for Hindu Rasthra. "Is it wrong to demand. I am speaking about current issues like love jihad, conversions and cow slaughter. What wrong am I speaking and it can be construed as hate speech," Raja Singh asked. He further asked, "I want to know if Telangana is part of India or Pakistan. I am asking the Chief Minister K Chandrashekar Rao."