Hyderabad: Sonia lauded for services to nation says Uttam Kumar Reddy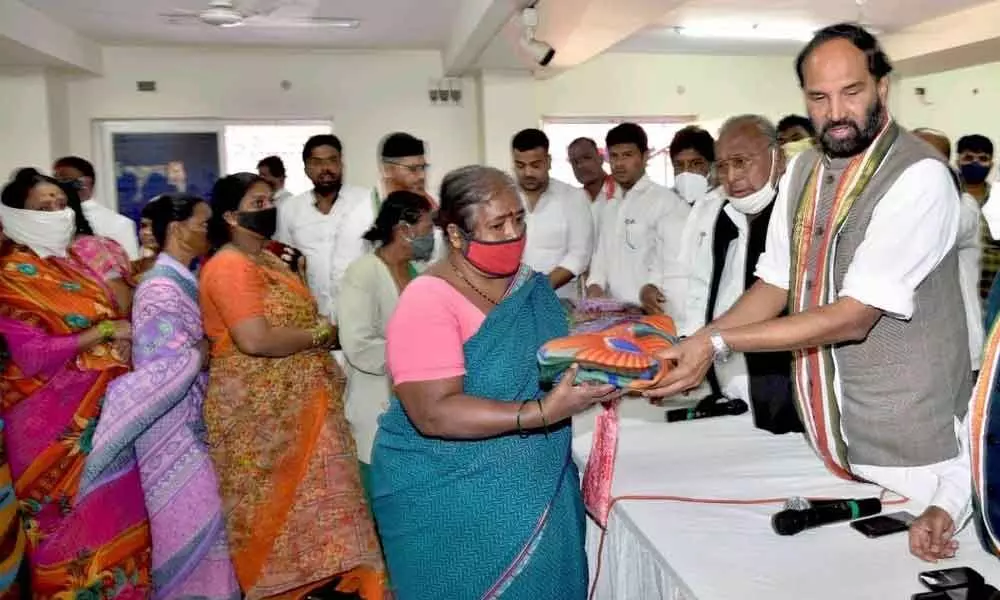 Highlights
PCC president N Uttam Kumar Reddy on Tuesday said that the party's national president Sonia Gandhi had done a lot of services to the country
Hyderabad: TPCC president N Uttam Kumar Reddy on Tuesday said that the party's national president Sonia Gandhi had done a lot of services to the country. He also said that the family members of Sonia Gandhi had sacrificed their lives in the service of the nation. He made these remarks while addressing a gathering of the party workers on the occasion of the 74th birthday celebrations of Sonia Gandhi held at the party's state headquarters, Gandhi Bhavan. He cut a cake in the presence of the party leaders. Reddy also distributed sarees to the women on the occasion.
Speaking on the occasion, he said that the people of the state were living in Telangana state thanks to Sonia Gandhi. He added that Sonia Gandhi was solely responsible for the formation of the Telangana State and added that she had fulfilled the 60-year-long dream of the people of the state. He said that they were holding social service programmes in the State to celebrate the party president's birthday. Party leaders such as CLP leader Mallu Bhatti Vikramarka, former PCC president Ponnala Laxmaiah and VH and others took part in the celebrations.
Former Minister & ex-Leader of Opposition in Telangana Legislative Council Mohammed Ali Shabbir said that Sonia Gandhi has empowered the poor and common citizens of India by enacting several legislations as the chairperson of Congress-led United Progressive Alliance (UPA) from 2004-2014. He was speaking after distributing blankets among 500 poor people at Kamareddy District Congress Committee office on the occasion of the 74th birthday of AICC President Sonia Gandhi on Wednesday. The blanket distribution was organised by Shabbir Ali Foundation.
"Telangana would not have been a reality without Sonia Gandhi. We will remain indebted to her throughout our lives for turning a 60-year-old dream into a reality," he said adding that Sonia Gandhi gave a huge political sacrifice of losing power in both Andhra and Telangana just to honour her words.
Shabbir Ali said that the Congress party was not celebrating Sonia Gandhi's birthday this year at a grand scale as the AICC President herself has directed the cadre to help the poor instead of wasting money on celebrations.