Visakhapatnam: Covid hits gym operators hard, seek govt nod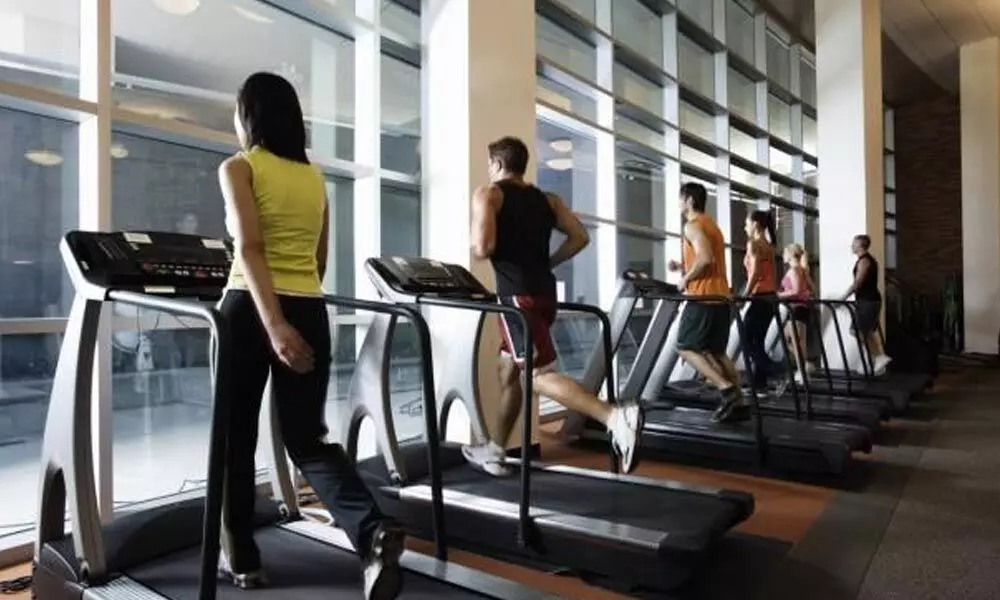 Highlights
Gymnasium operators approach Tourism Minister M Srinivasa Rao and seek permission to open the facilities and promise to follow the social distance rules
Visakhapatnam: One of the ways to fight against Covid-19 is to enhance the immunity level and regular exercising is a means to improve metabolism.

However, with the shutters of the fitness centres and gymnasiums remaining closed for the past three months, fitness freaks are finding it hard to work out on a regular basis as they tend to skip their daily routine.
Meanwhile, gym owners find it hard to stay afloat as the maintenance costs continue to mount. Approximately, there are over 200 gyms in Visakhapatnam and many of them are being operated on rented buildings. With a minimum rent ranging from Rs 25,000 to Rs.1 lakh, the other costs sum up to minimum Rs 30,000, including the pay for trainer and supporting staff along with the power bill. "Though income has come to a standstill, we still have to pay the rent and electricity bills apart from minimum charges for the trainer and the sweepers. They are inevitable for us. We have never closed the gyms for such a long period," rues G. Ramakrishna, owner of RK Fitness Mantra, Karasa.
Gym operators lament that they are suffering losses for the past couple of months. "As restaurants, hotels, resorts and public transportation systems resumed their services amid unlock 1.0, gymnasiums continue to remain closed till date. Hope, the shutters will be reopened at least from July," says G Suresh Reddy, vice-president of Visakha Gym Owners' Welfare Association.
Keeping the mounting losses in view, the association members appealed to Tourism Minister M Srinivasa Rao and sought permission to reopen the gymnasiums across the district. "The Sikkim government has decided to keep the gyms open from 7 a.m. to 6 p.m. with 50 per cent capacity. We are ready to follow the State government protocol and willing to operate by sanitising the facility at frequent intervals. We have also appealed to the officials concerned to allow only five to seven members at a time so that social distancing can be ensured between individuals," reasons B. Adarsh, owner of AB Fitness gym at Gopalapatnam.
With many of the gym owners availing bank loans to set up the facility, they are eagerly waiting to unlock the gymnasiums that are kept closed for three months before calling it business as usual.
Interested in blogging for thehansindia.com? We will be happy to have you on board as a blogger.