Visakhapatnam: Make use of technology to benefit planet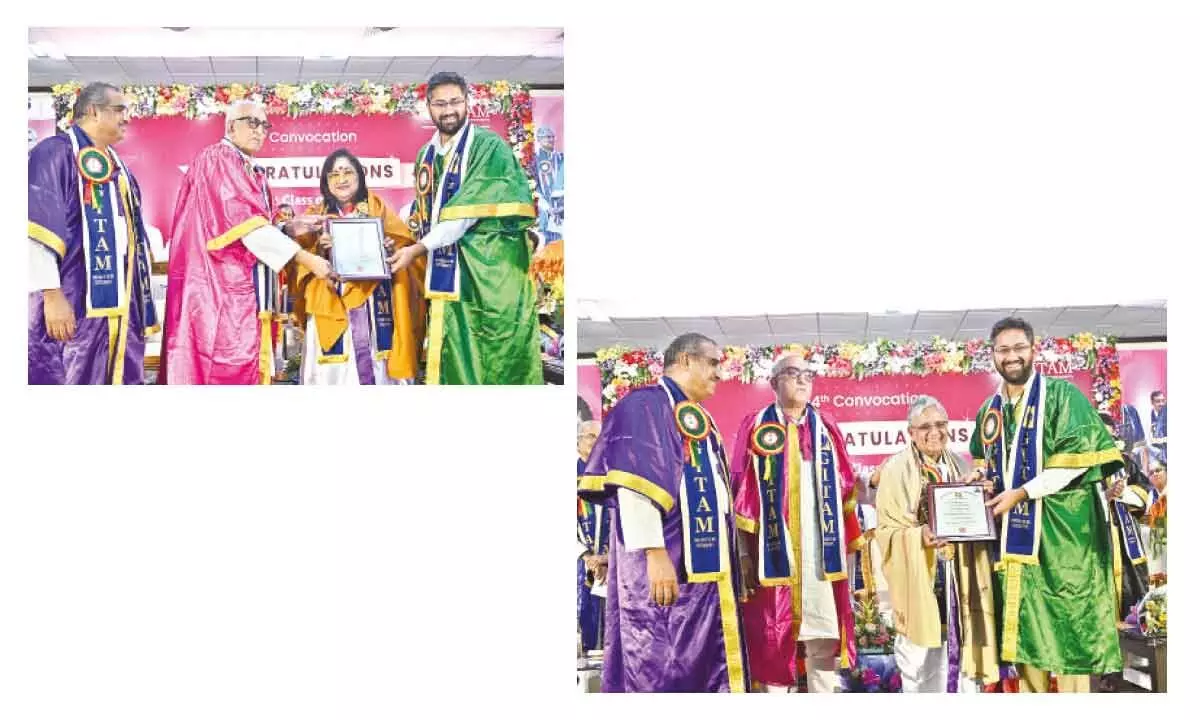 Highlights
A total of 2,769 UG and PG students receive degree at the 14th convocation
72 students bag gold medals for their exemplary performance in academics
Experts stressed on aiming big and contributing to the planet through sustainable practices
Visakhapatnam: Secretary to the Government of India, Department of Science and Technology S Chandrasekhar said India is no more a developing nation and the way the country is marching ahead in research and technology is way forward than what the other countries do.
Inspiring students of GITAM during the 14th convocation ceremony held in Visakhapatnam on Saturday, he said, "In a technology-driven world, don't create 'Chitti' (a robot) that doesn't listen to you but makes you perform better. Use tools for the benefit of the planet as the world is open to all of you," he continued.
Laying emphasis on the need to put an end to abusing the planet, Chandrasekhar appealed to the younger generation to take a stock of the history of science and technology. With average life expectancy touching 80 years and beyond, how would it match up with the shrinking resources?, questioned Chandrasekhar. "The large responsibility lies on the younger generation to consider green processes without affecting the planet and ensure the impact of global warming. Take a lead to become technology leaders to make the world a better place to live in and become greener and sustainable," he reminded.
India's Light Combat Aircraft (LCA) Tejas Chief Designer Kota Harinarayana, who received honorary degree of Doctor of Science (D.Sc.), spoke about how technology created havoc. "It is high time that we relook at Science and Technology and undo the damage that the Western world has done. Don't be afraid of failures but fail fast to succeed next," he suggested.
Yesteryear actor Vanisri, who received honorary doctorate (D.Lit.), exhorted the students to plant a sapling every month until their children grow up. Many make greenery statements for the sake of publicity. But consider steps to ensure the younger generation live without oxygen cylinders and mineral water bottles. Starting with planting saplings, the veteran actor shared how she shot to fame from a humble background.
Encouraging students to dream big, GITAM president M Sribharath exhorted the graduates to trace their dreams, aim high. "Resist the temptation of considering shortcuts to success as it will only weaken the foundation," the institution's president cautioned.
Vice Chancellor Dayananda Siddavattam presented the annual report, while Chancellor Virander Singh Chauhan underlined individual responsibility to achieve goals and carry values forward.
A total of 2,769 UG and PG students and 84 research scholars received their degrees during the convocation, while 72 students were presented with gold medals for their exemplary performance in academics.