Visakhapatnam Port Authority to set up 15-MW solar plant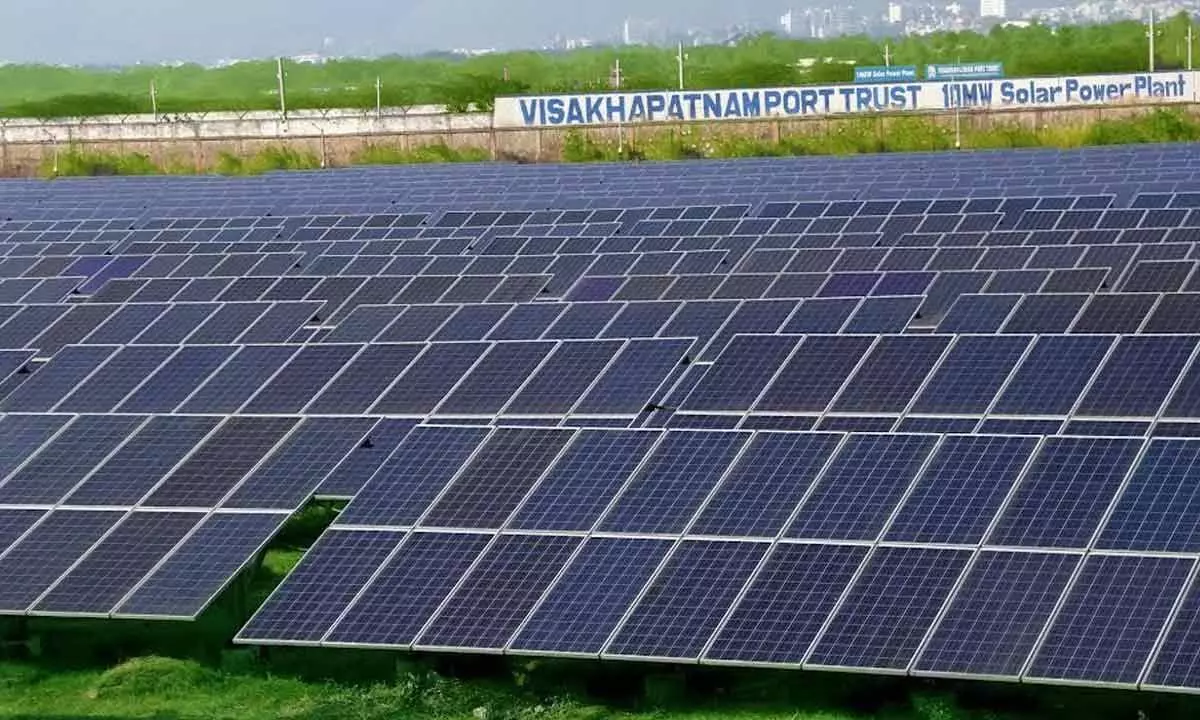 Highlights
Three PPP berth mechanisation projects were awarded recently to VPA
The port plans to invest Rs 337.69 crore towards developmental projects
Another 5 MLD Sewage Treatment Plant is in the pipeline
Visakhapatnam: Visakhapatnam Port Authority (VPA) has plans to commission another 15-MW solar plant in a phased manner. With a 10-MW solar plant in existence, the port has requested the Andhra Pradesh government to provide land to set up the new solar plant. Back then, VPA was the first among the 12 major ports in the country to set up a solar plant.
By utilising LNG, CNG and green hydrogen, the port intends to reduce carbon emissions for its equipment and transporting vehicles. To make this a reality, VPA has tied up with Indian Oil Corporation (IOC) for a CNG bunkering facility at an investment of Rs 10 crore.
Further, four covered storage sheds with a capacity of 2.94 lakh MT will be constructed to store bulk cargo at a cost of Rs 116.04 crore. According to VPA Chairperson M Angamuthu, the work will be completed between September and March.
Maintaining harmony with the environment, several green initiatives have been implemented in compliance with 'Harit Sagar' guidelines – 2023 with an aim to achieve quantifiable reductions in carbon emissions by 2030.
Along with 221 water sprinklers spread across eight cargo storage locations covering 100 acres for suppressing the dust from cargo stacks, a 10 MLD Sewage Treatment Plant (STP) is being operated by the port to treat the city municipal waste entering the port area. Another 5 MLD STP is in the pipeline.
To control dust emission from operations, nine fog cannon machines have been deployed round the clock. "Three PPP berth mechanisation projects were awarded recently with an investment of Rs 650 crore. In 2023-24, the port plans to invest Rs 337.69 crore towards developmental projects," informs the VPA Chairperson.