Creation of New Railway Zone in Vizag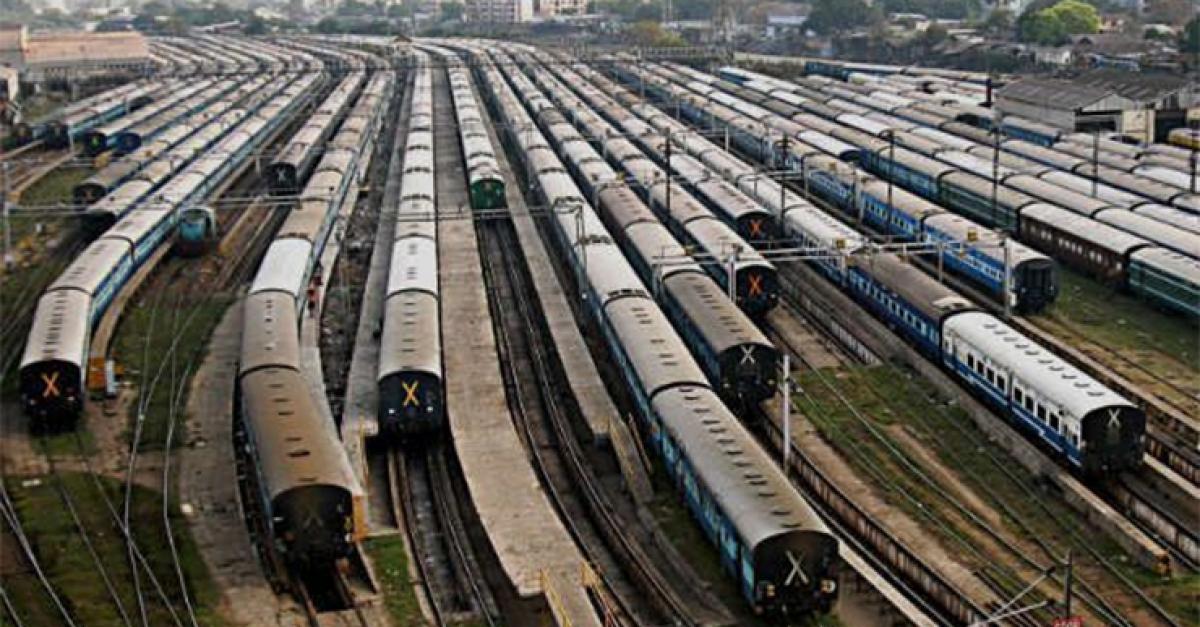 Highlights
Creation Of New Railway Zone In Vizag. The citizens of Visakhapatnam raised much of hope and aspiration for announcement of long awaited decision for a new railway zone post bifurcation of Andhra Pradesh.
The citizens of Visakhapatnam raised much of hope and aspiration for announcement of long awaited decision for a new railway zone post bifurcation of Andhra Pradesh. But Hopes were crashed, sentiments were ruined, simmering discontent among vizagites plummeted like rising mercury levels for not coming up with concrete statement for creation of new railway zone from Union Railway Minister during BJP Jan Kalyan Parv on Wednesday. Gone are the days of coalitions government with political compulsions and now with full majority at the centre seems to suffering from several other infirmities. The essence of democracy is people's will lost in the cacophony of speeches and wide publicity in all national newspapers at the cost of tax payers' money on completion of one year corruption free government with an oasis of stability. Horrible to see and utterly baseless to hear without any stretch of the imagination. Arrogance of power has surpassed the basic principles of justice.


Shameless politicians shrugging of their inherent responsibility and passing the buck is order of the day. Abused display of half-truths and unwillingness of local leaders by forgetting their cherished promises. Yes, amnesia is very common among present breed of politicians. We should hang our heads in shame once you dig deeper to unravel the startling truths about offering cushion comforts to regional allies.

Visakhapatnam Railway Division has been contributing with whooping earnings but these earnings are diverted for development purposes other divisions of Eco Railway, relegating the North Coastal Region to the lower than the lowest option. Ample proof for this attitude is that not even an inch of new railway line was laid after Independence. The main line between Cuttack and Visakhapatnam was laid during the period in between 1893 and 1896 i.e, 114 years back. Naupada – Gunupur, Raipur – Vizianagram and Bobbi – Salur lines were laid nearly 2 centuries back.

Diversion of important trains from Visakhapatnam to Bhubaneswar, drastically reducing the reservation quota for the local people of this region for trains like Visakha Express from Secunderabad and Prashanthi Express from Bangalore, resulted in a feeling of alienation. Ironically, the earlier quota of passenger reservation in trains like Mail, Coromondel and other Express Trains emanating from Howrah and Bhubaneswar have been drastically reduced. What is more Godavari Express, a train with 100% occupancy right from its inception some decades back, was also proposed to be extended to Bhubaneswar for the reason that it has no sufficient occupancy rate – the biggest joke!!!

It is an irony that the highest earning Visakhapatnam Division is not given its due recognition, and it is relegated to an unnoticeable and unworthy position, dumping heaps of slur on it by diverting some important trains as if these super fast trains hate to see Visakhapatnam. Probably with the ulterior motive to make comfortable these people from Orissa, Jharkhand and Chattisgarh by extending these superfast train facilities to them only.

In the matter of employment opportunities in the Railways, people of North Andhra in the Waltair Division are mostly denied appointments either in the East Coast Railway. Many aspiring candidates from North Andhra are denied selection at the point of interviews, even though they come up with good ranks in the written and other tests, though it is not publicly declared policy. There were occasions reported in the news papers in the past that unemployed job-seeking youth, who have gone to Bhubaneswar to write competitive tests for jobs in the Railway there, were physically obstructed and assaulted, resulting in returning back to their homes with insult and in some cases injuries. It is the best example to show that the employable youth in Waltair Division are shown step-motherly attitude in the matter of recruitment. So Visakhapatnam is in NO-ZONE area and therefore, the unemployed youth of this region are to remain forever as unemployed as far as employment in the Railways is concerned.

Formation of a separate zone would only help development of hinterland, unbiased development of all the Stations and the areas in the Zone, creation of employment opportunities to the job seeking youth in the Railways. Successive Railway Ministers for the last more than 6 decades after Independence, never bothered to develop this Division which was one of the highest revenue earning divisions.

Late Yerrannaidu (TDP), former MP from Srikakulam was closely associated with the Railway Parliamentary Standing Committee and Sri Bandaru Dattatreya (BJP) was past Minister for State for Railways. Both of them either could not or did not assess the actual deplorable situation in Waltair Railway Division, and nothing was done by either of them. Some of the Railway Ministers both in NDA and UPA governments have utilized their positions to develop the Railway networks in their respective constituencies/states. The revenue earnings of Waltair Division are more than the total earnings of all the Divisions in some of the newly created Railway Zones. Waltair Division, whose earnings are far more than many of the Divisions in India, in spite of the pressure said to have been exerted by the MPs from Andhra Pradesh, has been kept at the same destitute position in which it was earlier was. The pressure exerted by the Andhra Pradesh MPs might be formal devoid of commitment for the cause. God Bless them with long life to contest next elections with the same slogan in their agenda – Creation of Visakhapatnam Zone. Probably this sweet slogan will be oft repeated and becomes handy for them for the next many more elections.

Visakhapatnam is comparatively peaceful city and the natives are peace loving people. However, when they are driven to the wall with no body to hear and redress even their long pending genuine grievances, they stand united irrespective of their social and political affiliations, to launch an agitation to achieve their just demands. Already there are People for India, Forum for Better Visakha, Praja Spandana and other like minded voluntary organizations and a few peoples' representatives of North Andhra, to uplift the status of Visakhapatnam City to the level that it deserves by achieving a separate Railway Zone with headquarters at Visakhapatnam. With a lot of apathy in the official circles in the Railway Ministry, and the Eco Railway; the gross indifference of politicians at the helm of affairs, it becomes inevitable for the people of CoAstal Andhra to start mass movement and path of struggle for achieving a separate Railway Zone in the hustings. After all how much is too much ?

By JAVVADI LAKSHMANA RAO

Subscribed Failed...
Subscribed Successfully...