Novel protest against govt apathy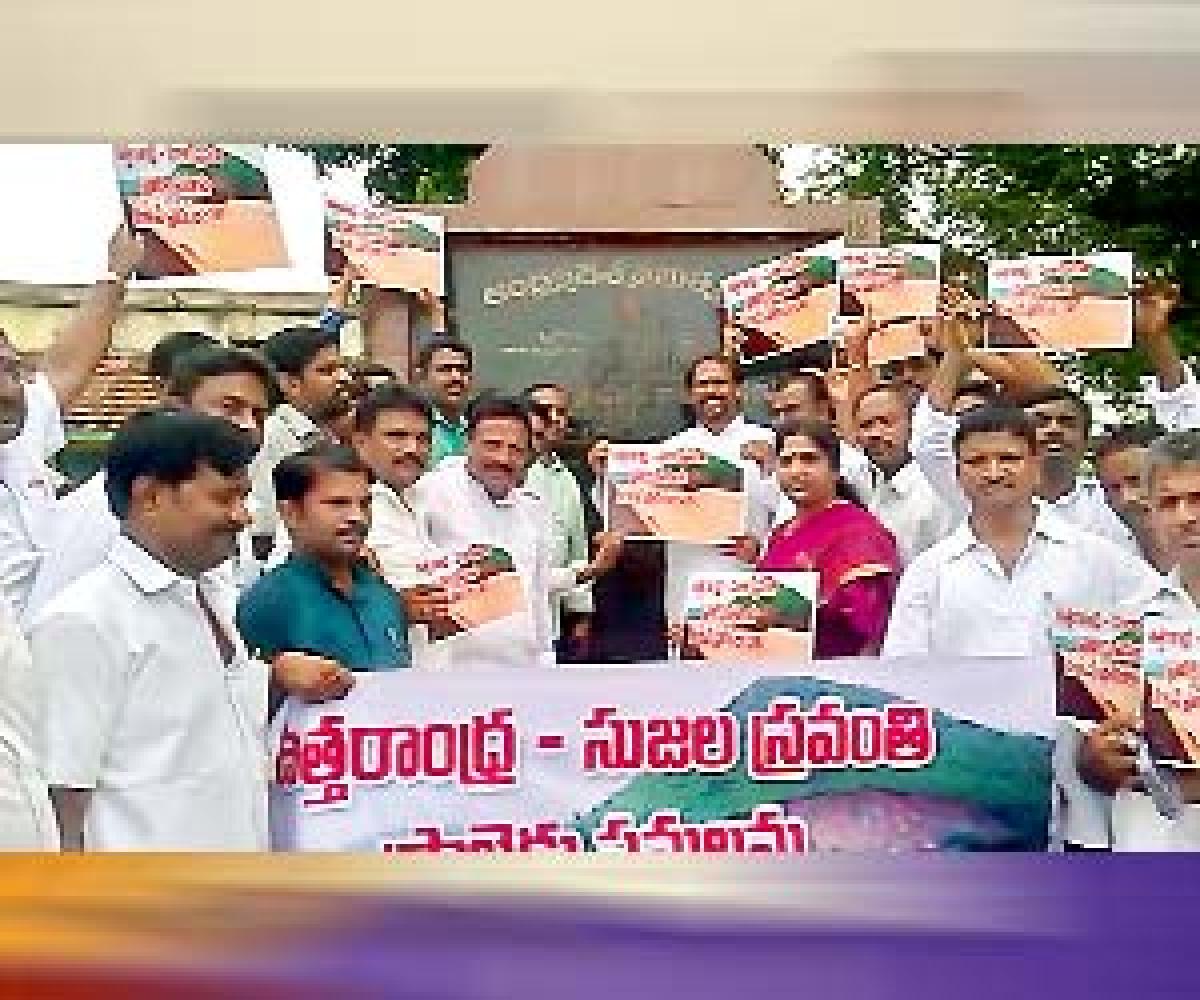 Highlights
Protesting against the successive governments' apathy towards the construction of Babu Jagjeevan Ram Uttarandhra Sujala Sravanti project for which
- Farmers perform 'Jalabhishekam' to USS project plaque
- Government neglects project work, says Konathala Ramakrishna
Visakhapatnam: Protesting against the successive governments' apathy towards the construction of Babu Jagjeevan Ram Uttarandhra Sujala Sravanti project for which a stone was laid by Dr Y S Rajasekhara Reddy at Sabbavaram in the district on February 21, 2009, a large number of farmers performed 'Jalabhishekam' to the plaque with holy Godavari waters on Tuesday to draw the attention of the State government towards this project.
Furthermore, the farmers of north Andhra will take up peaceful protests till the project was grounded after forming as Uttarandhra Sujala Sravanti Sadhana Samiti. The project, after completion will irrigate eight lakh hectares in 1,200 villages of north Andhra of which 3.21 lakh hectares in Visakhapatnam district, 3.94 lakh in Vizianagaram district and 85,000 hectares in Srikakulam district.
A total of 207 tmc of water was available through 16 minor and medium rivers in north Andhra of which only 100 tmc of water was being utilised. Even the TDP, which has clearly mentioned in its election manifesto that majority of irrigation projects in N Andhra, including the USS project, would be completed at the earliest, but there was no progress even after the completion of two years of ruling. Former Minister Konathala Ramakrishna, who attended the USS plaque cleaning ceremony at Sabbavaram to share the agony of the hapless farmers, alleged that though the government has allocated Rs 3 crore each in 2013-14, 2014-15 and 2015-16 budgets, not even a single rupee was utilised.
He informed that the project needs Rs 15,000 crore now with the latest estimates against its primary estimated cost of Rs 7,214 crore. "The Uttarandhra Sujala Sravanti is the only irrigation project in the country which was totally neglected even after obtaining administrative approval.
Ramakrishna said that the Uttarandhra Sujala Sravanti Sadhana Samiti will take up peaceful agitations in order to mount pressure on the government and for early completion of the project.
Demanding the State government to immediately call for tenders for the USS project works and to allocate at least Rs 5,000 crore in the current budget, he appealed to the leaders of all the parties irrespective of party affiliations to extend cooperation for the completion of the project.
Interested in blogging for thehansindia.com? We will be happy to have you on board as a blogger.