Yoga helps fight stress Superintendent of Police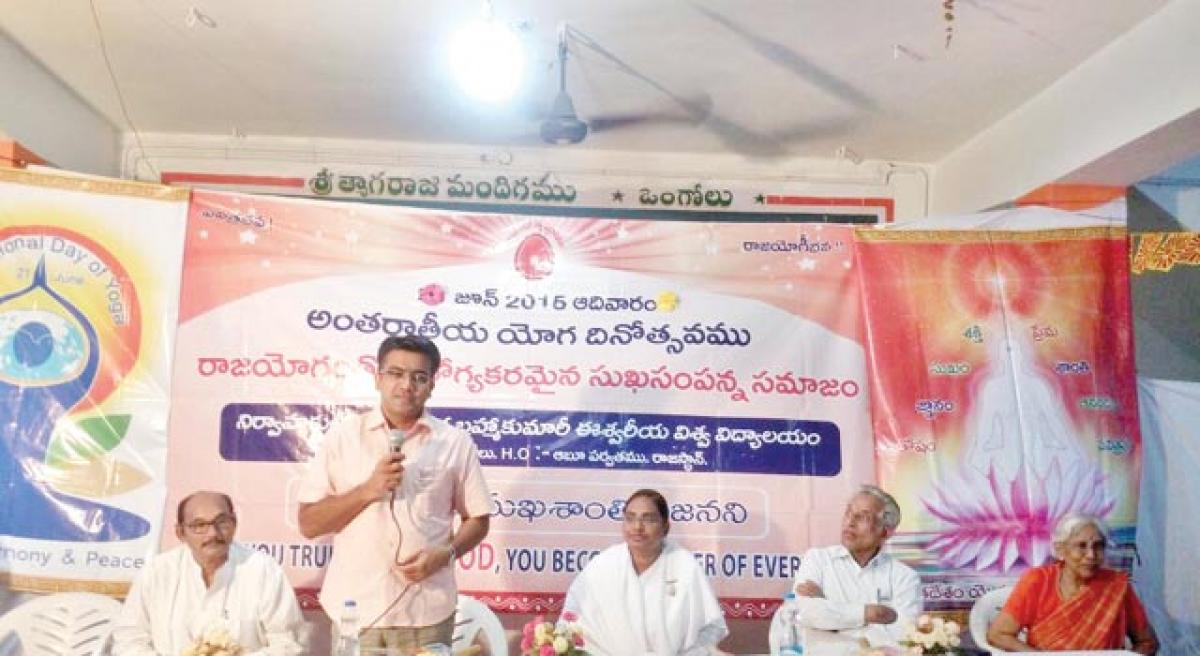 Highlights
As part of the celebrations of the International Yoga Day on June 21, the Brahmakumari's organisation in Ongole is also organising a week long basic
​Ongole: Yoga is very instrumental in reducing the stress in professionals like police, said the Prakasam District Superintendent of Police Dr CM Trivikrama Varma. He participated as a chief guest in the preparatory meeting of Brahmakumari's International Yoga Day celebrations in Ongole on Sunday evening.
As part of the celebrations of the International Yoga Day on June 21, the Brahmakumari's organisation in Ongole is also organising a week long basic Rajayoga course. Rajayogini BK Revati explained, "When one hears about Yoga, they remind about India. Yoga is pride of India. But yoga doesn't mean doing only Asana. It can also provide peace of mind. Rajayoga helps in increasing mental health.
A soul needs qualities like happiness, comfort, love, peace, energy, purity, rationality. Rajayoga helps it achieve them and provides interest in spirituality. Though yoga may not solve a problem, but changes the perception towards it and encourages in
solving it."
Trivikrama Varma said, "Yoga helps in reducing the stress and gives peace of mind. In the professions like police, we spend most of time in tensions and stress. This pressure is more on the entry level staff like constables and it is hard for them to get enough rest also. In my previous post at 8th battalion in Hyderabad, I took the help of Brahmakumari's who conducted Rajayoga class for the 1000 constables in the battalion.
As per their feedback, I understood that those classes helped a lot to the officers. So, we are arranging a week long yoga session fromMonday onwards to the Prakasam district police and I advise them all to participate in it."
The SP introduced his mother Rajeswari Devi to the Brahmakumari's and said that she was a follower of their system for the past 10 years. He said that she would discuss the speeches and preaching of Brahmakumari's with his family members and they have an inclination towards the Brahmakumari's and their belief of oneness of god.
Interested in blogging for thehansindia.com? We will be happy to have you on board as a blogger.