Spl drive to clear encroachments, says Chittoor MLA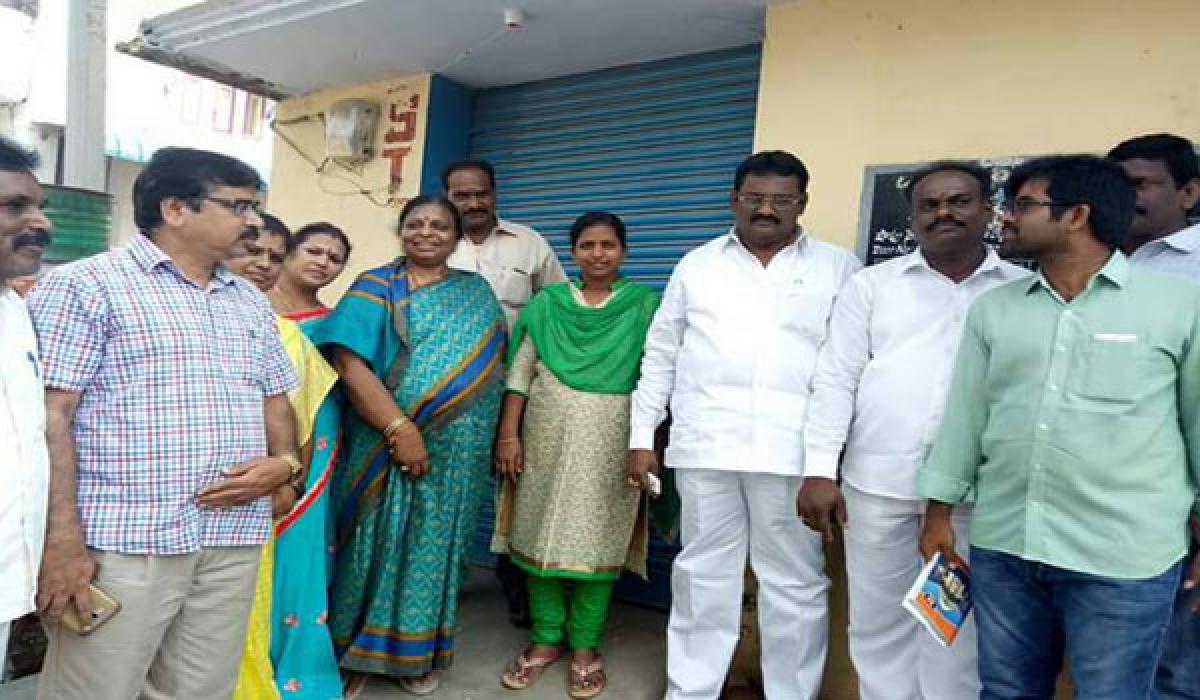 Highlights
Chief Minister N. Chandrababu Naidu has given a road map for keeping the municipal corporations and municipal towns free from encroachments and keep the cities and towns clean and green according to Chittoor MLA D A Satya Prabha. Without any hesitation and advance notice, all the encroachments in Chittoor city would be evicted within no time, she added
Chittoor: Chief Minister N. Chandrababu Naidu has given a road map for keeping the municipal corporations and municipal towns free from encroachments and keep the cities and towns clean and green according to Chittoor MLA D A Satya Prabha. Without any hesitation and advance notice, all the encroachments in Chittoor city would be evicted within no time, she added.
In order to make the Chittoor city as centre for beauty, the elected representatives and municipal authorities have made a joint visit to Lakshminagar Colony on Sunday and interacted with the residents of various sections for understanding their grievances.
Speaking on the occasion, Satya Prabha made it clear that CM was very particular to develop Chittoor city on par with Tirupati at any cost and has already instructed the Chittoor municipal administration to develop a constructive strategy in the regard. She said that it was a blessing in disguise on the part of Chittoor city for being included in AMRUT list.
She declared that encroachments of the roads and the foot paths in the city has figured as the lone obstacle for developing the city " A joint drive of the officials and elected representatives should be initiated to evict he encroachments with the help of the police and revenue officials" she said.
Though TDP government is very particular for keeping the cites free from flexi menace, no action has been witnessed in the regard. Municipal Commissioner should take immediate steps for removing all the flexi boards in the city"she added. Chittoor Mayor K Hemalatha cautioned that she would not spare any lapses of the officials in protecting the interest of the city. She assured that she would extend her cooperation in all respects for developing the city.
" There are number of representations from the poor for sanctioning white ration cards, house sites and old age pensions. Acuteness for drinking water is one of the biggest challenge on the part of Chittoor Municipal council. Chittoor MLA DA Satya Prabha is doing wonderful job for attending the needs of the people of the city in different aspects" she complimented.
Chittoor Municipal Commissioner G.Balasubramanyam said that he was making hectic exercise for improving the recovery of property tax in the city " Using the latest technological methods, we have decided to remove all the encroachments in the city and widen the streets in a phased manner. With regarding drinking water scarcity in the city, steps would be taken for resuming the transportation of water through hired tankers shortly" he added. Deputy Mayor P.Subramanayam, the corporators and others accompanied the MLA in the said ward.