Chief Minister N Chandrababu Naidu vows support to students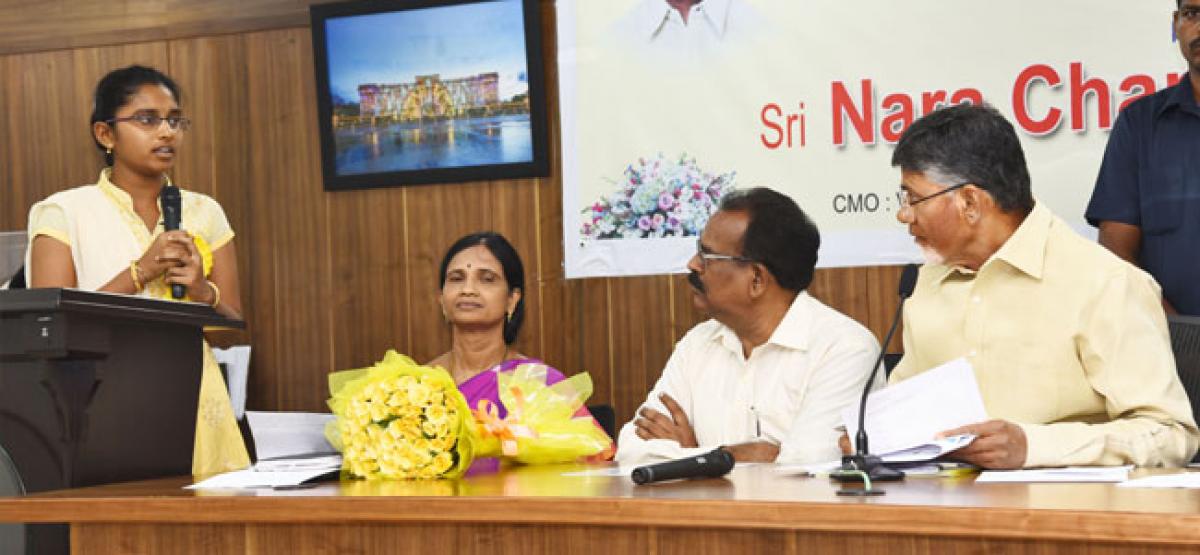 Highlights
D Neha, who bagged State first rank in Intermediate MEC group scoring 983 marks, is elated as Chief Minister N Chandrababu Naidu instilled confidence in her assuring assistance for her future education. She exuded confidence that she would fulfill her goal of becoming an IAS officer. Neha hails from Srikakulam and comes from a poor family. She has no father. Explaining her financial problems to th
Amaravati: D Neha, who bagged State first rank in Intermediate MEC group scoring 983 marks, is elated as Chief Minister N Chandrababu Naidu instilled confidence in her assuring assistance for her future education. She exuded confidence that she would fulfill her goal of becoming an IAS officer. Neha hails from Srikakulam and comes from a poor family. She has no father. Explaining her financial problems to the Chief Minister, she sought his support to continue further education.
Highlights:
Interacts with rankers in Intermediate, Eamcet and JEE exams

Says several foreign universities are coming forward to set up branches in Amaravati and provide educational opportunities to over 1.6 lakh students
The Chief Minister promptly responded and assured full support for her education.Another topper from Podili, Sk Sharmila of Intermediate MPC group who scored 992 marks, said that the Chief Minister promised to provide financial assistance for her further studies in BITS Pilani She said her confidence level increased after interacting with the Chief Minister. She also disclosed that her goal is to clear Civil Services examination and become an IAS officer.
Several other State toppers in Intermediate, Eamcet and JEE, who had studied in AP residential junior colleges, interacted with the Chief Minister at the Secretariat at Velagapudi here on Wednesday. The Chief Minister presented certificates and laptops to the toppers.
When an Intermediate State ranker Pujita of Bhimavaram village in Chittoor district and Gnana Prasuna of Chittoor narrated their financial problems, the Chief Minister immediately announced financial assistance of Rs 25,000 to each of them.
Speaking on the occasion, the Chief Minister said that the State government would extend support to the students. He said several foreign universities were coming forward to set up their branches in Amaravati to provide educational opportunities to 1,66,147 students.
Naidu said the students should know the importance of knowledge economy. He said that the State government has been introducing reforms in education system and acting tough on the educational institutions which fail to follow the norms.Around 158 students of residential junior colleges attended the programme along with their parents.
The students and their parents showed interest to go around the Secretariat complex.Health Minister Kamineni Srinivas, Principal Secretary for Higher Education Adityanath Das, Principal Secretary for College Education and Social Welfare SS Rawat, Commissioner of Technical education Udayalakshmi and others were present.