TDP encouraging faction killings :MP Butta Renuka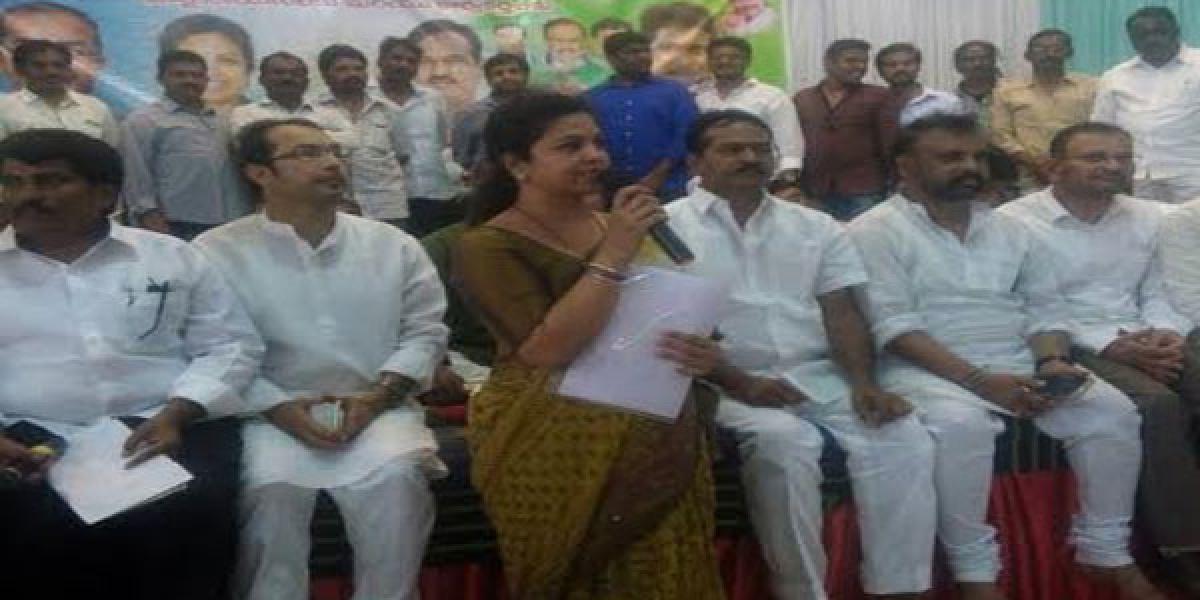 Highlights
YSR Congress Party (YSRCP) MP Butta Renuka alleged that the state government has failed to keep its promises made to the people of Kurnool. The MP came down heavily on the TDP government for extending support to sand mafia in the district thereby igniting faction killings. She took part in Kurnool Assembly plenary session conducted under the leadership of Kurnool in-charge Hafeez Khan at MMI Funct
Kurnool: YSR Congress Party (YSRCP) MP Butta Renuka alleged that the state government has failed to keep its promises made to the people of Kurnool. The MP came down heavily on the TDP government for extending support to sand mafia in the district thereby igniting faction killings. She took part in Kurnool Assembly plenary session conducted under the leadership of Kurnool in-charge Hafeez Khan at MMI Function Hall here on Thursday.
Highlights:
Alleges Chandrababu govt not releasing funds towards fee reimbursement

Slams TDP govt for failing to provide MSP for the produce of farmers
Addressing the party workers, Butta Renuka said the TDP government is encouraging the liquor mafia in the district. She stated that the district is lagging in development.YSRCP district president Gouru Venkata Reddy and state general secretary BY Ramaiah said that the TDP government has failed in maintaining law and order in the district. They lambasted the ruling government for targeting YSRCP leaders.
Within a span of 15 days, four YSRCP leaders were hacked to death due to the gross failure of law and order, they fumed. The TDP government is sowing the seed of faction which was not heard during the rule of YS Rajasekhara Reddy government, they said. People will teach a lesson to the TDP at right time, they stated.
Former MLA Kothakota Prakash Reddy said that the government has failed to provide compensation to the drought-hit farmers. He said no farmer had committed during the YSR rule. The TDP government failed to provide Minimum Support Price to the produce of the farmers. Several chilli farmers have burnt their produce at a market yard in Guntur. Chandrababu government is not releasing funds towards fee reimbursement, alleged Prakash Reddy. Raja Vishnu Vardhan Reddy, Surendra Reddy, Nagaraj Yadav and other party leaders spoke in the plenary.