India launches GSAT-19 from its new, heaviest rocket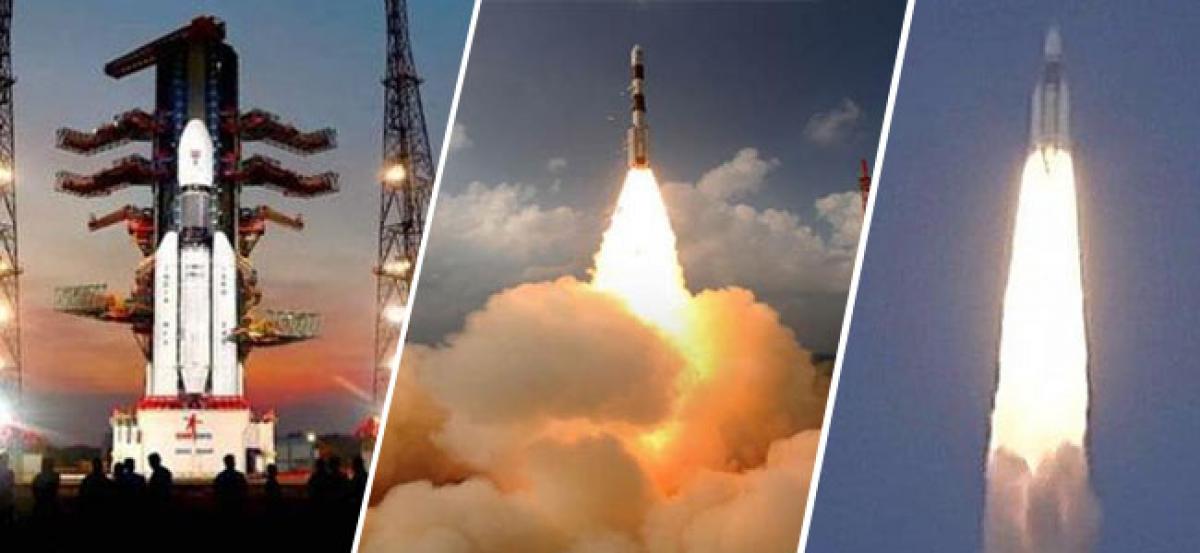 Highlights
India Monday evening successfully launched its latest communication satellite GSAT-19 with its brand new and heaviest rocket - the Geosynchronous Satellite Launch Vehicle-Mark III (GSLV-Mk III).
Sriharikota (Andhra Pradesh): India Monday evening successfully launched its latest communication satellite GSAT-19 with its brand new and heaviest rocket - the Geosynchronous Satellite Launch Vehicle-Mark III (GSLV-Mk III).
The GSLV-Mk III rocket, on its first developmental flight, slung the 3,136 kg communication satellite in a geosynchronous transfer orbit from where it would be taken up to its final geostationary orbit.
Precisely at 5.28 p.m., the GSLV-Mk III rocket, on its maiden flight, began its ascent towards space from the second launch pad at the Satish Dhawan Space Centre (SDSC) at the Sriharikota spaceport here.
Just over 16 minutes into its flight, the 43.43 metre tall, 640 ton rocket, slung the GSAT-19 at its intended orbit at an altitude of 179 km.
"It is a historic day.. both the GSLV Mk-III and the GSAT-19 launch have been successful.. we are looking forward to its (GSAT-19) operations," Indian Space Research Organisation Chairman A.S. Kiran Kumar said.
The GSAT-19, as per the Indian Space Research Organisation is a multi-beam satellite that carries Ka and Ku band forward and return link transponders and geostationary radiation spectrometer (GRASP) to monitor and study the nature of charged particles and the influence of space radiation on satellites and their electronic components.
The satellite, which has a life span of 10 years, also features certain advanced spacecraft technologies including miniaturised heat pipe, a fibre optic gyro, micro electro-mechanical systems (MEMS) accelerometer, Ku-band TTC transponder, as well an indigenous lithium-ion battery.
The GSLV-Mk III is a three stage/engine rocket. The core of first stage is fired with solid fuel and its two motors by liquid fuel. The second is liquid fuel and the third is the cryogenic engine.
"The rocket's design carrying capacity is four tonnes. The payload will be gradually increased in future flights," Vikram Sarabhai Space Centre Director K. Sivan had told IANS.
The Indian space agency had flown a similar rocket without the cryogenic engine but with 3.7-tonne payload in 2014 mainly to test its structural stability and aerodynamics.
Liquid Propulsion Systems Centre Director S. Somanath, told IANS that the inputs of the 2014 mission enabled the ISRO to reduce the rocket load by around 20 per cent.
Interestingly, GSLV-Mk III at around 43 metres is slightly shorter than Mk-II version that is around 49 metres tall.
ISRO officials told IANS that due to the increase in the diameters of various stages, the height got reduced despite a drastic increase in the weight - from around 415 ton of GSLV-Mk II to 640 ton in GSLV-Mk III.
"The new rocket may be slightly short but has more punch power," said an ISRO official.
India presently has two rockets -- the Polar Satellite Launch Vehicle and GSLV-Mk II -- with a lift-off mass of 415 tonnes and a carrying capacity of 2.5 tonnes.
India puts foreign satellites into orbit for a fee using its lighter rocket PSLV. However the weight of third party satellites is not much.
Revenue for launching satellites depends on the satellite's weight - higher the weight, higher the revenue.
The GSLV-Mk III, when its graduates from its development flight status to operational status, may look at flying heavier foreign satellites.
The Indian space agency officials said the new rocket would save the country foreign exchange as it can launch the country's communication satellites instead of going to a foreign space agency for launch services.
The GSAT-18 satellite launched in 2016 using Arianespace's rocket weighed 3,404 kg which is well within the GSLV-Mk III's capacity.
However, India may not become a serious player in the global communication satellite launch market.
Industry sources said globally the trend is the weight of communication satellites is going up while the weight of earth observation satellites has come down.
A major portion of communication satellites that are sent up now weigh around six tons and above.