Heavy rain lashes in Vijayawada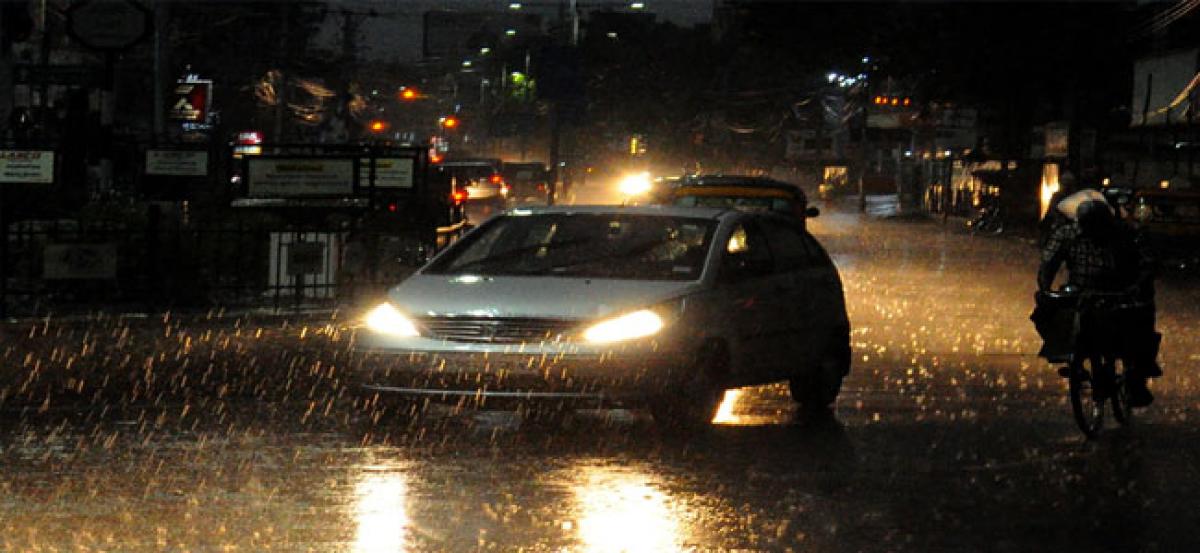 Highlights
After facing many weeks of scorching heat and harsh weather conditions, the denizens of Vijayawada heaved a sigh of relief with the rain lashed the city on Monday evening. The residents were desperately waiting for the rain to get respite from the soaring temperature and sultry weather conditions. The downpour continued for one hour in different parts of the city giving a big relief in the evenin
Vijayawada: After facing many weeks of scorching heat and harsh weather conditions, the denizens of Vijayawada heaved a sigh of relief with the rain lashed the city on Monday evening. The residents were desperately waiting for the rain to get respite from the soaring temperature and sultry weather conditions. The downpour continued for one hour in different parts of the city giving a big relief in the evening.
Water logged in the low lying areas of Wynchpet, kandrika, Ajith Singh Nagar, Pinnamaneni Poly clinic road, Moghalrajpuram, K L Rao Nagar, Patamata and other areas for more than two hours. Commuters faced many problems at the low bridge where water logged for more than an hour. Due to poor drainage system, water has been logged on some parts of Eluru road disrupting the traffic.
Water also stranded at the busy Jammi Chettu centre in Moghalrajpuram due to lack of proper drainage system. The Vijayawada Municipal Corporation had taken up storm water works worth more than Rs.400 crore and it will take some years to complete.