Kids create new records with amazing skills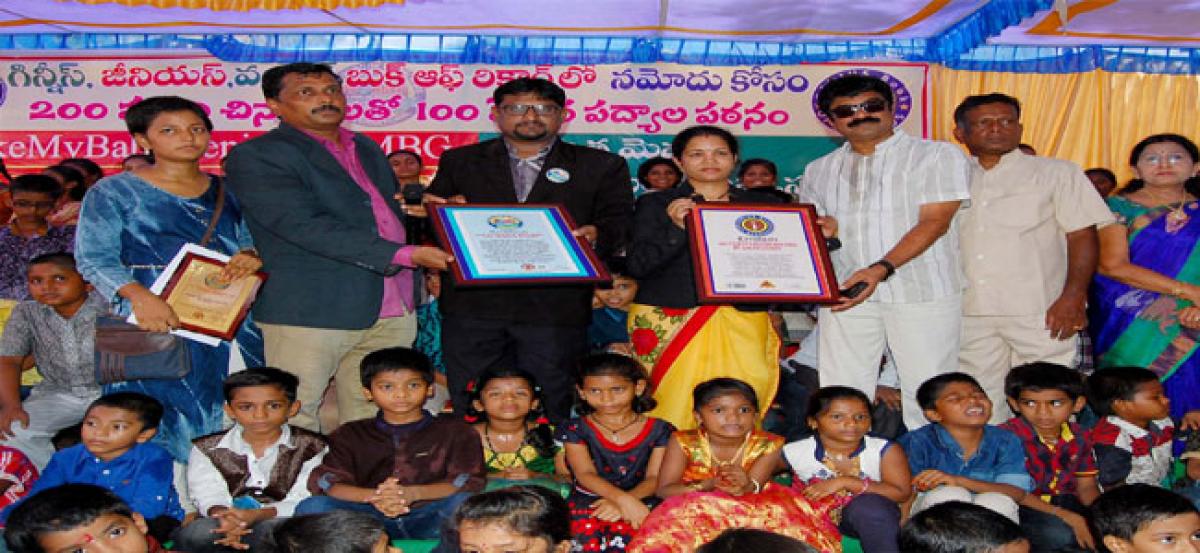 Highlights
In an extraordinary event conducted in temple city, the children with their amazing performance entered the world record books. Students of 'Make My Baby Genius' (MMBG) who created records on earlier occasions also, ventured another attempt in five events. To get a record they beat their own record of reciting Vemana poems by 100 children. This time they did it with 200 children. S Manjunath has r
Tirupati: In an extraordinary event conducted in temple city, the children with their amazing performance entered the world record books. Students of 'Make My Baby Genius' (MMBG) who created records on earlier occasions also, ventured another attempt in five events. To get a record they beat their own record of reciting Vemana poems by 100 children. This time they did it with 200 children. S Manjunath has recited 100 doha (Hindi poems) in 10.16 minutes.
Highlights:
Students of MMBG break their own records

Enter International Genius and Wonder Book of Records
Three-year-old kid N Yudhishtar has recited 100 Vemana poems. C Hemavardhan Rao has solved 25 cubic roots of five digits in 25 seconds. S Sravanthi has completed the 8 multiplications of 2x2 digits in one minute. K Pavan Kumar has subtracted 70 digits from another 70 digits in 52 seconds.
They performed these calculations through Vedic Maths. All these records were entered into the International Genius Book of Records and International Wonder Book of Records. India Chief coordinator of Genius Book of Records B Narendra Goud and AP & Telangana coordinator of Wonder Book of Records N Sudathi were present on the occasion and declared that they have entered the books.
Dr Aasalatha, Dr Venkateswarlu, N Visvanatha Reddy of Visvam Educational Institutions, K Ashok Raju of Siddartha Educational Institutions, K Seetharam and MMBG founder S Bhaskar Raju have participated as guests in the programme.