Develop combined strategy for tribal development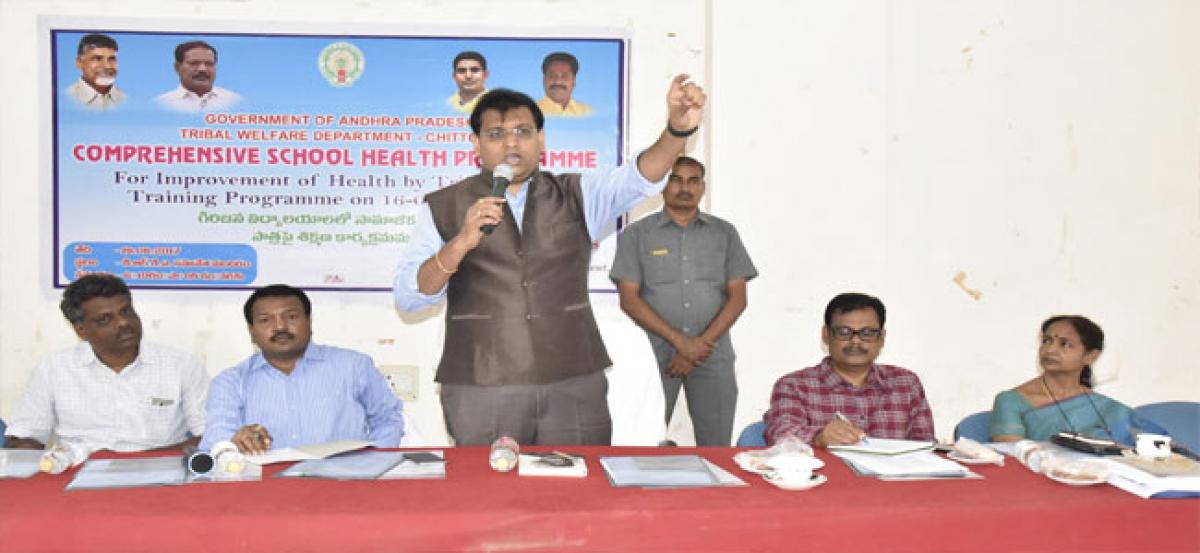 Highlights
In order to create awareness among various departments for initiating the welfare schemes for the development of STs, a training programme was held here on Friday at the Collectorate in which all the departmental heads along with their staff took part. Due to lack of involvement of the departmental heads concerned, the development of the tribal communities in Chittoor district is trailing behind
Chittoor: In order to create awareness among various departments for initiating the welfare schemes for the development of STs, a training programme was held here on Friday at the Collectorate in which all the departmental heads along with their staff took part. Due to lack of involvement of the departmental heads concerned, the development of the tribal communities in Chittoor district is trailing behind to achieve the targets according to P.S. Pradyumna, District Collector.
The ITDA (Integrated Tribal Development Agency) which is situated in Nellore did not pay due attention for initiating developmental scheme for the scheduled tribes he declared.
Addressing the training programme the collector said that there were 42,000 tribal families in the district. He regretted that literacy rate of the tribals was decreasing steeply instead of increasing. "As most of the tribal families are located at the remote habitations, they are not getting due medical services from the government.
Many of the tribal children are out of school. Their living standards should be hiked immediately by way of applying a constructive strategy and planning of the concerned departments" he added.
He instructed the PD, DRDA, DEO, DMHO and District Woman Development Officer to develop a combined strategy for implementing tribal welfare schemes with accountability. The District Tribal Officer should take immediate action for sanctioning cows, goats and sheep to each tribal family in the district.
District Education Officer should initiate a pilot project for improving the literacy rate for 100 percent in the tribal communities. District Medical Officer should ensure medical services to the ST habitations on war footing the district collector instructed. He reiterated that Anganwadi centres should take steps for providing vitamin based food for the children and pregnant women.
He cautioned that he would review the progress of each department in respect of implementing the welfare schemes relating to the tribal communities. DRDA PD Ravi Prakash Reddy, DEO Samuel, DMHO Dr.Vijaya Gouri, District Tribal office Srinivasulu and others were present.