Telangana wants AP water schemes stalled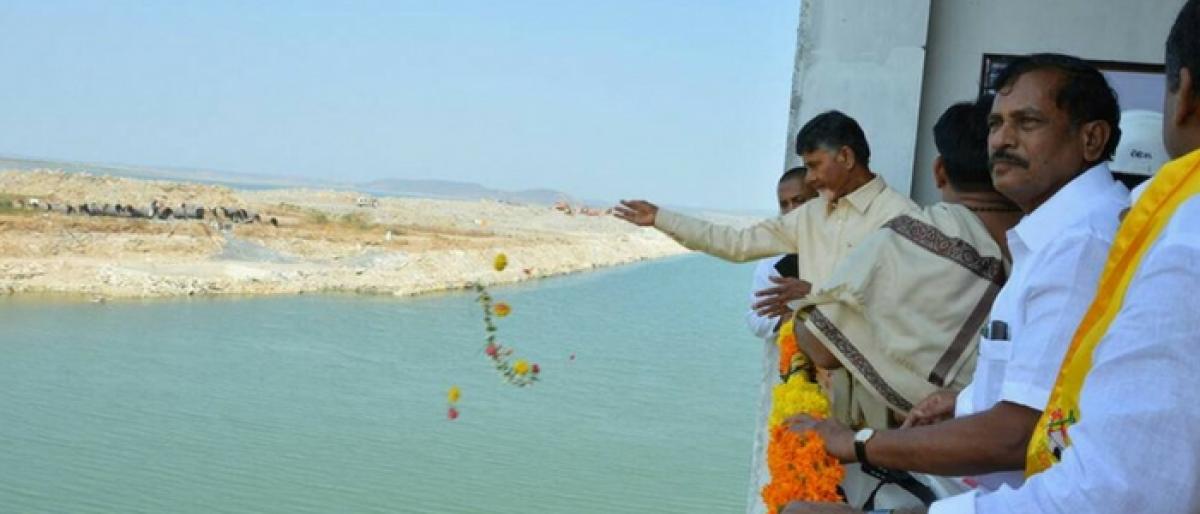 Highlights
Taking strong objection to the construction of irrigation projects like the Muchumarri lift irrigation scheme, Shivabhasyam LIS, Guru Raghavendra lift irrigation scheme, Gundrevula Reservoir, LIS scheme for supplementation of Gajuladinne ayacut, Pulikanuma LIS and Siddapuram LIS by Andhra Pradesh, the Telangana Irrigation department shot off a seven-page letter to the Centre demanding that the nei
Irrigation Secy dashes off a letter to Centre for action
​Hyderabad: Taking strong objection to the construction of irrigation projects like the Muchumarri lift irrigation scheme, Shivabhasyam LIS, Guru Raghavendra lift irrigation scheme, Gundrevula Reservoir, LIS scheme for supplementation of Gajuladinne ayacut, Pulikanuma LIS and Siddapuram LIS by Andhra Pradesh, the Telangana Irrigation department shot off a seven-page letter to the Centre demanding that the neighbouring state be asked to stop the works on the projects with immediate effect.
State Special Chief Secretary to Irrigation SK Joshi in his letter drew the attention of the Centre that these projects were taken up by the AP government without seeking the approval of the Apex Council and without consulting the Telangana government.
Joshi said the AP government had taken up the controversial Muchumarri lift irrigation scheme to lift water from the foreshore of the Srisailm reservoir to supply water to KC Canal and HNSS (Handri Niva Sujala Sravanthi) without even submitting a proposal to the Krishna River Management Board.
The other illegal projects taken up by the AP government on Krishna are – Gundrevula reservoir across river Tungabhadra on the upstream side of the Sunkesula barrage with 15 to 20 TMC capacity, lift irrigation scheme for supplementation of Gajuladinne ayacut by lifting 0.96 TMC of water from Tungabhadra and Guru Raghavendra lift irrigation scheme with 5 tmc capacity. All these projects are illegal, the letter said.
The official also explained to the Union ministry authorities about the illegal construction of the Pulikanuma lift irrigation scheme in Kurnool district, the Siddapuram lift irrigation scheme to lift 2 TMC of water from Veligonda balancing reservoir, Shivabhashyam lift irrigation scheme without any allocations and approvals and construction of Munneru barrage downstream of the existing anicut by increasing its capacity which involved submergence of Telangana territory.
The TS government demanded the ministry to call for apex council meeting and advise the AP to restrain from the construction of projects until water sharing between the two states is resolved.
Referring to the objections raised by AP with regard to Palamuru- Rangareddy lift irrigation scheme, Dindi, Bhaktaramadasu and Thummilla schemes, Joshi said these were not new as contended by the neighbouring state.