Water level rising in Godavari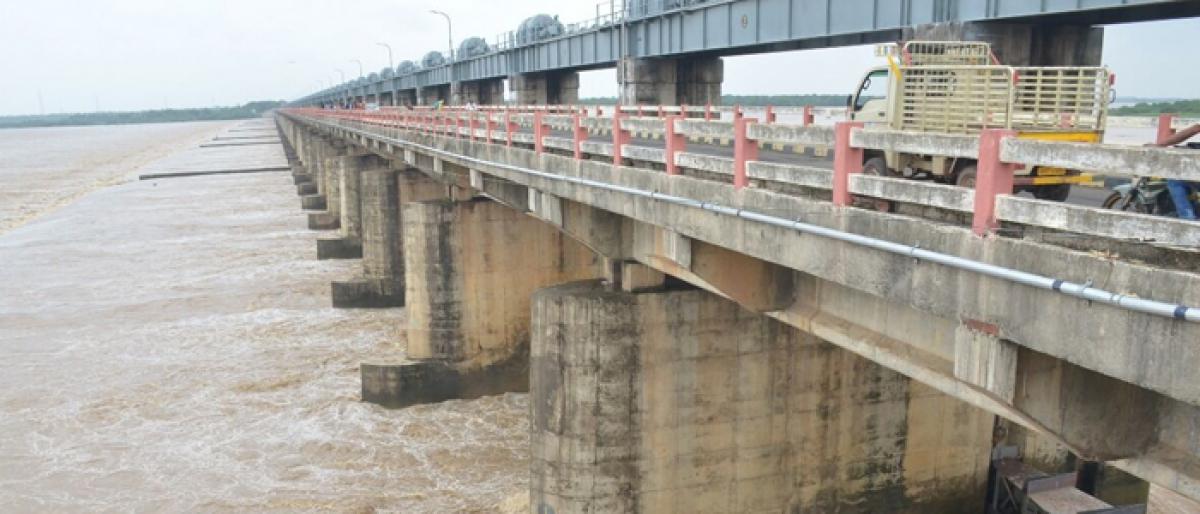 Highlights
The flood water in River Godavari is increasing due to heavy inflows reported in its catchment area following heavy rains The district administration alerted the officials to take all necessary measures and evacuate people from lowlying areas According to Water Resources Department WRD, currently three lakh cusecs of water is being discharging into sea from Sir Arthur Cotton Barrage
​Rajamahendravaram: The flood water in River Godavari is increasing due to heavy inflows reported in its catchment area following heavy rains. The district administration alerted the officials to take all necessary measures and evacuate people from low-lying areas. According to Water Resources Department (WRD), currently three lakh cusecs of water is being discharging into sea from Sir Arthur Cotton Barrage.
All the 175 gates of Dowleswaram, Ryali, Maddur and Vijjeswaram were lifted by half metre height. Over 1,800 cusecs of water has been released into Eastern canal, followed by 1,000 cusecs into Central delta and 2,000 cusecs of water into Western delta.
Currently, the water level at Sir Arthur Cotton Barrage is 11 feet, followed by 48 feet at Havelock bridge, 31 feet at Bhadrachalam, 8.14 feet at Kaleswaram, 9.10 feet at Perur, 9.25 feet at Dummugudem and 9.77 feet at Kunavaram. Steps were taken to lift the gates to some more height depending upon the water inflow. Respective engineers were directed to check the condition of river bunds.