TDP Ministers are land-grabbers: Jagan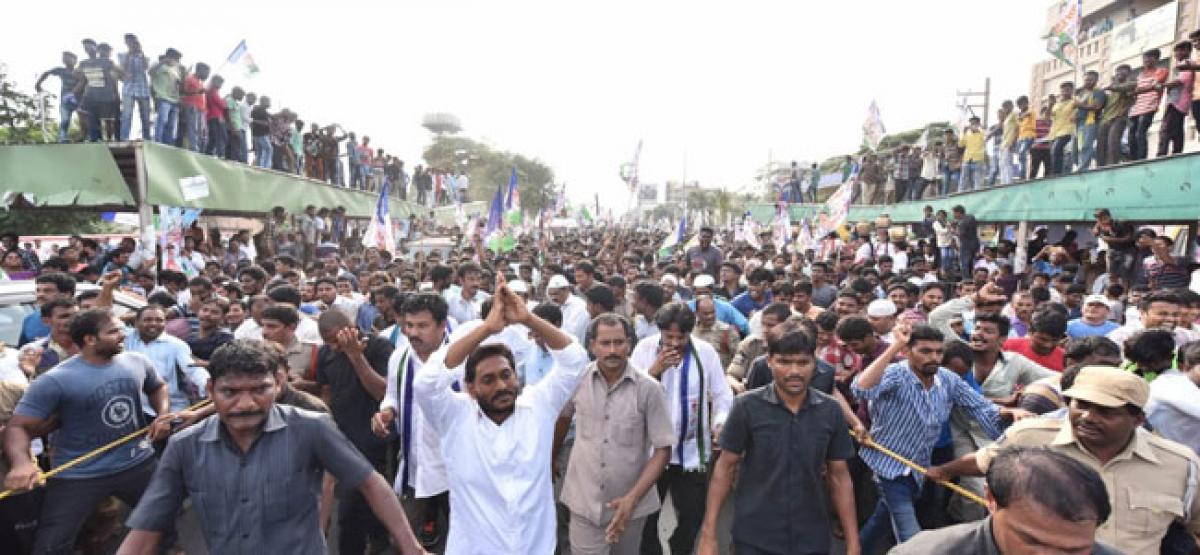 Highlights
YSRCP president YS Jaganmohan Reddy levelled allegations against ministers in the state cabinet He was addressing a public meeting at KancharapalemMettu here on Sunday in Greater Visakhapatnam city limits
Visakhapatnam: YSRCP president YS Jaganmohan Reddy levelled allegations against ministers in the state cabinet. He was addressing a public meeting at KancharapalemMettu here on Sunday in Greater Visakhapatnam city limits.
Jagan alleged that if any valuable land is left in the state in any district, Chief Minister N Chandrababu Naidu will immediately hold a cabinet meeting to discuss about how to grab the land. They will not discuss the public issues.
The YSRCP chief termed the team of ministers as group of thieves and land grabbers. The TDP government had already allocated land which costs over Rs 1200 crores to Lulu group of companies in the city Jagan alleged that "no land was spared in Visakhapatnam", as the TDP leaders had grabbed all the land in and around the city.
The TDP government is not bothered though the denizens were suffering with pollution and facing many respiratory and skin related problems due to industrial pollution.
The crime rate in the city has increased steeply. People are not living happily in the city as they are witnessing murders on the city roads. Jagan also countered on HRD Minister Ganta Srinivasa Rao,by pointing about converting government land into private lands and borrowing money from banks for their personal trades.
Jagan has announced that if YSRCP comes to ruling in AP each and every cab and auto driver will be given Rs 10,000 annually and also the state government will bear the insurance and vehicle fitness charges.He recollected the works taken up by former Chief Minister Y S Raja Shekar Reddy and his developmentworks like BRTS roads in the city and developing Vizag airport with international standards.