Adarana-2 subsidy now is 90%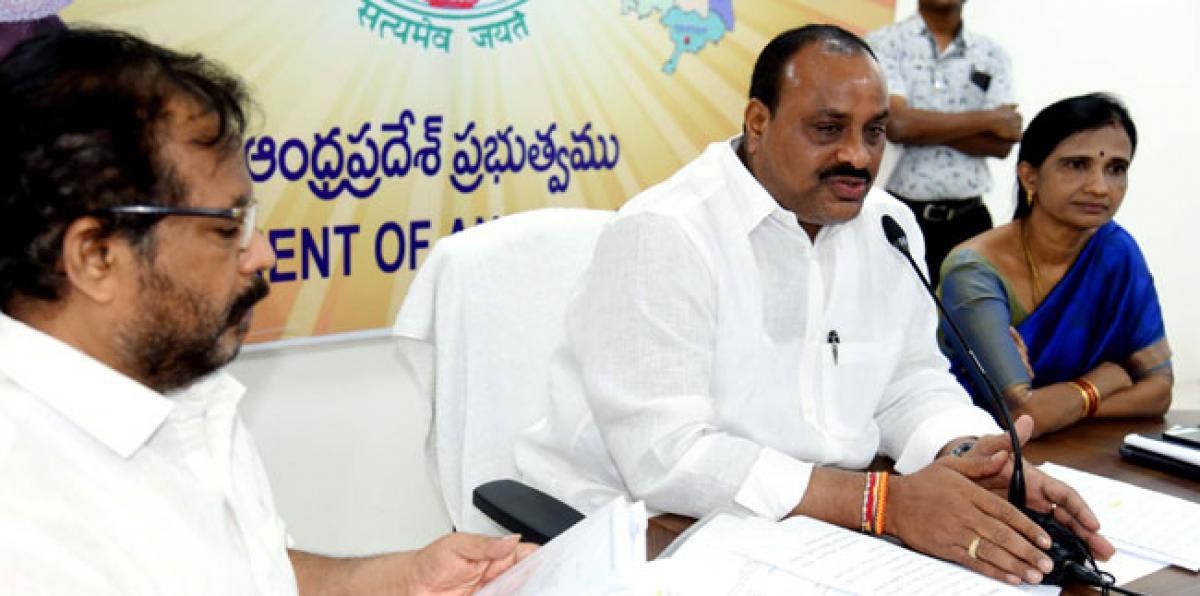 Highlights
In what could be described as good news for the beneficiaries of Adarana scheme2, the government enhanced the subsidy from 70 per cent to 90 per cent for the vocational implements supplied to them In effect, the burden on the government with the increased subsidy would be Rs 214 crore, said minister for backward classes Kinjarapu Atchannaidu
Amaravati: In what could be described as good news for the beneficiaries of Adarana scheme-2, the government enhanced the subsidy from 70 per cent to 90 per cent for the vocational implements supplied to them. In effect, the burden on the government with the increased subsidy would be Rs 214 crore, said minister for backward classes Kinjarapu Atchannaidu.
Talking to newsmen at the Fourth Block along with principal secretary B Udaya Lakshmi on Wednesday, the minister said the beneficiaries would be distributed implements under Adarana-2 scheme with the slogan 'Victory over Poverty'.
He said various implements would be distributed to artisans under Adarana-2 scheme which would help them to perform their professions well. "The government has decided to provide implements to the 4.02 lakh beneficiaries this year," he said and added that so far 5.37 lakh people have applied under this scheme.
Till now, 2.07 lakh people paid 10 per cent of the amount as their share which would make them eligible to get implements worth Rs 30,000, Rs 20,000 and Rs 10,000 depending upon their vocation, the minister said.
However, not many evinced interest in the scheme, due to the condition that the beneficiaries would not be allowed to avail further government schemes next year. However, when the matter was taken to the notice of Chief Minister N Chandrababu Naidu, he enhanced the subsidy to 90 per cent at the same the relaxing the condition. In the 2018-19 budget, the state government allocated Rs 750 crore for Adarana-2 scheme and in view of the enhanced subsidy, the Chief Minister took the decision allocating Rs 964 for the scheme, the minister said.
The first phase of the four-phase distribution of implements would be taken up on November 12.The minister appealed to the beneficiaries to pay their share of 10 per cent of amount to avail the implements which would be distributed in December and January in phases.
As part of the 'Victory over Poverty' programme, Rs 416 crore would be distributed to the beneficiaries under self-employment programme through 11 corporations, including SC, ST., BC, Minority and others on November 12, Atchannaidu announced, adding that self-employment programmes worth Rs 320 crore would be launched in November.
Principal Secretary B Udaya Lakshmi said that one lakh beneficiaries would be given loans in the 'Loan Mela' to start self-employment units through 11 corporations on November 12. "These loans would also be given in four phases," she added. Director of Backward Classes department Rama Rao was also present.