Ample opportunities for growth in Prakasam: CM N Chandrababu Naidu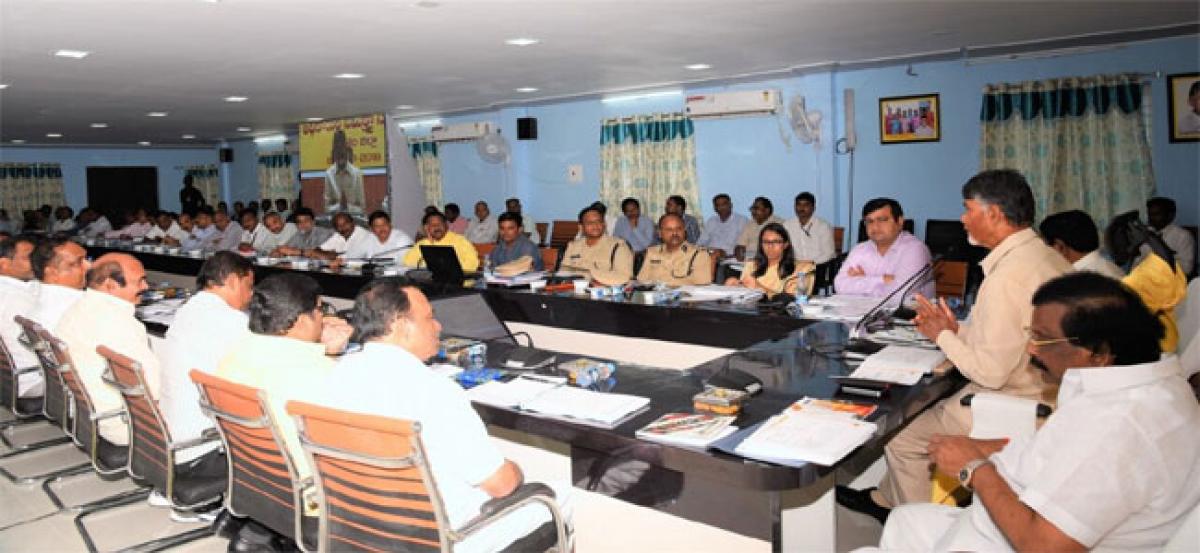 Highlights
The Prakasam district which has abundant resources like long coastal line, rich aquaculture, aquaculture, galaxy granite and other minerals, is bound to develop in a large scale in near future, said Chief Minister N Chandrababu Naidu
Ongole: The Prakasam district which has abundant resources like long coastal line, rich aquaculture, aquaculture, galaxy granite and other minerals, is bound to develop in a large scale in near future, said Chief Minister N Chandrababu Naidu. He held a review meeting with the district officials and local MLAs and MLCs in Ongole on Saturday, on the second day of his tour to the district.
The Chief Minister said that Prakasam district is neighboring district of capital Amaravati and has lot of development opportunities. He said that the district has a number of resources and instructed the officials to tap them to record maximum growth. He said that the government was entering into MoUs with companies in Singapore, Japan and other countries to promote industrial growth. He pointed out that the government developed Donakonda mega industrial hub, NIMZ at Kanigiri and it is about to construct port at Ramayapatnam. The government is also setting up colleges for mining, horticulture and agriculture colleges to speed up development in Prakasam district.
He said that road connectivity on four sides, train route and national highway are going to help the district achieve great development in near future. Chandrababu Naidu directed the officials to achieve full satisfaction of people over the government services. He advised them to perfectly implement the welfare schemes like pensions, ration cards, Chandranna Pellikanuka, Anna Canteens, drinking water, quality electricity, 108 ambulance service, mid-day meals, Chandranna Bima, Anna Amrutha Hastam, housing, Mukhyamantri Yuvanestam, Tallibidda Express and NTR Vaidyaseva etc to satisfy public.
He said that the government was implementing various developmental schemes though the Central government was not extending any cooperation. He appreciated Prakasam District Collector and other officials for good implementation of the welfare programmes and advised all people's representatives to implement development programmes with a foresight. He asked the police department to utilise technology to control crimes. He also advised to adopt people's friendly approach. The Chief Minister said that he was calling for linking of rivers to make the State drought-free. He pointed out that
they were speeding up works of the multipurpose Polavaram Project.
He announced that in future, the government was going to link Godavari with Penna and Nagavali rivers and provide water for a crop with gravity. He said that steps have been taken to complete Veligonda project and the first tunnel works will be executed immediately to provide water to western area of Prakasam district. Ministers Sidda Raghavarao, P Narayana, MP Sriram Malyadri, MLAs, MLCs and other people's representatives participated in the review meeting along with the district officials.