Most anticipated debuts of the 2015 LA Auto Show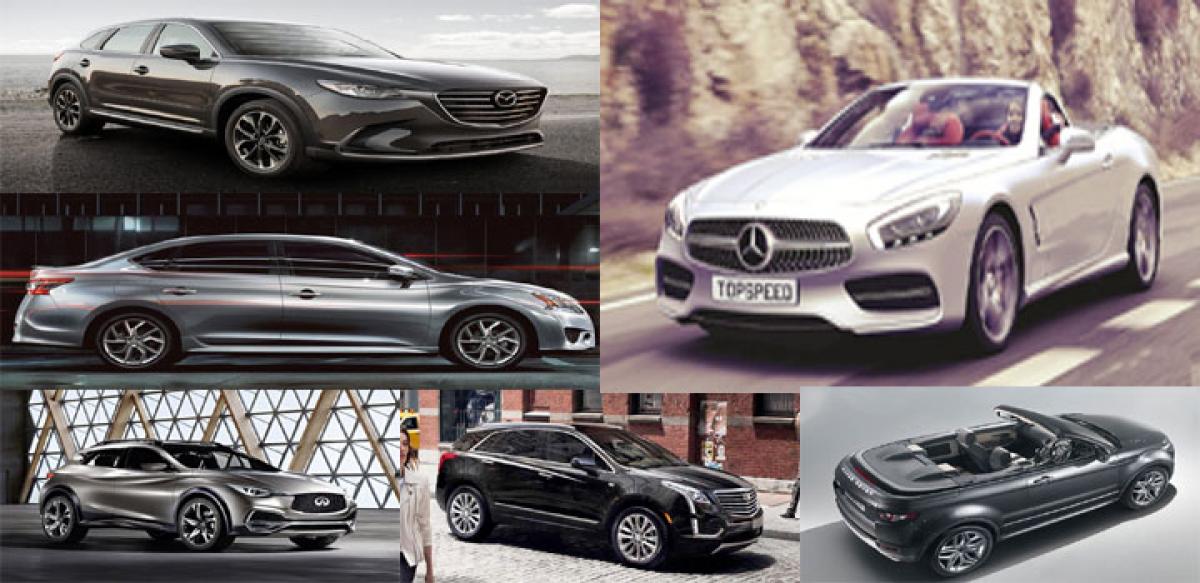 Highlights
Less than a week out, the Los Angeles Auto Show promises to be one of this year's big ones. In fact, so many concepts that have already been teased –...
Buckle up your seat belts, boys and girls. The haute 2015 Los Angeles Auto Show is gonna be a helluva ride
Less than a week out, the Los Angeles Auto Show promises to be one of this year's big ones. In fact, so many concepts that have already been teased – Mercedes's 2017 SL-Class and GLS-Class, and the Cadillac XT5, to name a few – that a few have slipped through the cracks.
This doesn't mean that this is some best of the rest list, however; if any of these vehicles slipped out at any other time this year, they'd have our full attention. But automakers know this, and in recent years it's become seemingly more important to orchestrate the perfect pre-show leak then has been to nail the public debut.
Some players, like Buick and Mazda, have leaked an artfully coy image or two to whet the public's appetite. Others, like Cadillac and Mercedes have gone all in with photos and specs long before we'll get to see the cars in the metal.
Still, until the lights go up at the premiers, there's a lot of mystery surrounding most of these models. Here's a look at the big ones that are gonna debut in the Auto Show.
Infiniti QX30
Now that the production Infiniti Q30 has debuted, all eyes are on the Japanese automaker's crossover. Previewed in concept form already, the Infiniti QX30 will be a compact crossover for the brand's lineup and, hopefully, Infiniti will stick closely to the styling of the concept. We've already seen spy photos of the car undisguised and it appears that Infiniti won't stray too far away.
Range Rover Evoque Convertible
Land Rover has already unveiled the Range Rover Evoque convertible online, but we can't wait to see this thing in person. It has been an on-again, off-again project for the British automaker over the past few years and now that it has become a reality, will it sell?
Cadillac XT5
Another vehicle that has already been unveiled is the Cadillac XT5 that is replacing the outgoing SRX. More importantly, the XT5 ushers in a new series of luxury crossovers for Cadillac, powered by a 3.6-liter V6 engine sporting 310 horsepower and 270 pound-feet of torque. Although the Cadillac XT5 debuted at the 2015 Dubai Motor Show, it will make its North American debut in Los Angeles next week.
Nissan Sentra
Nissan has been on a roll lately with the all-new Altima and Maxima models, so we're excited to see what it has up its sleeves for the Sentra. Coming just three years after a full redesign, the refreshed Sentra is being touted as "almost all new" by the automaker, with Nissan's vice president for U.S. sales and marketing and operations adding that it is an "incredibly freshened Sentra."
Mercedes-Benz SL
Mercedes-Benz has teased the facelift for its SL-Class roadster and it looks heavily inspired by the new Mercedes-AMG GT. The question remains how the German automaker will differentiate the two and how the SL will continue standing on its own in the marketplace.
Mazda CX-9
Mazda has already teased its next-generation CX-9 with the above sketch and it appears that it will borrow styling cues from the Koeru concept that debuted earlier this year at the Frankfurt Motor Show. The Japanese automaker has stayed relatively quiet as to what the CX-9 will be powered by or how it will be sized, so we'll have to wait until it is unveiled next week.
By:Augustin Kurian
Subscribed Failed...
Subscribed Successfully...