McDonald's India® (West & South) ranked No. 1 Best Workplace in Retail in India 2016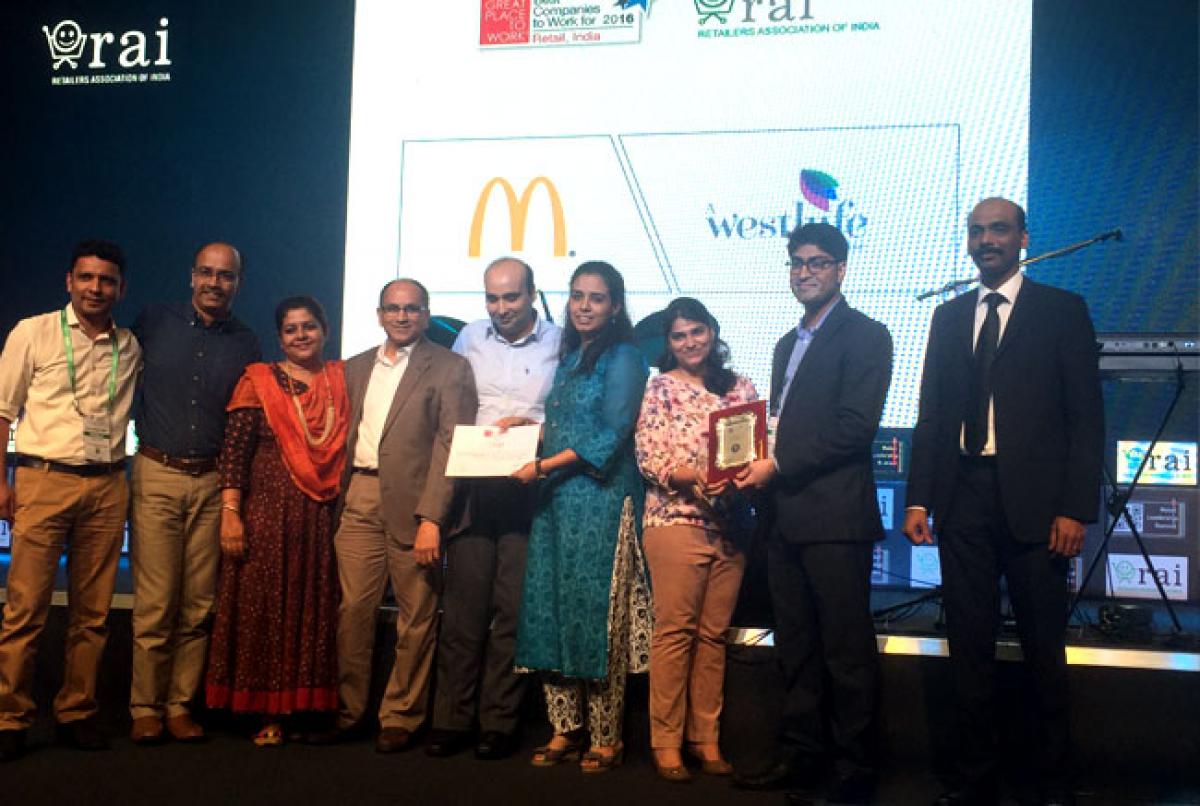 Highlights
Celebrating its twentieth anniversary in India, Hardcastle Restaurants Private Limited (HRPL), a Master Franchisee for West & South India operations of McDonald's® Restaurants and a subsidiary of the BSE listed Westlife Development Limited (BSE: 505533), was announced as the No. 1 Preferred Employer among the Retail companies in India in 2016
~ The Great Place To Work® Institute survey recognises HRPL once again among the top 10 best workplace in retail ~
Celebrating its twentieth anniversary in India, Hardcastle Restaurants Private Limited (HRPL), a Master Franchisee for West & South India operations of McDonald's® Restaurants and a subsidiary of the BSE listed Westlife Development Limited (BSE: 505533), was announced as the No. 1 Preferred Employer among the Retail companies in India in 2016 at the Retail Leadership Summit in Mumbai. The ranking has been awarded on the parameters of confidential employee feedback and an audit of management processes by Great Place to Work® Institute and Retailers Association of India (RAI). This study was conducted across several retail organizations in the country to assess the work place culture and employee satisfaction to identify India's Best Retail Companies to work for in 2016. This is the second consecutive year that HRPL has been featured among the top 10 companies in retail sector and winning the top honor this year.
On winning the coveted award, Ms. Seema Arora Nambiar, Vice President, People Resources & Business Excellence at McDonald's® India- West & South said, "It is indeed a great accomplishment to have emerged as a leader amidst tough competition. This award is a clear testament to our Employee Value Proposition of Fun, Flexibility & Future. We are constantly committed to create a growth oriented and a vibrant workplace for our employees. To be recognized yet again as best company to work for in retail sector in India reflects the trust our 7,500 employees place on us and the pride they take in their work while serving over 185 million customers annually. Winning this award is an acknowledgment of our culture of mutual respect and camaraderie that we celebrate every day at work while creating an enjoyable workplace. This achievement has further motivated us to continue to sustain a great workplace where our employees can learn and add value to their work in a cohesive and positive environment."

"McDonald is unique in understanding of its talent market and ensuring training and exposure to its employees. The opportunities they provide not only equip people with job related competencies, but also enable them to change their lives for the better," said Mr. Prasenjit Bhattacharya – CEO, Great Place to Work® Institute, India during the award ceremony.

Ms. Basuri Dutta, Practice Head – Great Place to Work® Institute, India noted, "A company that catapults careers, making store managers out of high-school grads through their education assistance programmes, a company that invests in quality training and inculcates teamwork, both of which are skills for life – that is a glimpse of what Hardcastle Restaurants is – India's Best Retail Company to Work For. It is indeed No.1 because each one of their employees is saying 'I'm loving it'."

According to study conducted by Great Place to Work®, there are two lenses to identify the 'best' basis employee feedback: Trust and Culture Index. Trust Index involves: respect, fairness, pride and comrade whereas the Culture Index includes hiring, celebrating, speaking, listening, thinking, caring, developing and sharing. Interestingly, the percentage of women in senior management (21.27%) among 'Best Companies in Retail' is equivalent to the percentage of women (21.47%) in the overall employee base as compared to other industries. Over 75% of the respondents from offline retailers had an overall higher positive perception on TL&D, appreciation and camaraderie as compared to 71% respondents from online retailers.
The study also highlights - special & unique benefits, empowerment & responsibility, appreciation and fun at work as key drivers of employee perception unique to retail industry whereas key employee retention drivers unique to retail include involvement in communication, fun at work, striking work life balance and management accessibility while citing common as pride at workplace, opportunities for career growth, egalitarian treatment and demonstrated caring. The employees listed top-down communication, pride in job, create a friendly workplace and create a sense of family & community as top attributes that make an organisation a GPTW. Most employees working in retail sector seek education assistance programmes from the company.