Nestlé KIT KAT Partners with R. Balki's upcoming Movie Ki & Ka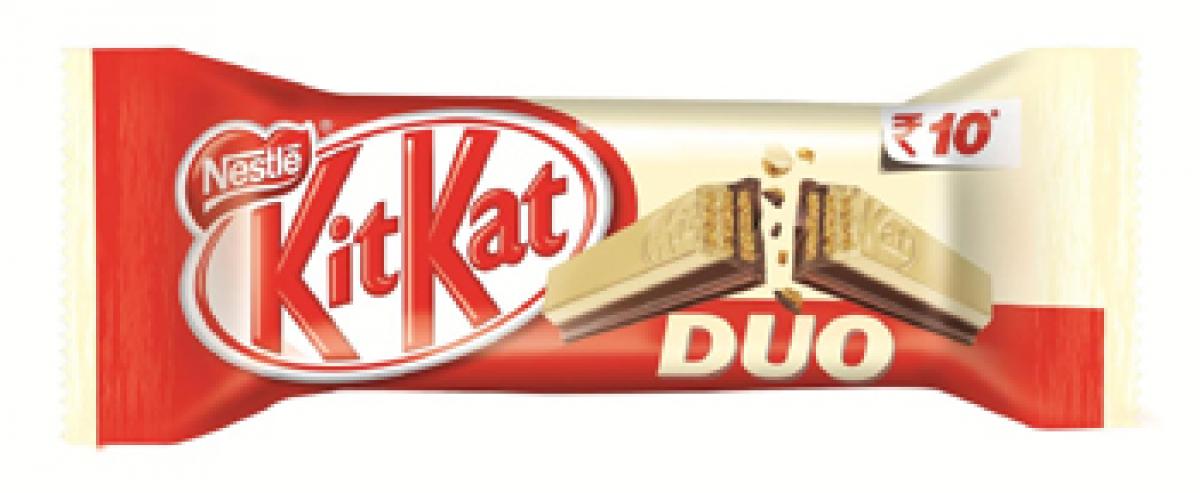 Highlights
The coolest, trendiest way to have a break!NESTLÉ HOUSE, MARCH 28, 2016:  Nestlé India is delighted to announce the launch of Nestlé KIT KAT Duo, a new variant of its popular brand KIT KAT. The new Nestlé KIT KAT Duo is a delicious first-ever combination of white and brown wafer chocolate in the well-recognized unique finger format of KIT KAT available at a competitive price of Rs.10. The company
The coolest, trendiest way to have a break!NESTLÉ HOUSE, MARCH 28, 2016: Nestlé India is delighted to announce the launch of Nestlé KIT KAT Duo, a new variant of its popular brand KIT KAT. The new Nestlé KIT KAT Duo is a delicious first-ever combination of white and brown wafer chocolate in the well-recognized unique finger format of KIT KAT available at a competitive price of Rs.10. The company has partnered with R.Balki's upcoming directorial venture, Ki & Ka, starring superstars Kareena Kapoor and Arjun Kapoor, for an exclusive launch.

With the launch of the new KIT KAT Duo, Nikhil Chand, General Manager, Chocolates and Confectionery, Nestlé India Ltd. said, "India is a growing chocolate and confectionery market, and this market needs some excitement and innovation. We are aiming to expand our product range with this launch and bring some fun and excitement to the category." "We are extremely happy to introduce the new KIT KAT Duo in association with Ki & Ka. The subject of the film is very novel and resonates with the brand identity of our new product and the core target of our brand – the youth. The youth today are focused on novelty, therefore, the new KIT KAT Duo takes innovation a step forward by offering a distinctive combination of brown and white for the very first time." Mr. Chand added.
Ki & Ka is a light and romantic comedy about an unusual modern relationship. The male lead is an unconventional man, whose aim in life is to be a homemaker despite being an IIM topper. The female lead on the other hand is extremely career-oriented and wishes for a partner who will stand by her always. The film focusses on their journey as a married couple and how they overcome circumstantial challenges and move ahead. Also the motto of 'Have a Break, Have a Kit Kat' fits into the lives of the two leads of the film where the homemaker brings stability and a much needed break to the hectic life of the career-oriented professional.

Much like Ki & Ka, the new KIT KAT Duo is happily married, but with a twist and despite being a mixture of opposites, they both attract each other.The TVC featuring the duo, Kareena and Arjun talking about the coolest new KIT KAT Duo is on air from 21st March onwards.