Drinking water from air units in Telangana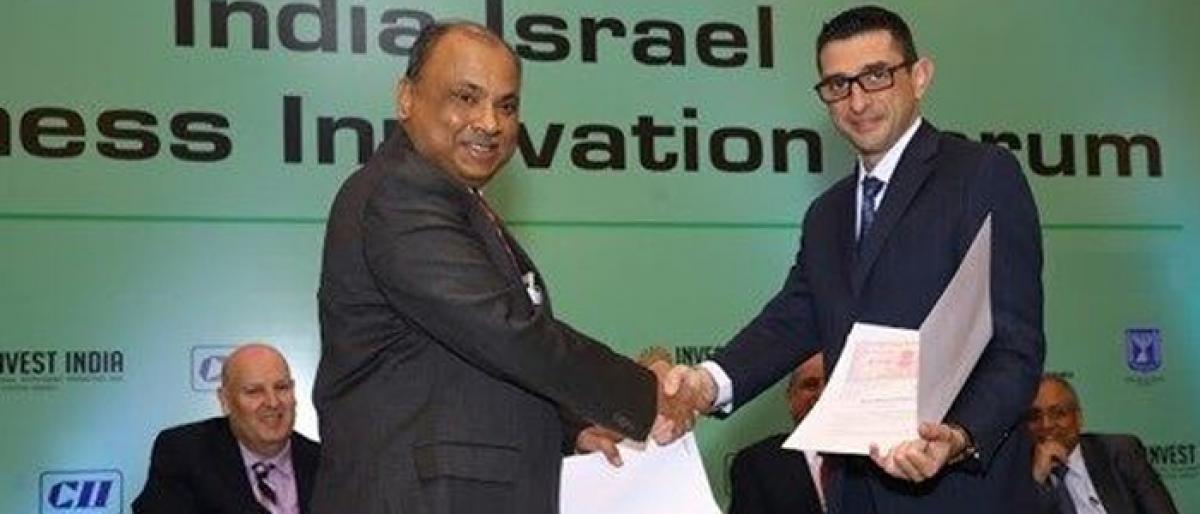 Highlights
Here goes good news for people, who're facing acute scarcity of safe drinking water, particularly those in fluoride-hit areas in Telangana. Tata Projects proposes to set up two pilot projects AWG (atmospheric water generators) in the State
Hyderabad: Here goes good news for people, who're facing acute scarcity of safe drinking water, particularly those in fluoride-hit areas in Telangana. Tata Projects proposes to set up two pilot projects AWG (atmospheric water generators) in the State to provide safe drinking water extracting from air, according to an official at the company, who further said that it would be part of corporate social responsibility (CSR) initiative of Tata Trusts. Two pilot projects are likely to come up within six months.
Speaking to The Hans India, Naresh Sharma, Head (Marketing & Communications) at Tata Projects, said: "We'll set up two pilot projects on 'extracting safe drinking water from air' in Telangana mostly where underground water levels are polluted or fluoride-hit. One pilot project will have capacity of 6,000 litres per day and another one with 600 litres per day. We'll commission these two pilot projects within six months in Telangana. Tata Projects is also keen on setting up such AWG units in Andhra Pradesh also. After seeing the results of pilot projects, we'll plan accordingly."
Israeli firm Watergen is providing technology support to the pilot projects in extracting safe drinking water from air. Towards this, Tata Projects has signed a memorandum of understanding (MoU) with Watergen coinciding with the visit of Israeli Prime Minister Benjamin Netanyahu to India, in New Delhi on Monday.
The MoU envisages resolving India's drinking water challenge, by providing safe, clean and cost-efficient drinking water as based on the results from pilot project, Tata Projects will set up more units across the country, said Sharma.
Fulfilling the vision of Prime Minister Narendra Modi's Make in India campaign, the MoU seeks to manage local operations and manufacture Watergen units in India. This process will create jobs and fuel economic growth, while providing local and regional drinking water supply when needed, as well as the deployment of a distributed water grid chain across the country.
Watergen was a member of the Israeli business delegation to India. Dr Michael Mirilashvili said: "Watergen is proud to be a partner in the long standing and fruitful co-operation between Israel and India. We thank Tata Projects and Tata Trusts for their commitment to improve the quality of life for the citizens of India. Together, Watergen and Tata Projects can now provide clean and safe drinking water from the air, immediately and permanently."
Tenny Cherian, COO at Tata Projects (quality service & water division) adds: "As part of our Water Business Unit, which is run as a social business initiative, we're happy to bring this innovative technology to India. We look forward to working with various government, public, private, NGO sector partners to deploy these water units across India, with initial focus being in rural India. We do believe that this will help reduce water stress and scarcity, while ensuring quality and availability of safe drinking water for India."
Last year, Watergen set up a GEN-350G pilot at Connaught Place in New Delhi, where nearly 2,000 people use drinking water from the air every day. The cost of AWG projects is expected to be higher than Reverse Osmosis (RO) plants, however, it would be carried out as part of Tata Trusts' CSR. Tata Projects is also planning to take the initiative of providing safe drinking water to schools, hospitals, universities, community centres and military camps.
During the Global Entrepreneurship Summit (GES-2017) in last November hosted in Hyderabad, Watergen's president Dr Michael Mirilashvili briefed his plan to Prime Minister Modi on resolving India's water crisis within five years. Since then, Indian government officials have been working with Watergen to realize this vision.
Interested in blogging for thehansindia.com? We will be happy to have you on board as a blogger.