To ensure road safety for all, Honda takes unique initiatives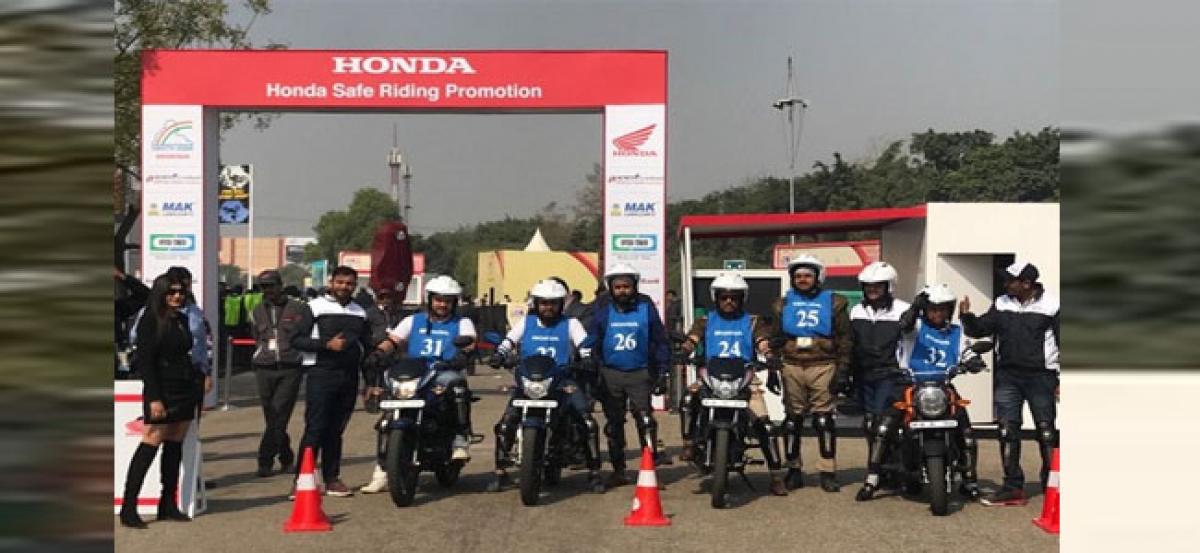 Highlights
Honda 2 wheeler India\'s road safety initiative is drawing a lot of attention from people across age groups, including children.
Greater Noida: Honda 2 wheeler India's road safety initiative is drawing a lot of attention from people across age groups, including children.
This year's Auto Expo 2018 features a special safety zone by Honda to impart safety knowledge. It is equipped with a Smart Trainer, a Sign Identification Game and mini bikes, on which children can learn how to ride safely.
Part of the company's safe riding campaign under which more than 16 lakh riders have been trained at 12 training parks across the country, the SMART Riding Trainer (SMART being the acronym for Safe Motorcyclist Awareness and Recognition Trainer) is computerized traffic simulator that allows beginners an opportunity to operate a motorcycle in real-life situations without the inherent real-world risks and consequences.
It is a training tool so realistic that you can test your street-riding savvy-or, if you're new to motorcycling or scooters, your readiness to ride-without riding on the road.
State-of-the-art software, allows beginners to learn and practice basic motorcycle control operations such as clutch, brake, throttle, and gearshift coordination in a computer simulation environment.
The Trainer's software simulates 17 different scenarios, comprising two beginner courses (Clutch Operation and City Riding) and 15 hazard prediction courses testing the rider's accident avoidance and prediction skills. From there, each of these scenarios can be run in three different "condition" modes-Day, Night or Fog-as well as city riding, touring, manual transmission or automatic (scooter) modes.
In all, the SMART Riding Trainer offers 164 different operating scenarios, giving the rider numerous chances to make and correct mistake.
The innovative sign board game is designed to allow people to learn and recognize various road sign in an interesting manner. Mini bikes in the safety zone allow children to learn safe riding and prepare them for the future.
The safety zone hosts a pledge board for participants to write their pledges on how they will make roads safer after going through the safety training in the zone.