Nasscom sees 7-9 per cent growth in IT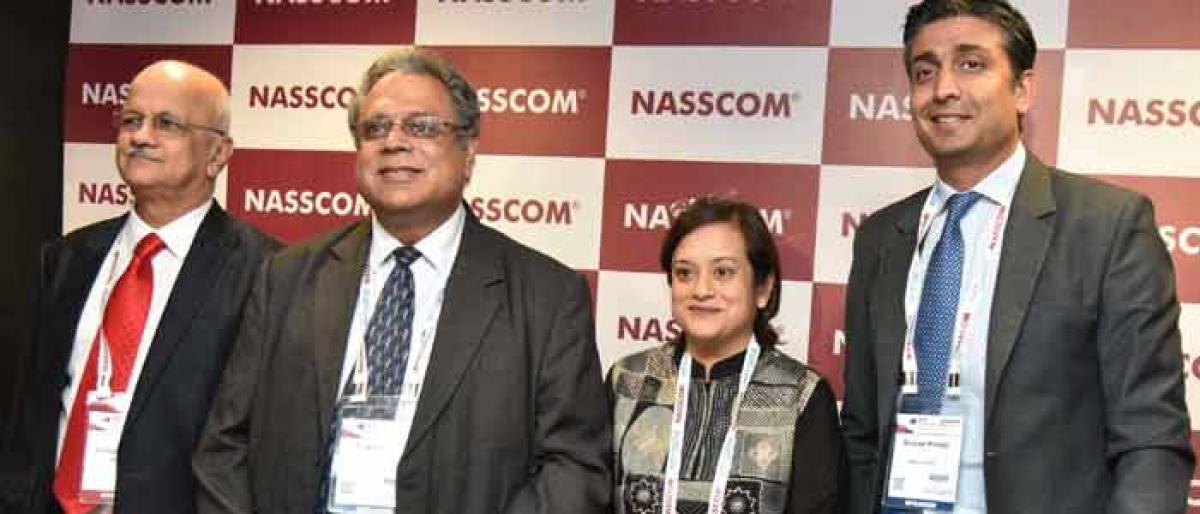 Highlights
The software industry body Nasscom on Tuesday made a forecast of 7-9 per cent growth rate on IT exports for 2018-19 fiscal, while projecting a 10-12 per cent growth for domestic revenues. 
Hyderabad: The software industry body Nasscom on Tuesday made a forecast of 7-9 per cent growth rate on IT exports for 2018-19 fiscal, while projecting a 10-12 per cent growth for domestic revenues.
Nasscom President R Chandrashekhar has projected that the IT industry may close the current fiscal with a lower-than-projected 7.8 per cent growth at $167 billion in revenues and 10 per cent growth in domestic revenues.
National Association of Software and Services Companies (Nasscom) has released its outlook for 2018-19 financial year at its ongoing annual India Leadership Forum (NILF), which is being held along with the World Congress on IT (WCIT-2018) here.
"Potential for growth will be unlocked by policy support that clears regulatory barriers, for which we continue to work with government. We forecast 7-9 per cent growth in IT and IT- enabled services for FY19. The domestic revenues are expected to grow at 10-12 per cent annually, while exports, the mainstay may lag in FY19," said R Chandrashekhar, who spoke with the media along with Nasscom Chairman Raman Roy, Vice- Chairman Rishad Premji and President-designate Debjani Ghosh.
Starting on a sluggish mode, the 2017-18 fiscal witnessed an encouraging growth in the second half as the financial year is expected to close with revenues of $167 billion, said Chandrashekhar.
Roy has expressed hope that the IT industry may add 100,000 new hands during FY19, which again 50 per cent lower than what it had projected for FY18, attributing the job loss in IT industry to hiring of techies in other industry verticals.
Nasscom in June 2017 had forecast flat growth rate for FY18. Generally, Nasscom announces annual forecast in February. However, it was delayed owing to the Visa issues in the US and other global headwinds.
"Headwinds are very much there. However, some uncertainty eased off. The sector is facing multiple headwinds, but overall industry continues to grow in customer base and domestic needs. General global trend is upward, but impact on industry is translating over a period as some challenges impact overall positive results," adds Chandrashekhar.
Nasscom had forecast a export revenue growth of 7-8 per cent in FY18, compared to 7.6 per cent in FY17. In FY16, exports earnings rose just 7.6 per cent, while domestic revenue was around 10-11 per cent.
Even on the hiring front, the outlook is dim with a 50 per cent likely slip from 130,000-150,000 new jobs projected for FY18. However, Chandrashekhar sounded optimistic saying the mood is upbeat and the trend is positive, which should translate into better business opportunities.
"Our export revenues expected to be $167billion including e-Commerce this fiscal. Domestic segment is growing at 10 per cent annually and expected to be $28-29 billion in the next financial year against the projected $26 bn in FY2018, while hardware sector remains steady."
Roy said: "It's a great milestone for the software and services industry to cross $150 billion – tripling in size in less than a decade. The growth of the B2B startup sector also represents a unique opportunity for India to build innovative solutions for India and the world. However, what lies ahead is even more exciting. From small digital pilots, to POCs with product players, we are witnessing industrialization of digital as the wave ahead.
The stated vision to build a $1-trillion digital economy by 2022, for which we would require growth across all sectors, established and new age companies, technology service companies and product companies, consumer internet as well as the increased adoption of digital across enterprise, government and MSME in India."
Ghosh said that Nasscom was working with the government on reskilling IT professionals, while enhancing employment opportunities.

Interested in blogging for thehansindia.com? We will be happy to have you on board as a blogger.