Tech Olympics sets the tone for industry 4.0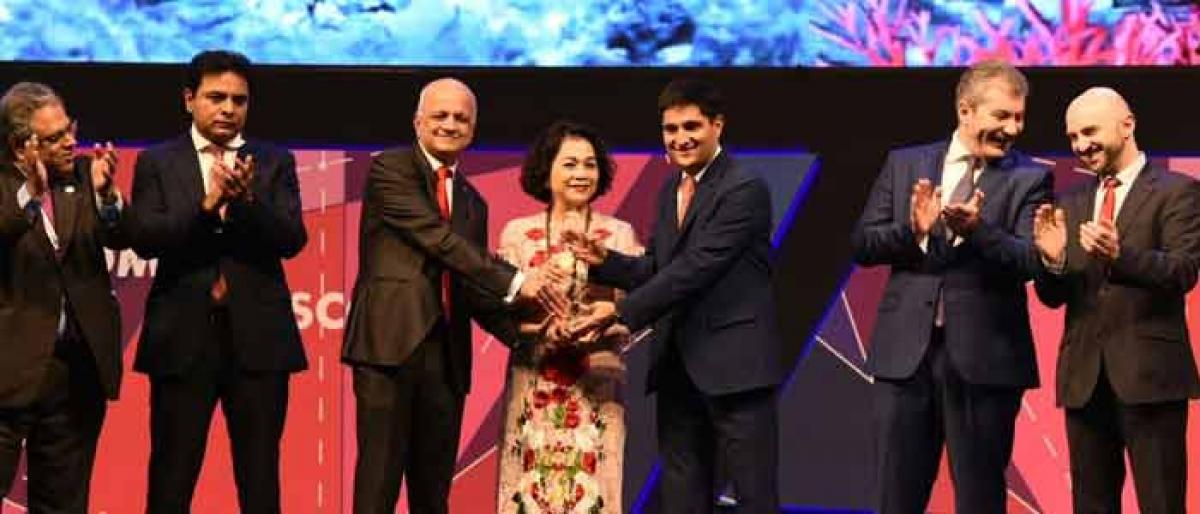 Highlights
With the baton of the next Congress, WCIT-2019, passing to Yerevan in Armenia, WCIT-2018, the 22nd edition of the World Congress on Information Technology (WCIT) has turned out to be a different one as this time whole focus was around technology changes and their impact on society. With blurring industrial barriers, the digital revolution is transforming the industry into software-industry paving
Hyderabad: With the baton of the next Congress, WCIT-2019, passing to Yerevan in Armenia, WCIT-2018, the 22nd edition of the World Congress on Information Technology (WCIT) has turned out to be a different one as this time whole focus was around technology changes and their impact on society. With blurring industrial barriers, the digital revolution is transforming the industry into software-industry paving the way for fourth generation industrial revolution, said captains of the industry.
The Hans India spoke to participants at the two mega global technology events – WCIT-2019 and 26th edition of Nasscom India Leadership Forum (NILF). Unlike other nations, India is a mix of talent as it's a home to large pool of programmers, designers, algorithms experts, startups, entrepreneurs, etc, and this was reflected at WCIT, observe some participants.
The theme of the event 'Amplify Digital - Disrupt The Core is very apt as the way brainstorming sessions, presentations discussions took place here. Harshit Mehta from topcoder, a part of Wipro, further added that "Indonesia is known for designers. Japan, Russia and Poland are popular in algorithm.
Whereas, India has mixed breed. We have a large pool of experts in different technology spheres. That's the greatest advantage, our country has and this is clearly visible at this event. We interacted with new startups and top coders as well." "Earlier focus used to be on solutions, exploring markets, impact of global factors on IT business and so on. But, this time, it's different as the WCIT-2018 focused on upcoming technologies, trends, AI and digitisation," said Mehta.
"It was really more than what I expected," said Ramachandra Iyer from Cisco. "All expectations were met as we interacted delegates from the global industry. The quality of participants is very good. We showcased what Cisco is doing in latest technology applications including our Cisco Spark platform," said Iyer.
WCIT-2018 was organized for the first time in India and Prime Minister Narendra Modi inaugurated the summit through a video conference. The inauguration itself engaged technology usage, he said. With the theme 'Living the Digital Dream,' WCIT-2017 was held in Taipei in Taiwan.
Future editions of tech Olympics have been scheduled as --WCIT-2020 at Kuala Lumpur in Malaysia and WCIT-2021 at Dhaka in Bangladesh. Brainstorming sessions on cyber security, blockchain technology, artificial intelligence (AI), digitalisation, technology impact on society, to name a few. Information age is over, now, welcome to experience age, says Shantanu Narayan, Global CEO at Adobe, which is setting up CoE on AI in Hyderabad. Shantanu spoke on the subject at the event.
IBM showcased its cognitive technology that can help businesses by defining ideal outcomes and choosing the best implementation approach. Expressing satisfaction over the way WCIT-2018 was organised in Hyderabad, Saravanan from IBM said: "The venue is good and it was organised very well. The visitors at our stall were keen to know our automation, AI and digital technologies."
DXC Technology lists six technology trends for current year. Re-platforming, digital talent, quantified enterprise, cyber resilience, digital business extensions and AI gets smarter. Bharath Ram Sundararajan, Director, DXC Technology, said: "This time focus is on how technology impacts society, connecting villages, jobs of future, etc."
Sujit Janardhan from Google Cloud added that it's not mere B2B event, but a community platform. It helps building awareness on industry 4.0 in India and world as well."
Interested in blogging for thehansindia.com? We will be happy to have you on board as a blogger.