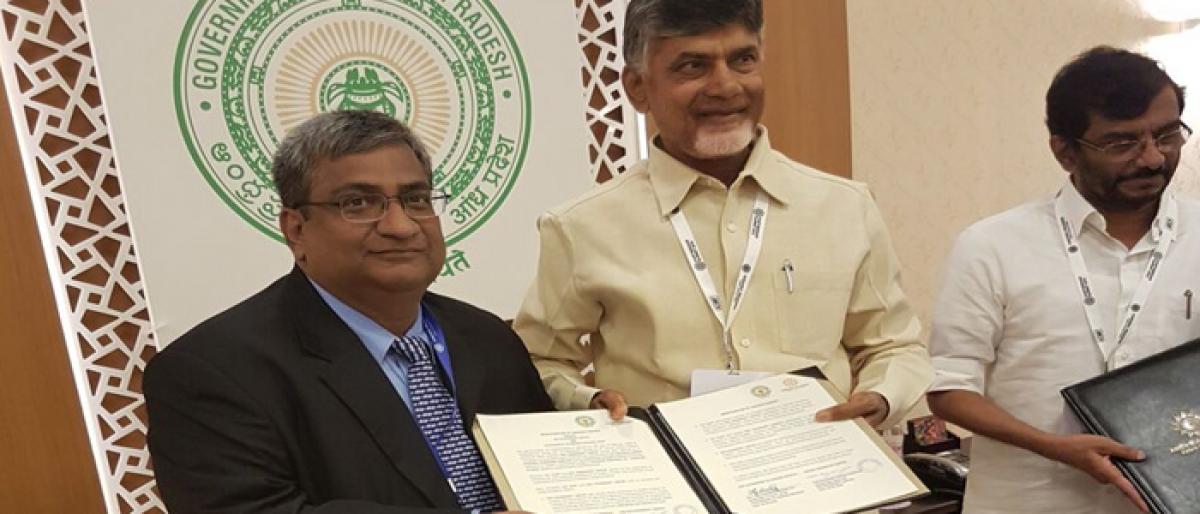 Highlights
KisanKraft Ltd has signed an MoU with the Andhra Pradesh government for Rs75-crore multi-faceted project focused on agriculture technology. The Bengaluru-based ISO 9001:2015 certified manufacturer and wholesale distributor of agricultural equipment for small and marginal farmers signed the MoU in presence o
Visakhapatnam: KisanKraft Ltd has signed an MoU with the Andhra Pradesh government for Rs75-crore multi-faceted project focused on agriculture technology. The Bengaluru-based ISO 9001:2015 certified manufacturer and wholesale distributor of agricultural equipment for small and marginal farmers signed the MoU in presence of AP Chief Minister Chandrababu Naidu and Minister of Agriculture Somireddy Chandramohan Reddy at the Partnership Summit 2018 here on Monday.
Speaking on the occasion, Ravindra K Agrawal, Managing Director of KisanKraftLtd, said: "We have witnessed a huge drop in number of farm laborers in the last 2-3 decades. Migration from rural to urban areas due to reduced incomes in agriculture is the major reasons for this acute shortage of labour. With the establishment of such facility, we will focus on mechanization of small and marginal farmers to increase farmer's profits and further advance the development of this sector. This project will also facilitate the creation of hundreds of direct jobs across the board for skilled, semi-skilled and unskilled workers" and thousands of indirect jobs by creating Village Level Entrepreneurs."
Somireddy Chandramohan Reddy said: "After bifurcation of Andhra Pradesh and Telangana, very few industries are left with Andhra Pradesh. This government is making all efforts to bring back the growth and development to the Sunrise State Andhra Pradesh. We would welcome and give necessary support to the industries with credible background in the field of agriculture and biotechnology and who can contribute to the development and welfare of the farmers in Andhra Pradesh."
Dr P Krishnaiah, Chairman of APIIC, adds: "Agriculture can become sustainable only when it is profitable. Profitability is possible only by adopting modern tools and knowledge relevant to small and marginal farmers." As part of the MoU, KisanKraft will set up a facility in AP to manufacture machinery for small and marginal farmers such as inter-cultivators, BIS:ISI approved engines, water-pumps, etc. It'll also add more products in the days to come. This project will also have R&D and testing facilities for development of new machinery, draught resistant seeds and related technology.
Additionally, KisanKraft will setup a training and demonstration center for farmers, techniciansand rural youth. This facility is expected to be spread across 20 hectares of land and will help bring advancements in the agricultural sector and aide inimproving farmers' income.
"We were impressed by sincerity of Minister of Agriculture, and follow-ups by Commissioner of Industries, Chairman of APIIC, GM of AP Agros and many other officers after the 'Entrepreneur Summit for Promotion of Agriculture & Horticulture Industries in Andhra Pradesh' held at Vijayawada on January 31, 2018. Their industry-friendly policies and commitment to develop agriculture related industry has encouraged us to develop this project in AP," Agrawal said.