Nephroplus: Biz with social cause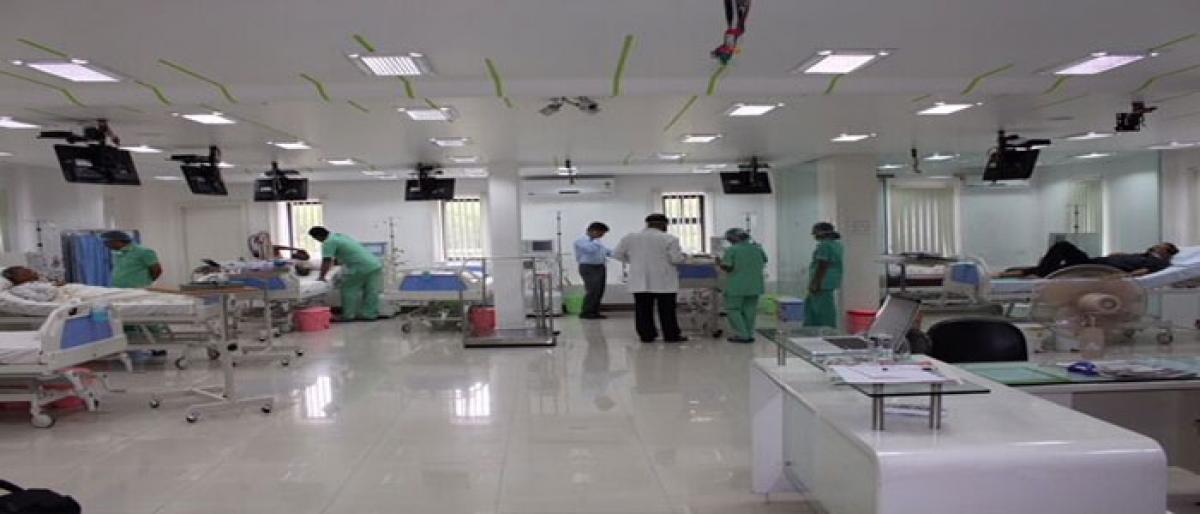 Highlights
Nephroplus, a Hyderabad-based dialysis service provider, is expanding its footprint in the country and aims to take the total number of dialysis centres to 500 in next three years. 
Business: Nephroplus, a Hyderabad-based dialysis service provider, is expanding its footprint in the country and aims to take the total number of dialysis centres to 500 in next three years.
The company plans to go overseas as it's considering Middle East (ME), Africa and South East Asian countries. An initial public offer (IPO) is also on the cards, says Kamal D Shah, Co-founder and Director at Nephroplus.Set up in December 2009, Nephroplus has 139 centres in 18 states including 15 in Telangana and 30 in Andhra Pradesh.
Shah said: "We have tie-ups with state governments of Andhra Pradesh, Tamil Nadu, Maharashtra, Jharkhand and Karnataka. The exclusive agreements with state governments are facilitating dialysis patients to get high-quality services at free of cost. With an exclusive agreement with the Andhra Pradesh government, we're providing dialysis services at free of cost in the state. AP government is also providing Rs 2,500 per month pension to every dialysis patient."
"We have an expansion plan for India and abroad as well. We'll launch our centre in one country this year and later expand to other nations gradually. As of now, we have not decided on which country to begin with. We want to have one dialysis centre in every district headquarter in the country. We reached break-even point (BEP) in just seven years. We may consider going for an IPO as well.
However, we are yet to decide on the fund mobilisation plan," Recalling the early days of Nephroplus, he says: "Beginning with barely 10 patients in the first six months of operations, our company grew into an organisation that takes care of over 10,000 patients every month. Our goal is to provide better quality of dialysis service at an affordable price of just Rs 15,000-20,000 a month. It's estimated that 85 per cent of patients don't get quality service at affordable price."
Every dialysis patient needs to attend for three sessions a week and each session involves four hours of dialysis.
Not only providing quality services, Nephroplus also addresses psychological issues as well. More than medicine, how a patient is treated by doctor, his family and society, that makes a lot of difference. Keeping this in mind, Nephroplus treats every patient as its guest.
"Yes, they're guests. When we call them patients that sends psychologically wrong signals. So we call them as our guests. With quality dialysis services available at affordable cost, our guests are leading normal life. They can trek and participate in sports like any other normal person. We're organising Dialysis Olympics every two years. Over 500 patients participated in the last two editions. This Olympiad is open for all."
Suggesting on what government should do, Shah opines that governments have a greater role to play as they can educate people to spread awareness to prevent dialysis. Prevention is always a best medicine than providing quality and affordable treatment, he said.
"Diabetes and hypertension are main reasons for kidney failures. Primary healthcare centres should carry out regular health checkups. On the other hand, the Centre should slash import duty on medical equipment pertaining to dialysis. This will ease out financial pressure on equipment procurement and helps hospitals, state governments and other service providers like us set up more dialysis centres across the country. This will also enable us to offer services at affordable price."
Dialysis patients can lead a normal life, feels Shah. "I swim every day and people can lead a normal life provided quality dialysis services are available and following doctor's advice. Dialysis patients can go for trekking also," adds Shah.
Interested in blogging for thehansindia.com? We will be happy to have you on board as a blogger.