Billionaire Slim, America Movil, could profit from election of Mexican leftist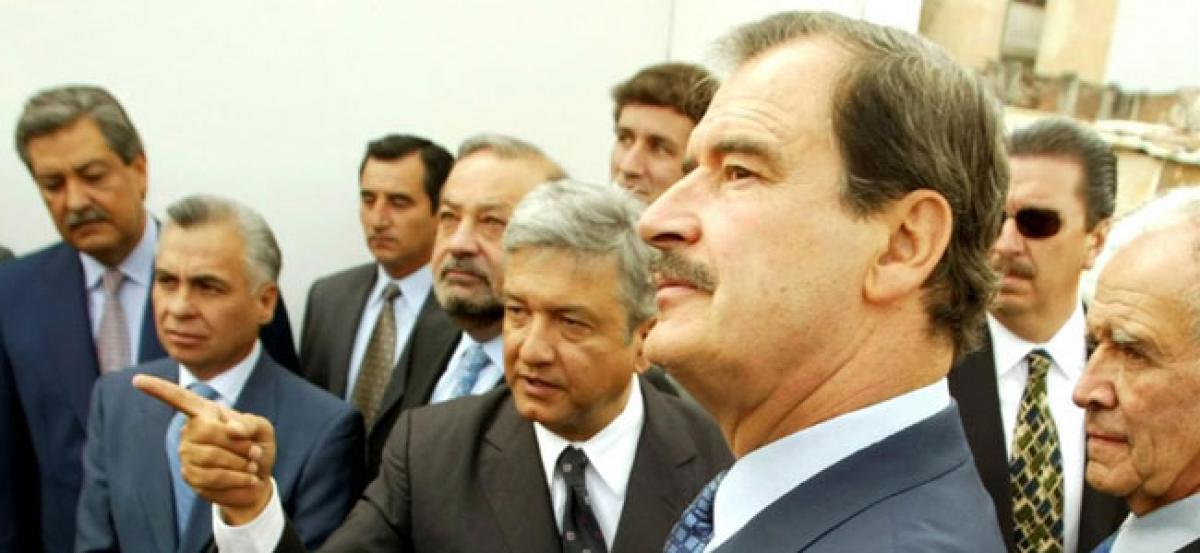 Highlights
 Billionaire Carlos Slim has had harsh words for Mexico's presidential frontrunner, saying recently he is "concerned and afraid" about what leftist Andres Manuel Lopez Obrador might do if elected.
MEXICO CITY: Billionaire Carlos Slim has had harsh words for Mexico's presidential frontrunner, saying recently he is "concerned and afraid" about what leftist Andres Manuel Lopez Obrador might do if elected.
But a victory by Lopez Obrador, who holds a double-digit lead in most polls before the July 1 vote, could provide upside for Slim's fortunes, particularly with regard to his America Movil (AMXL.MX) telecommunications empire, Reuters interviews with a dozen close friends, partners and other people familiar with their dealings show.
Lopez Obrador's pick for telecoms minister, Javier Jimenez, told Reuters he favors re-examining some regulations stemming from Mexico's landmark 2014 telecommunications reform, a law that has clipped America Movil's profits and inhibited its expansion.
That is because Slim's company, which possesses the largest network in Mexico, could play a key role in delivering cell coverage to rural areas but complains current regulations hold it back.
Lopez Obrador has championed better connectivity for the nation's impoverished farmers and indigenous people, who are some of his strongest supporters.
"We have to define a policy so that within six years there is the possibility of 5G across the whole country," said Jimenez, who went to college with Slim and has known him for some 60 years. He emphasized that all players would be invited to take part.
Jimenez said such a shift could include reviewing criteria for evaluating "preponderance." That concept in the telecoms law triggers tougher regulation for players with more than 50 percent market share. America Movil still accounts for more than 60 percent of Mexico's fixed lines and mobile users.
America Movil executives have complained publicly the company is hamstrung from entering underserved areas because that would only increase its market share, prolonging antitrust scrutiny.
Jimenez said the country's reform is behind on its mandate to expand access. He said a Lopez Obrador administration would not seek to modify the overall reform, which created an independent regulator, but would conduct a review of secondary regulations to ensure competition is not coming at the expense of coverage.
"There shouldn't be competition for competition's sake," Jimenez said. "Competition is an element, a tool, that permits a larger goal, which is better attention to the user."
There could be even more good news for Slim.
Jimenez and another Lopez Obrador adviser, telecoms veteran Abel Hibert, said they were open to the idea of granting America Movil a television license, a sector the company has long been denied entry because of its size and influence.
Such a move would be up to regulators. But if it came to pass, it would allow America Movil to achieve its dream of offering customers phone service, internet and video in one package, and, Jimenez said, could help serve far-flung consumers.
Changes to Mexico's telecoms landscape would come with high stakes. The reform, which required a constitutional amendment, enjoys broad public support. Rates fell, service improved and consumers have more choices. U.S.-based AT&T Inc (T.N) invested heavily to grab a share of a market with an estimated 114 million cell subscriptions.
Many are wary of softening measures against Slim, whose company has waged numerous court battles to stymie the legislation and maintain its power.
"If we let down our guard, America Movil will only get stronger," said Senator Gerardo Flores, whose Partido Verde helped pass the reform.
A spokesman for America Movil declined to comment, as did a spokeswoman for Lopez Obrador.
A PRAGMATIC RELATIONSHIP
The prospect of Lopez Obrador, a social activist and economic nationalist, as president has spooked some leading Mexican businesspeople.
Yet pragmatism has marked the relationship between the austere politician and Slim, Mexico's richest man.
The pair tussled recently over a proposed $13-billion airport for Mexico City. Lopez Obrador decried it as a waste of taxpayers' money. Slim called a rare press conference to defend the project, for which his construction companies hold lucrative contracts.
But the controversy faded quickly. Lopez Obrador subsequently said that, if elected, he would consider allowing the private sector to finance the airport, alleviating the need for public money - a solution Slim himself had proposed.
Practicality likewise prevailed in the early 2000s, when Lopez Obrador was Mexico City mayor, and he and Slim teamed up to revitalize the decrepit historic center.
They clashed early. Slim regularly attended the meetings, but while he was out undergoing a medical procedure, Lopez Obrador's team attempted to make major changes, two people familiar with the project said. Rather than feuding, Slim suggested the men divvy up responsibilities.
The project was ultimately a success. Slim saw the value of his downtown real estate holdings soar, while Lopez Obrador positioned himself for national office.
"Slim doesn't consider Lopez Obrador his ideal leader, and Lopez Obrador doesn't consider Slim his ideal businessperson," said James Jones, a former U.S. ambassador to Mexico who knows both men. "But I think they can work together."
Telecommunications could provide another avenue for the men to help each other get what they want.
Mexico's telecoms reform was a rude awakening for Slim, who acquired the former state-owned Telmex phone monopoly in the 1990s and has dominated the nation's industry ever since.
The legislation aimed at loosening America Movil's grip. The company was forced to share its network with competitors and initially was banned from charging interconnection fees.
The company saw its Mexican profit margins fall to less than 35 percent from 45 percent in just a few years.
Consumers, meanwhile, rejoiced as rates fell by roughly 40 percent.
But more than a third of Mexicans still lack a mobile subscription, behind countries such as Argentina and Brazil, according to estimates from trade group GSMA Intelligence. Millions live in areas without coverage.
Reaching those Mexicans would be a top priority for Lopez Obrador, adviser Jimenez said. Noting that companies favor profitable urban areas, he said the administration would entice them to invest in less lucrative rural zones. He did not provide specifics.
Some telecoms experts say Mexico's regulations could potentially be tweaked so not all rural subscribers count toward America Movil's market share, though there is some debate about how much flexibility the constitution allows.
Slim already has weakened one major plank of the reform, persuading the Supreme Court in August to overturn a provision that had forced America Movil to let rivals use its network for free.
To be sure, Lopez Obrador's influence would have limits. The reform created an independent regulator, the Federal Telecommunications Institute (IFT), which oversees competition.
But Lopez Obrador could shape the regulator over time: The next president will name four of seven commissioners.
Jimenez stressed he would respect the IFT's autonomy and work collaboratively to chart the right course.
Nevertheless, many in telecoms are convinced a victory by Lopez Obrador would be a win for Slim as well.
When the men were sparring over the airport, "I found it more like a sort of charade," said Ernesto Piedras of research firm CIU in Mexico City. "There's been a very long period of them being close and collaborative for political and economic purposes."
Reporting by Julia Love and Christine Murray; additional reporting by Dave Graham; Editing by Frank Jack Daniel and Marla Dickerson.
Interested in blogging for thehansindia.com? We will be happy to have you on board as a blogger.