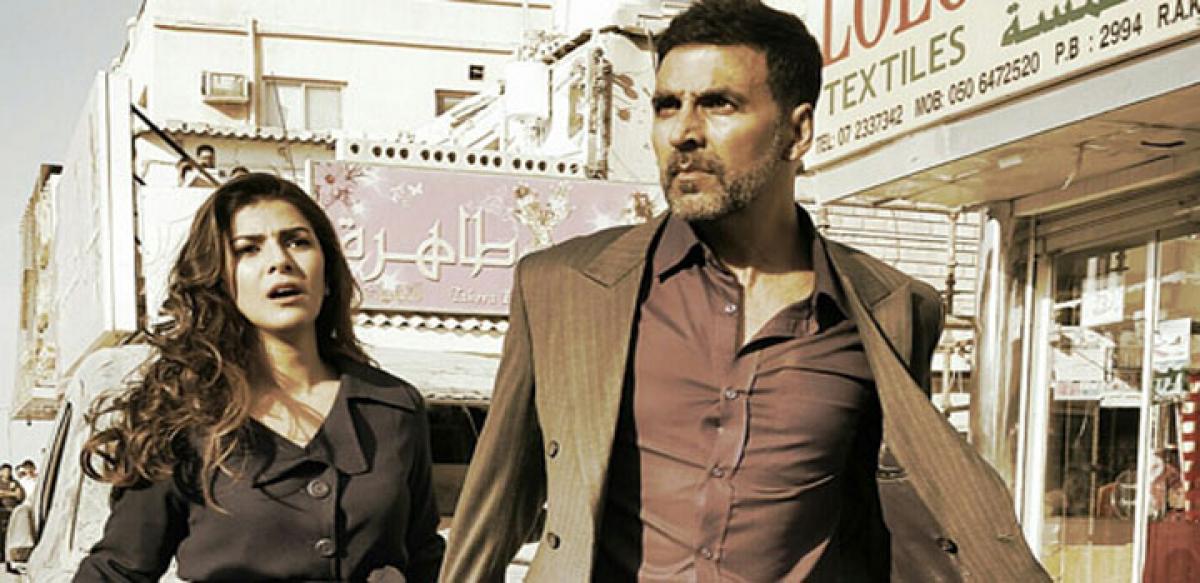 Highlights
This Friday 'Airlift' has hit the theaters and Akshay Kumar has done a marvelous job. Once termed as dumb and wooden by the media, this man has...
Akshay Kumar in recent years has emerged as the most bankable star in the tinsel town and has done many experiments in various genres than any other actor
This Friday 'Airlift' has hit the theaters and Akshay Kumar has done a marvelous job. Once termed as dumb and wooden by the media, this man has travelled some distance in life. Known as an action star initially this man has changed his offering to the audience in genres of comedy, thrillers, family entertainers and if there ever existed a term political-nationalistic-thrillers.
Akshay has given this genre the strength and fillip for others to carry it forward from here. The other most interesting point about Akshay is that post Jeetendra's retirement this guy is the first star from the north to develop excellent rapport with genius directors of the south like Murgadoss and Prabhu Deva.
And, he made absolute pot boiler entertainer movies like 'Rowdy Rathore' and 'Holiday'. I do look forward to the remake of 'Kathi' too. Akshay has also brought what I call respect for money back into Bollywood, I have always felt that if a simple looking movie with a few jazzy sets and cars jumping or a few foreign locales in it should not take more than 40 crore to make it.
When all our stars are getting into movies, which takes almost 70 or 100 crore to make, then frankly something is very wrong with the dynamics of our movie making. Then to be a respectable proposition this movie has to pump back at least 300 crore back.
Akshay has constantly aimed at making movies in the 40-60 crore cost range and therefore when his movies end up making 80-90 crore at just the domestic box office trust me it makes for much better economics to make movies with this man. To put it simply Akshay has brought back the Mithun style of movie making in Ooty to Mumbai with an obvious superior basic content.
We are not complaining. Akshay has also often spoken of how all his movies barring one where he has attended the muhurat were filmed. None of his movies ever went to cans. How he has always paid for his phone bills on overseas shoots. How, to put it in a nutshell, he becomes India's first "Producer's superstar" since maybe Amitabh Bachchan himself.
It is this commitment to craft which makes us look forward to Akshay Kumar movies. While some of his movies contributed to the boring fare of 1990s it is only poetic justice and one hell of a way of redeeming his own self that some of the most off beat movies within the parameters of commercial cinema came from this man.
Many times the tag of most versatile across the genre product offering has got associated with Aamir. In my very biased opinion Akshay deserves that crown now. For two reasons if you look and compare Aamir and Akshay in terms of "different commercial cinema" offered than Akshay's CV looks very strong.
Sure the BO collections are with Aamir but the content of Akshay's movies was far superior. If you do not believe me compare 'Rowdy Rathore' with 'Dhoom 3' and compare 'PK' with 'Oh My God!' you might just get the point.
Akshay Kumar remains, therefore, a man who still has not got his due from the media and critics but the way I look at it. The man who walks to the ticket counter knows which ticket to buy.
Subscribed Failed...
Subscribed Successfully...