Who said I'm single: Samantha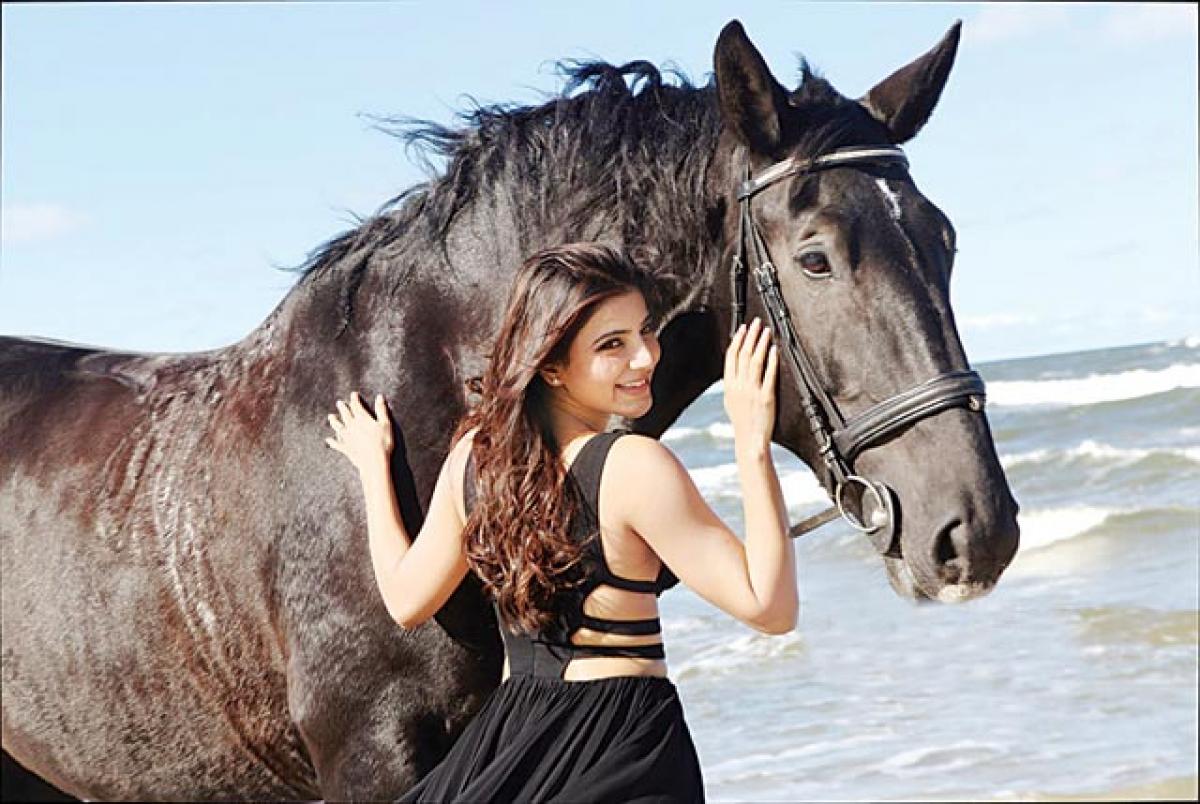 Highlights
This is probably the busiest summer of Samantha's life. Having kick-started with the smash hit 'Theri' (Tamil), she's continuing the streak with '24'...
It's time I take things slowly
The actress talks about '24', 'Brahmotsavam', shooting nonstop for eight months, relationship status and Mahesh's daughter Sitaara, her new bestie in town
This is probably the busiest summer of Samantha's life. Having kick-started with the smash hit 'Theri' (Tamil), she's continuing the streak with '24' which is running to packed houses. Not to forget, she also has anticipated projects like 'Brahmotsavam' and 'A…Aa' ready to arrive in theatres soon.
Did she expect her recent releases to do well? "Well, I'm not someone who'll say that the box-office results don't affect me, because they do. In fact, two days before my films release, I can't sleep properly. I was sure that 'Theri' would be a hit but the result did make me happy," she asserts, adding, "And the basic concept of '24' was so intriguing that I didn't want to let it go.
The story was something the Indian audiences have never been exposed to. The concept of time travel is complicated and can be difficult to understand and relate to and I wasn't sure how the audience would receive it. But Vikram Kumar (director) has managed to make it very simple."
Apparently, when Vikram gave her a narration, she remembered 'Eega'. "The high was such that I recalled Rajamouli garu narrating 'Eega' to me. It (Eega) relied on visuals and I was like, 'Can his vision be met with the visuals'. There was a certain risk factor involved but I was certain that if it connects with the audiences, it would be a blockbuster."
She goes on, "Irrespective of my screen time, when I am offered a film like '24', I think I definitely should star in it. If I have to sign a project, there should be some novelty to it. And I would want to be a part of a mass film like 'Theri' if my role is neatly etched and adds something to the overall film."
The actress has had very hectic schedules for the last eight months and she reveals that it all took a toll on her. "Two months ago, I remember landing at the Chennai airport at 2.00 am after finishing my part for 'Brahmotsavam'. Just as I was about to reach my car, I started shedding tears. I've been working without a break for the last eight months and there have been occasions where I went beyond the regular 12 hours.
My roles in 'Brahmotsavam' and 'A…Aa' are very strong, requiring my complete attention. '24' has drained me mentally and physically. We shot for a song in Poland in freezing temperature. There have been multiple occasions where I broke down for no reason in the last eight months because I was exhausted. It was tough on my family and friends because I was venting my frustration on them.
It is very important that I start taking things slowly from here on," she sighs. Despite the several ups and downs, Samanthat is still the queen bee of the industry and stands at the numero uno position (in Tollywood). And signing a film like 'Brahmotsavam' with two other heroines makes us wonder what prompted her to do so. "I was never worried about the other female leads in any of my films.
What matters to me is what I bring to the film. My character propels 'Brahmotsavam' after a certain point of time. It's a very new role for me. Director Sreekanth Addala garu has come up with very good lines for me," she chortles.
Her pictures with Sitaara on the sets of the film and even at the audio launch made a very cute frame. Samantha seems to have found a new friend in Mahesh's daughter. "We are besties now! I believe she will be the superstar heroine. Her dance, act and smile…. I think more than Gautham, Sitaara will be future of Mahesh Babu family," she giggles.
Ever since she broke up with Siddharth early last year, Samantha chose to keep her lips sealed as far as her personal life is concerned. So her answer to the question, 'Are you happily single?' does come as a surprise. "Who said I'm single?" she beams, putting a premium on her private life, not before asking us to proceed with the next question.
It's been a really long time since she teamed up with mentor Gautham Vasudev Menon. Would there be any collaboration sometime soon? After a pause, she pouts, "I think he is extremely busy with other projects. He hasn't approached me with anything yet. Probably you should ask him."
Presently occupied with NTR's 'Janatha Garage' for which she even shortened her "hair to look different", she is set to star in the Telugu-Tamil remake of the Kannada film 'U Turn' which she insists is a "thriller which would have the same director (Pawan Kumar) wielding the megaphone."
Subscribed Failed...
Subscribed Successfully...