Once Upon a Time in Mumbaai: An epic saga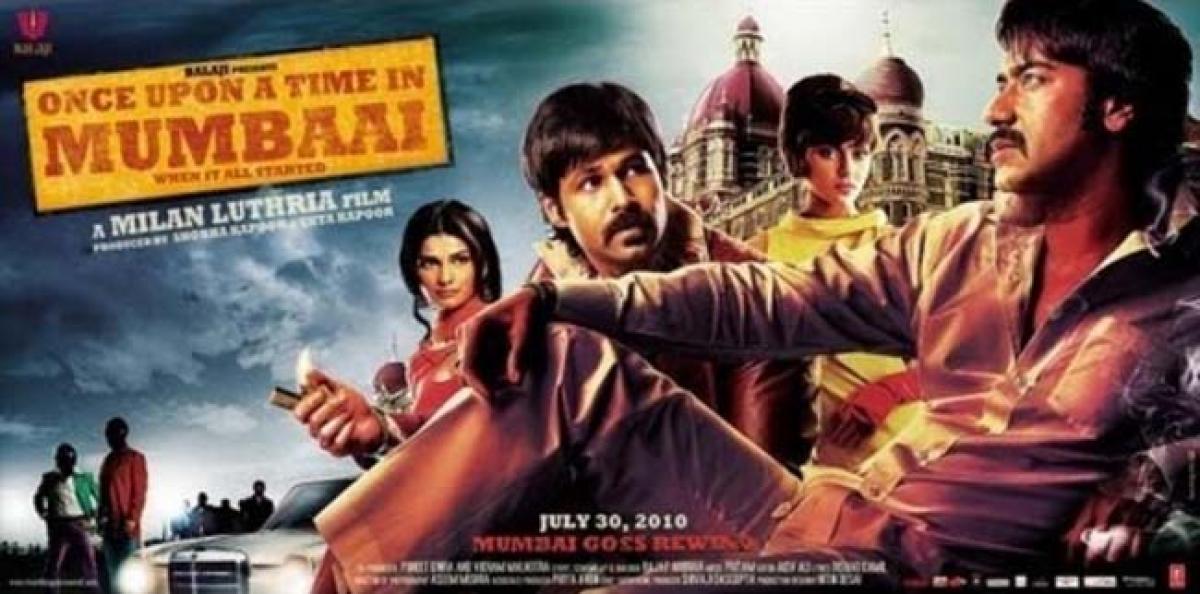 Highlights
'Once Upon a Time in Mumbaai' completed six years and the powerful performance of its cast still remains afresh in our minds
'Once Upon a Time in Mumbaai' completed six years and the powerful performance of its cast still remains afresh in our minds
"Har kitaab ki kismath mein library nahi hoti. Kuch kitaabein kabadi ki dukan main milti hain. Hum, sab wohi kitaabein hain."
On 30th July, 2010, in cinemas across India, the audience was hearing these lines for the first time. This was the day, in my very biased and not so humble opinion; one of the biggest gangster classics of the decade of 2010; it was served to us by the razor sharp writer-director duo of Milan Lutharia and Rajat Arora. These lines are delivered by Sultan Mirza just before he gets killed.
Lines and dialogues: 'Once Upon a Time in Mumbaai' has a special place in my book for too many reasons. The biggest of them is the way they penned the dialogues. This movie has such classic dialogues one after another. And probably you could rank it up there with any of those 70s classic written by either Salim-Javed or Kadar Khan.
"Agar wo baadh na aati to Bambai ko Sultan nahi milta aur Sultan ko Bambai."
"Mujhe bheek dega to tu kya khayega?" To this the reply is – "Dua… main dua khaoonga."
"Ek aadmi ki buniyaad hilane chala tha, aaj dekhiye poora shehar hil gaya hai!"
I will stop here. Not because I do not remember dialogues of this high content saga. I stop here because of two reasons. One, if you are one of those unfortunate Bollywood cinema lovers, who have not yet watched this then I do not wish to spoil your fun. Two, I need three pages to talk about dialogues of the film. That is the depth of dialogues in this one. The fact of the matter is that this movie brought back the 70s style "dhansoo" dialogues, which was exploited big time by Prabhu Deva kind of directors in years to come.
The biggest pull off 'Once…' was its screenplay, which had the amazing combination of drama and thrill factor. The film moves at a pace, which is fast enough to keep you guessing what next and moments that give you if I may say, emotional goose bumps. Not many movies in the last 10 odd years have achieved this. You can either make a high-speed thriller or a high emotional value drama. It has moments after moments put in by the writer and director in supreme form. This one has the time and visuals of the 60s and 70s captured with amazing detail. That is what makes 'Once…' a high repeat value classic.
And now let me contradict myself yet again, having watched this movie around a dozen times at least. I'm yet to decide, which one of the two was the high point of the film. The superbly written and executed love story of Sikander Mirza and Rehana or the conflict of the bad guy with a golden heart Sultan or his nemesis Shoaib, who is pure evil and proud of it. Shoaib is bad and has no guilt about it. The most intriguing part therefore of 'Once…' is that in the end; Sultan's goodness becomes the reason of his defeat and death. The film in that sense has an ending where darkness wins.
Yet you only end up remembering its bright high points that are the victory of the director.
This brings me to another, and I am sorry to repeat myself, the film's biggest pièce de résistance is its actors. Ajay Devgan, Emraan Hashmi, Kangana Ranaut have delivered performances in this one, which I doubt if they have bettered since. This is Emraan's biggest negative role. His calculating lover in 'Murder' was good but here Emraan was in supreme form. He brings Shoaib's mad obsession with power to life on screen. Only Emraan could have pulled it off. Kangana, as a headstrong Rehana, who deep down wants a man to take care of her and in my book it is her best effort yet. She got celebrated more for 'Queen' and 'Tanu…' but Rehana remains her most uncelebrated and underrated effort till date; which brings me to the pillar of this movie – Ajay Devgan. In each frame, he outshines and overpowers Shoaib. Shoaib actually looks more negative than he is because of Devgan's Sultan Mirza.
So in case you are one of those Bollywood fans, who probably because of some curse are yet to see the film. Grab a DVD now! This one is a classic which refuses to fade away. In this day and age of movies, where films good are till the popcorn is warm; I can vouch for its evergreen status with this simple fact - I waited for almost three years to write about 'Once Upon a Time In Mumbaai' and when my weekly write-up almost coincided with its release anniversary I knew I had to get it off my chest. Like Sultan's destiny to reach Mumbai from Chennai I was destined to write it only now.
It is high time we give this one its much-deserved evergreen classic status. Else this one might snatch it any which way. Sultan and Shoaib were not beggars if you understand!
Interested in blogging for thehansindia.com? We will be happy to have you on board as a blogger.