TAll claims but no growth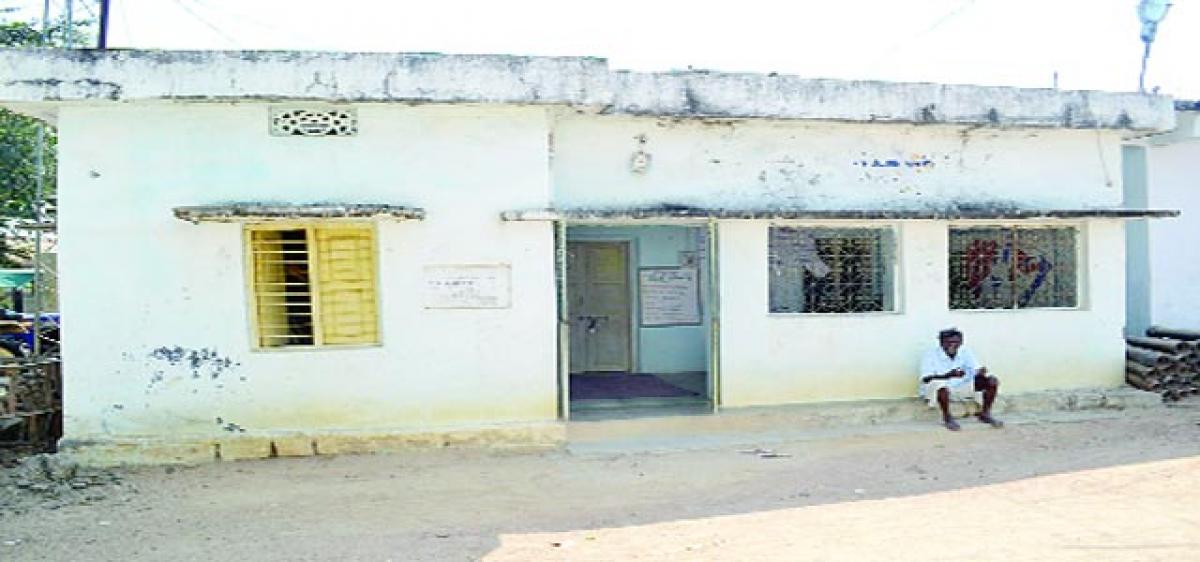 Highlights
Even as the authorities are making tall claims of rapid development and envious welfare programmes being implemented by the State government, the ground reality seems to be quite the opposite.
Medak: Even as the authorities are making tall claims of rapid development and envious welfare programmes being implemented by the State government, the ground reality seems to be quite the opposite. A lot many things have been said and done, but Chityal gram panchayat is yet to see the fruits of all these so-called illustrious schemes and programmes.
After the reorganisation of districts, a temporary Collectorate complex was set up in an educational institution under the limits of Chityal gram panchayat which is located on the periphery of Medak town, the headquarters of the newly-carved Medak district. Whether it is official lethargy or political unwillingness, this village with a population of more than 4,000 is yet to see the fruits of development. Result is migration of farmers to faraway places in search of livelihood which still continues despite good rains last year.
There are four hamlets and three villages under Chityal gram panchayat, making it a major gram panchayat. According to the residents of Pillikottal village under Chityal, before Telangana was formed, there used to be no street lights in the village. Only a year ago roads were built in the village by Panchayat Raj Department spending Rs 42 lakh.
However, except in some places, there is no proper drainage system in the village. Not just in Pillikottal, even in other hamlets situation is no different. The drainage system in Chityal village itself is leaking and remains a proof of how sanitation has taken a backseat in these villages.
When The Hans India tried to contact the Rural Water Supply and Sanitation Department (RWS&S) officials, they said they had no idea about the sanitation condition in the village. When the Panchayat Raj department officials were contacted, they asked us to speak to the Sarpanch and Panchayat Secretary of the village. Panchayat Secretary was not available for comment.
It is time for Mahatma Gandhi National Rural Employment Guarantee Scheme (MGNREGS) works to commence, but works have not started in the village yet. Dalits in Chityala and Pillikkottal complain that since three years they did not get work through NREGS. Nacharam Yellamma (60), resident of Pillikottal, is a widow of Pochaiah who died after prolonged fight with paralysis nine months ago.
She is yet to receive widow pension of Rs 1,000 per month. Even when he was alive, he never got disabled people's pension of Rs 1,500. With four sons fighting for 30 guntas of her property and two of them migrated to Hyderabad for livelihood, she lives in fear of losing her life in the property wars. She belongs to SC - Madiga community.
Unlike some of the women in her village, her daughters-in-law do not go to work in a toddy compound located close to the village because of obvious reasons. Their husbands prefer to stay without food rather than let their wives work in toddy compounds. "It has been 14 years since I got married and came to this village, but only two-three times NREGS works were carried out here," said a young woman on condition of anonymity.
Gatipalli Pochamma, a resident of Chityal, who worked along with other woman to dig pits and plant saplings as part of Haritha Haram Phase-II last June, has not received payment for four days of work in addition to another three weeks of NREGS work just like many other workers in Medak district. Part of the problem lies in staffing of field assistants in NREGS.
Being a geographically large gram panchayat, the hamlets and villages are spread across a vast area. There is only one field assistant to schedule work and carry out works in all these villages. Adding to the misery of the field assistant is long delay in making payments to the workers. There are workers in Janakampally village under Chityal, where people are yet to receive payments for the work they did a year ago.
The villagers feel that there is an urgent need to recruit at least one more field assistant. Lack of financial incentives to seniors from the government is another reason for people not showing interest in assisting field assistants, though there are many eligible people in the village.
According to information obtained from MPDO office, out of 348 works estimated at Rs 1.87 crore in Chityal under NREGS, only 16 works using Rs 84 lakh have been completed in 2016-2017. More than Rs 1 crore worth works need to be completed and there is hardly a month left for the financial year to end.
The number of person days generated for STs is 49 per cent, 47 per cent for BCs and only 2 per cent for SCs under NREGS in Chityal. There are 1,072 job cards and 114 labour groups in Chityal. When The Hans India spoke to P Rambabu, MPDO of Medak, he said people were not showing interest in NREGS works.
"If they request us for work we are ready to give them work. But they don't do that. Currently we have deadlines to complete Individual Household Latrines (IHHLs) by March 31 in Chityal. So there will be NREGS work for IHHLs," he said.
However, even the IHHL work is not being done properly in Chityal. Out of 600 IHHLs to be constructed, 200 were constructed by individuals themselves, for which many of them are yet to receive Rs 12,000 from government. Sarpanch has constructed 210 toilets for people, but the condition of IHHLs constructed has been incomplete.
Either doors are missing, or roof is missing. In some of IHHLs, closets have been either broken or have been stuffed with scrap stuff, rendering them useless. The villagers complain that the people who constructed the latrines had left the work incomplete telling them the work was complete.
"There are no funds to pay the Sarpanch or those who constructed IHHLs by themselves. We are trying to adjust the amount to pay the beneficiaries. The work is still in progress," claims MPDO Rambabu.
By Vivek Bhoomi
Subscribed Failed...
Subscribed Successfully...