9-yr-old kid entrepreneur puts up her first stall at Fashion Yatra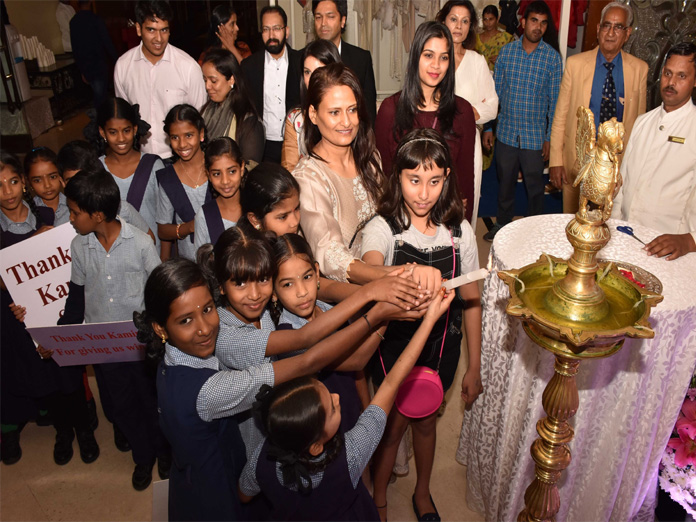 Highlights
A stall by a 9yearold kid entrepreneur, Sneha Jalal was the cynosure of all eyes at the spring edition of Kamini Sarafs Fashion Yatra, a daylong event celebrating fashion and style organised at Taj Krishna which attracted scores of fashionconscious Hyderabadis Sneha, a Vth standard student in her stall showcased Bathswishswish Cred Bombs, an allherbal organic bath bombs made by her
​​Hyderabad: A stall by a 9-year-old kid entrepreneur, Sneha Jalal was the cynosure of all eyes at the spring edition of Kamini Saraf's 'Fashion Yatra', a day-long event celebrating fashion and style organised at Taj Krishna which attracted scores of fashion-conscious Hyderabadis. Sneha, a Vth standard student in her stall showcased 'Bathswishswish Cred Bombs', an all-herbal organic bath bombs made by her.
Handmade, the bath bombs come in different flavours viz., Pink Rose, Saffron, Turmeric, Coffee Bean, Basil, Green Apple, Raspberry. When immersed in the bath tub, the bath bombs fizz and give off soothing smell that helps one relax especially on Sundays, said the energetic young Sneha. They can be even given as gifts on different occasions, she revealed.
The one-day event showcased designer products from 60 designers from across India under a single roof. Semi-precious and precious jewellery, designer sarees, traditional wear, garments, footwear, gems, home furnishings, decorative items, etc. and other lifestyle products on sale attracted the crowds. The proceeds from the show would be contributed to 'Teach for Change' an NGO for the education of school kids in government schools.
Kamini Saraf along with school kids supported by the 'Teach for Change' NGO inaugurated Fashion Yatra by lighting the lamp. Speaking on the sidelines, Kamini said that Fashion Yatra is organised in line with their slogan 'Fashion with a Conscience'. This is the last edition of the event for this financial year.
Fashion Yatra is being held for the last 14 years, it is held three times a year. Ninety percent of the participating designers are ladies. We have given preference to young designers from various cities to showcase their products. The theme that the designers were told was ethical clothing with weaves and sustainable fabrics, Kamini informed. Use of plastic packaging is not allowed in this event, she declared.
Designer Purvi Doshi from Ahmedabad, Gujarat launched a special PETA certified vegan collection viz. 'Sugar Cotton Wool Collection'. 'We work only with handmade, hand-woven fabrics with natural tied colours. The collection launched specially on this occasion is made from Kala cotton and consists of Dresses, Jackets, Pants, Crops, etc.' informed Purvi Doshi.