Bangladesh vulnerable to climate change as coastal residents are getting displaced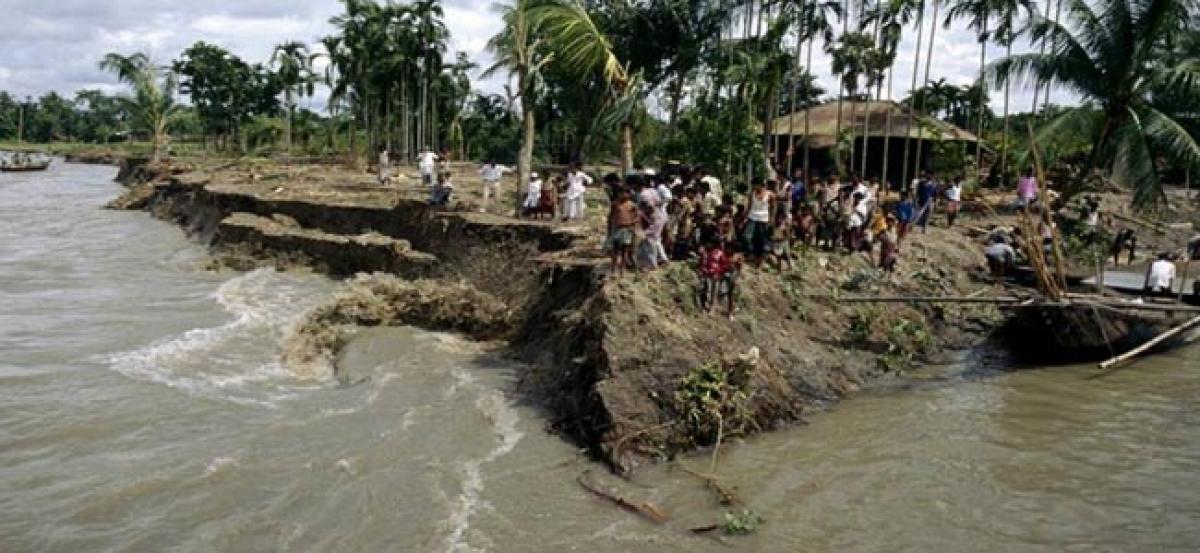 Highlights
Bangladesh is vulnerable to climate change and many people are getting displaced because of it in the coastal areas, says noted economist Qazi Kholiquzzaman Ahmad, who was Bangladesh\'s lead negotiator in the Paris climate conference.

New Delhi: Bangladesh is vulnerable to climate change and many people are getting displaced because of it in the coastal areas, says noted economist Qazi Kholiquzzaman Ahmad, who was Bangladesh's lead negotiator in the Paris climate conference.
In an interview to IANS, Ahmad also said that even though Bangladesh hardly contributed to climate change, this riverine South Asian nation is reeling under the impact of change in rainfall pattern, rise in sea level and resultant salinity in water.
"It is known that Bangladesh has not contributed to the climate change at all. But climate change is posing a massive threat to our country, more than those nations that had a major role in this environmental episode," said Ahmad, who was in New Delhi to attend a Knowledge Forum on Climate Resilient Development in Himalayan and Downstream Regions, organised by Kathmandu-based ICIMOD last week.
He said as a result of green house gas emissions by developed nations, the sea level is rising, there are frequent natural disasters and the permafrost is melting. And the poor countries are bearing the brunt.
Ahmad pointed out that Bangladesh is not required to reduce emission of green house gases. Bangladesh emits only 0.3 tonne per capita per year, compared to 10-20 tonnes in developed countries, about seven tonnes in China, eight tonnes in South Africa, and about two tonnes in India. Bangladesh's per capita annual emission constitutes only about one-sixth of the average in developing countries, Ahmad said.
He said salinity in water due to rise in the sea level has affected millions in Bangladesh -- agriculture and availability of potable water have been hit hard because of it.
"Rainfall pattern has changed in the last few years and it is a matter of concern. Farmers do not get water when they need it the most, but then at other times they are affected by flooding," Ahmad said.
It used to happen earlier, but now this has become frequent due to climate change, he added.
Referring to displaced people, Ahmad said: "We call them climate migrants. It's a reality that climate change and displacement of the people in Bangladesh are simultaneous and it is a matter of grave concern." No wonder then that Bangladesh has been identified as one of the most vulnerable countries by the Intergovernmental Panel on Climate Change (IPCC), he said. Severe climatic events have had their impact on the Gross Domestic Product (GDP) of the country as well. Bangladesh loses about one to two per cent of its GDP every year due to such events, Ahmad said.
So how serious is Bangladesh to counter the effect of climate change?
"There is a strong political will in Bangladesh to combat climate change. In the last six years, Bangladesh has invested billions from its national budget to implement actions, largely adaptation projects but also mitigation projects," Ahmad asserted, adding that Bangladesh must focus mainly on adaptation to climate change impacts.
Referring to Bangladesh's involvement in the international negotiations on climate change, Ahmad said the concerns of his country were voiced during the Paris talks in 2015.
"Our negotiation team for the climate change talks is very strong. In the Paris agreement our concerns were reflected quite well. But it remains to be seen how things get implemented," Ahmad said, adding that support from international organisations is essential to negate the impact of climate change.
"Bangladesh needs finances and transfer of technologies to reduce the impact of climate change," he said. "Unless we can adapt well, there will be problems in food production and poverty will increase," Ahmad added.
Ahmad, who is the chairman of Palli Karma Sahayak Foundation -- the largest agency in Bangladesh for rural development funding, skill development and management -- said the country's economy has been performing well in the last 10 years despite the adversities.
"Our economic growth rate is more than six per cent annually despite global downturn," he said.
"This year the GDP was at seven percent. There is a plan to notch it up to 7.2 percent next year. Our per capita income is 1,466 dollars. It was 600 dollars a decade back," Ahmad said.
According to Ahmad, the health sector in Bangladesh is better than what it used to be. "We have done very well in social sector, health services, education and skill development, and poverty alleviation. In fact, we have done better in some of the social aspects compared to other South Asian countries," Ahmad stressed.
"Our main concern is to increase human capacity and skill development. For this, the investments have to be increased," he said.
On Palli Karma Sahayak Foundation (PKSF), Ahmad said that the credit offered by the organisation is called 'Appropriate Credit', rather than 'micro credit'. "And that's because we also impart skill training to the people in rural areas, equip them with necessary technologies and assist them to market their products," he informed.
He said PKSF has now reached 10 million households, covering the poorer lot besides others. When asked about the fundamentalists in Bangladesh, Ahmad said these people are fanatics who are targeting people across the religious spectrum.
There is a pattern in trying to destabilise Bangladesh, he said. "However, the number of these fanatics is not large and the government is serious about dealing with these people," Ahmad assured.