Restaurant Review: World Art Dining Punjabi Bagh New Delhi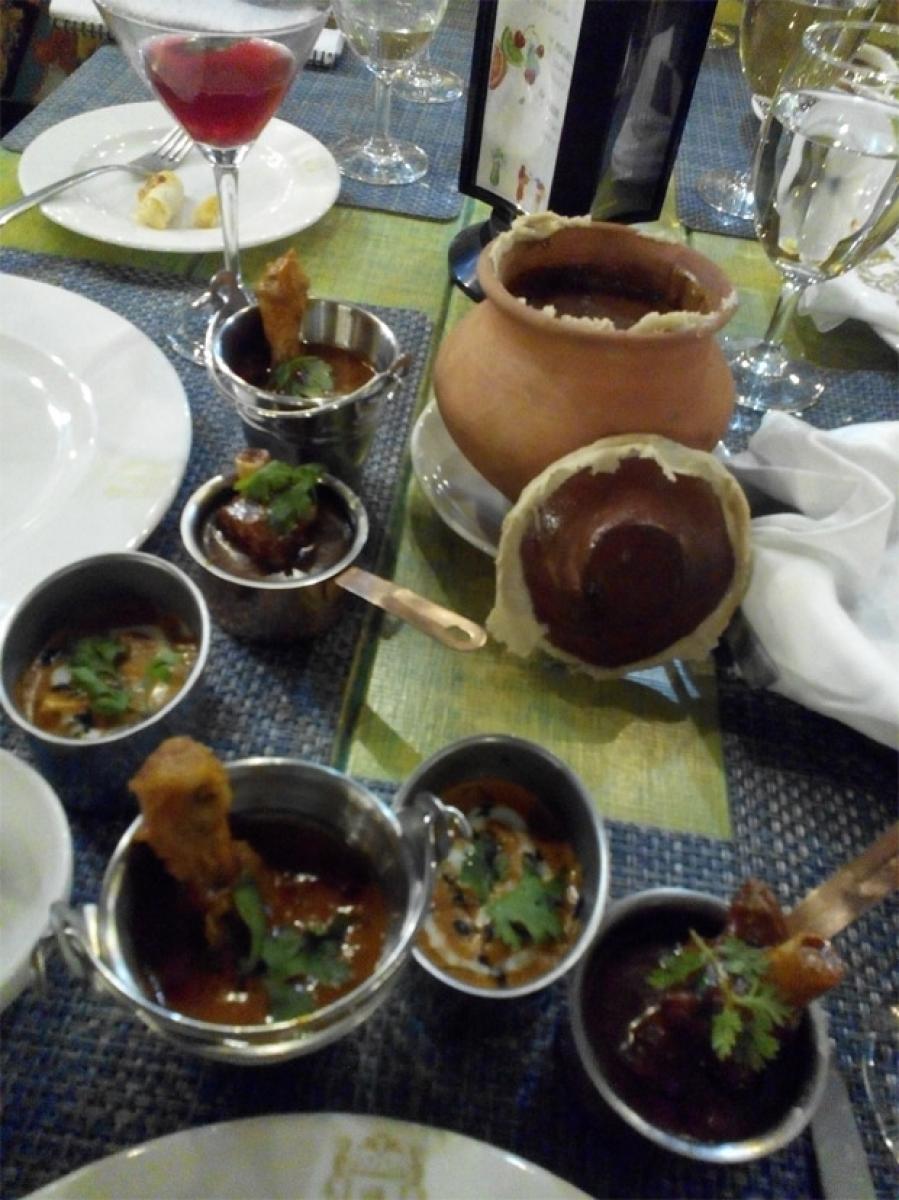 Highlights
Good news for West Delhiites -- you no longer have to bear the brunt of endless, annoying traffic jams to reach a South Delhi restaurant for a...
Good news for West Delhiites -- you no longer have to bear the brunt of endless, annoying traffic jams to reach a South Delhi restaurant for a scrumptious meal. World Art Dining in Punjabi Bagh brings you a food experience within your comfort zone.
This 4,500 sq. metre, four-storey property is divided into two banquet halls (first and second floors), bar and lounge (third floor); and a fine dining restaurant (fourth floor). There are three open kitchens -- Indian, Italian and Asian -- through which people can peep into how their dish is made and can also interact with the cooks.
The interiors of the restaurant are quirky and colourful. It serves buffet from Friday to Sunday and a la carte on the other days.
The lounge holds live events every weekend.
"Our aim is to serve people the food they would travel hours for due to its unavailability in this part of the capital," General Manager and Director-Dining Experience Sanjay Chowdhury told IANS.
According to Chowdhury, the word 'art' in the name promises creativity.
"The food that we present is an art by itself. We strive to give people an unforgettable and a lasting experience for which they will come here again," he added.
To start off, we were served two cocktails: Mudslide, a blend of vodka, Kahlua and Bailey's Irish Cream. Served in a martini glass, this drink looks like a very innocent chocolate-based cocktail but the vodka content made the drink not so innocent. The Two Hearts in One was a mix of Bailey's Irish Cream, vodka, sambuca (anise-flavoured liqueur) and chocolate. All chocolate lovers should definitely try this drink.
We were served four Indian appetisers: machhi Amritsari, a melt-in-the-mouth piece of fish in an amalgamation of spices; murgh Awadhi tikka that was juicy and soft, with flavours and spices well balanced; firdausi dahi kabab that was a little heavy due to the generous amount of filling but tasty nevertheless; and the Nizami shami kabab, a little run-of-the-mill but again very flavourful.
The next two appetizers were definitely something that I would personally come back here for. The crystal prawn dumplings with specially crafted tomato caviar and chicken dumplings with crispy lamb and balsamic vinegar caviar. The fillings in both the dumplings were very generous. The crispy lamb was fried to a golden brown perfection. The caviar pearls were created using liquid nitrogen.
The next were the salmon and vegetarian sushi rolls which could easily be a miss.
The vegetarian pizza which we were served was definitely one of the best I've tasted. Every crunchy bite was the perfect melange of sweet and savoury.
Next was the much awaited entree that included a dish that Chowdhury claimed was the USP of World Art Dining. The dishes comprised balti murgh (chicken) raan, Kashmiri rogan josh, kasoori paneer and the most raved dal-e-frontier, served with naan.
Simmered for over 18 hours and presented in a sealed earthern pot, the dal was excellent. It wasn't heavy and was full of flavours. The other three dishes were also great. The meats just fell off the bone and the paneer was delicious.
For dessert, we were served rasmalai, brownie with ice cream and kulfi falooda. Of the three, the rasmalai and the kulfi falooda were the best.
World Art Dining is a diverse experience. For people in the area, it is definitely a breath of fresh air.
FAQs:
Where: 1, North West Avenue, Club Road, Punjabi Bagh, New Delhi
Meal for two: Rs.2,000 (with alcohol)
Timings: 12 p.m.-12 a.m.

Subscribed Failed...
Subscribed Successfully...