Hilton Chennai hosts Tiffins of India festival to celebrate lunch box food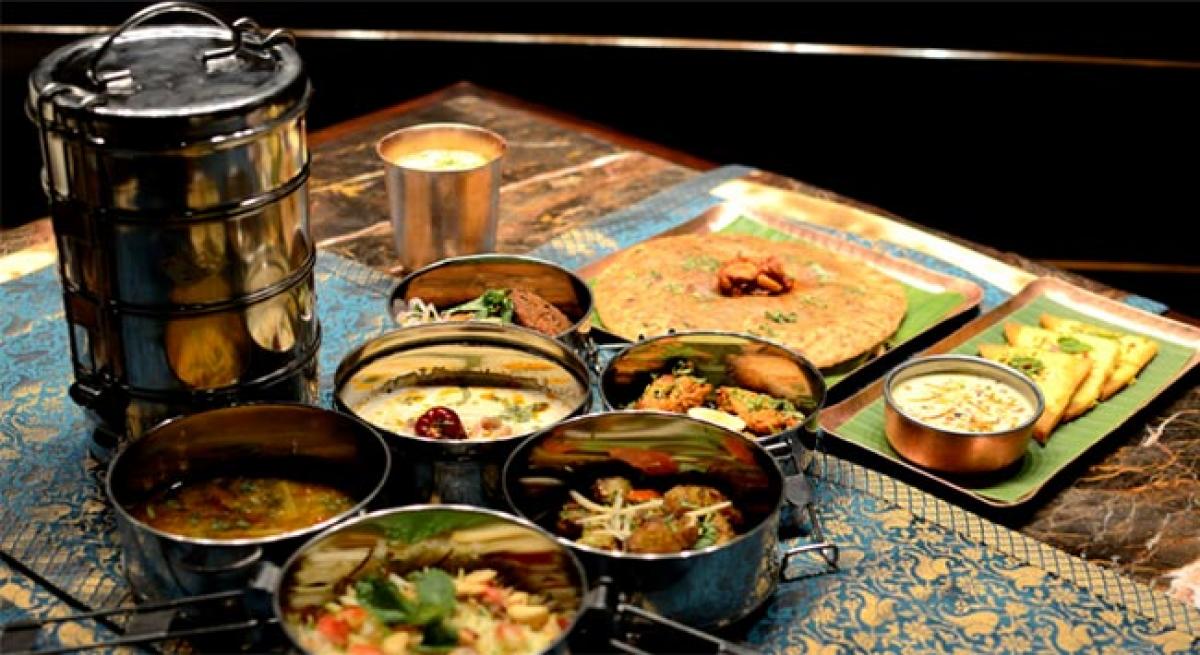 Highlights
Want to turn nostalgic about tasty home-cooked lunch out of the round-shaped stacked and coupled stainless steel containers? Then it is time to visit...
Chennai: Want to turn nostalgic about tasty home-cooked lunch out of the round-shaped stacked and coupled stainless steel containers? Then it is time to visit the Ayna restaurant at the Hilton Chennai.
"Having food in the afternoon out of lunch boxes seems to be an age-old practice in India. Though traditionally the lunch boxes were round in shape, now they come in several shapes and sizes. But what goes inside the box has not changed - home-cooked food," Achal Aggarwal, Executive Chef at Hilton Chennai, told IANS.
While sipping a pina colada, the "Tiffins of India" menu came to the table but did not list out the dishes and their prices. Instead, each page has a different story -- some are moving -- centred on the food and weaving in the names of the dishes that a guest can relish.
"The stories will kindle the memories of our guests, a reliving of their yester days and sharing them with others. There will be lively discussions over the table," Aggarwal said.
As to the absence of starters in the menu, Aggarwal said: "In real home-packed lunch boxes there won't be starters.
At this point of time, the ringing of a bicycle bell was startling. More surprising was a person dressed like a Mumbai dabbawala pushing it towards our table with several coloured bags containing the lunch boxes hanging from the handle bar.
"We wanted to give our guests an entirely different dining experience. Hence we give a touch of Mumbai's dabbawala," Aggarwal remarked.
The dabbawala started to serve from the lunch box aromatic saffron rice, mutton keema, adraki gobi and palak ka raita on the plate.
The wafting aroma of saffron-mixed basmati rice was great to inhale and the mutton keema was an ideal match for that. The adraki gobi also was tasty.
"The food served in the lunch box is not from our regular menu card. We offer eight non-veg and four veg choices," Aggarwal said.
By this time small portions of chicken chettinad, lemon rice, aloo podimas, cucumber raita and malabar parantha arrived at the table.
As in all home-cooked food, the masala in the food was not heavy.
"For all our dishes, the masala is prepared using the needed ingredients. The only difference is that the quantity used is less, as in our homes," chef de cusine Pauljoe told IANS.
Meanwhile small portions of mutton korma, khuska pulav, bhuna ghost, tawa parantha and basmati rice arrived on the table -- truly, the chef excelled.
While the lamb curry in Andhra style was tasty, there are other options for non-vegetarians as well: chicken stew with puri, steamed rice, chicken dhansak, berry pulav or the Mangalorean chicken curry, ghee chapathy and the like.
For vegetarians, govind gatta curry, Jaipuri bhindi and missi roti is a good combination.
But what one should not miss out is the oondhiyoo -- a Gujarathi dish that has wonderful mixed flavours on offer with other Gujarathi dishes -- but which also goes well with saffron or chole biriyani or puri.
Aggarwal said that guests can mix and match the dishes mentioned in the menu.
"We have not included any seafood dish in the lunch menu. At homes, mothers do not pack seafood for lunch as it will get spoilt by the time it is consumed," added Director of Operations Ruban Das.
For the sweet tooth, the crunchy apple halwa, delicious bebinca and others are there to be indulged in.
FAQS
What: Tiffins of India
Where: Hilton Chennai at J.N.Salai, Guindy
When : 21st July to 4th August
Timings: Lunch 12 noon to 3 p.m.; Dinner 6.30 p.m. to 11 p.m.
Price : Non-Vegetarian Rs.1,699; Vegetarian Rs. 1,499
Subscribed Failed...
Subscribed Successfully...