Biased Corporators, partial development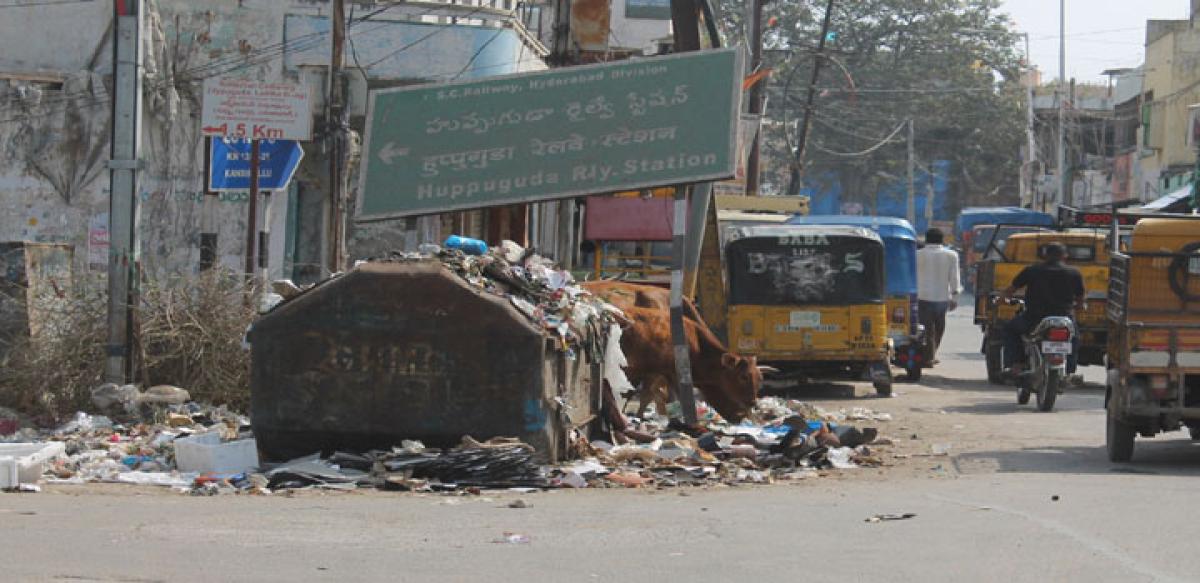 Highlights
With lack of proper coordination between residents and public representatives in Yakutpura Constituency, civic issues have been left unattended in the divisions from a long time.
Residents inform that the ex-Corporators of their areas have shown partiality in providing civic benefits; Corporators develop colonies nearby their residents and ignore the common man
Constituency: Yakutpura
Voters' profile:The constituency has the nearly 2.51 lakh voters in its six divisions viz. Rein Bazar with 38,561 voters, Talabchanchalam with 41,079 voters, Gowlipura with 48,726 voters, Kurumgada with 48,966 voters, Indira Seva (IS) Sadan with 54,293 voters and Santosh Nagar with 44,136 voters
With lack of proper coordination between residents and public representatives in Yakutpura Constituency, civic issues have been left unattended in the divisions from a long time.
Majority of the residents blame the ex-Corporators of their areas saying that they had shown partiality in providing civic benefits. Residents inform that the Corporators developed only the colonies in their nearby areas.
Yakutpura Constituency covers a major part of the Old City and has many historical sites in Hyderabad. In addition, the constituency has over thousand registered slums in the city.
Community hall ignored
Residents of Santosh Nagar are aggrieved over the services of public representatives who never show interest to address their request for the Community Hall.
The General Secretary of Santosh Nagar, Arjun said that they are struggling for the construction of community hall since 1990.
He said that the colony members have approached all the public representatives of the divisions, MLAs and MP but, no one has ever reacted positively. "Due to partial antidote of the Corporators many of our grievances were unattended," he said.
The colony residents mutually said they face humiliation when they approach the public representatives for submitting petitions.
Apart from the community hall the residents have also complained that their request on establishment of library and primary health centre were unattended.
Darkness all around
Streetlights across the constituency were found in a pitiable condition. Civic experts in the constituency inform that only 70 per cent of the streetlights are functioning.
A businessman and local form Kurmaguda, Ramesh said that streetlights were setup last year but, due to poor maintenance services of civic authorities the problem has been not solved. In fact, streetlights in Talabchanchalam are found to be in worse condition.
When contacted, the Santosh Nagar ex-Corporator said that since there is no public representative in the constituency, many of the things got disturbed. He said that he had taken good care of the streetlights during his course of time.
Sanitation related complaints
The complaints over irregular lifting of garbage, sewage overflowing, water pipeline leakage, poor maintenance of public toilets and nalas are found in large numbers in the constituency.
The Resident Welfare Associations (RWAs) and civic workers form Kurmaguda, IS Sadan, Santosh Nagar and Rein Bazar said that they filed complaints with Corporators on the issues but, no timely action has ever been taken.
The locals inform that due to poor service of metropolitan water works, many of their drinking water leakage complaints are still unattended. A civic worker, Chandrika from Santosh Nagar said that they have seen people drawing water from the drinking water pipelines illegally.
Free civic public toilets in Rein Bazar, Gowlipura and Yakutpura are in a horrific condition and open urination is a frequent site.
Ex-Corporator from Talabchanchalam, Md Wajid Ali Khan said that the hygiene related complaints were always challenging to him. He said that he had initiated many proposals to maintain good hygienic environment but, has failed due to lack of coordination between the Corporation and public.
No place for police
The sub control room for police in Kurmaguda is left unattended by the police from a long time. A resident near the sub control room, Md Chand said that since there is no one to check on the control room, the place is being used for "wrong activities" during the night.
When contacted the local police officials, they are found clueless on the matter, however, they assured to fix the issue, soon.
Miscellaneous complaints
Apart from the major grievances, the locals complaint over ill-maintained roads, footpaths, parks, graveyards, public library, schools and hospitals. Many of the slum colonies in Talabchanchalam and Gowlipura are found with no roads.
The complaints over misuse of funds in constructing water harvesting pits are also found in Talabchanchalam division. When contacted, the ex-Corporators of Gowlipura, Kurmaguda and IS Sadan refused to speak saying they are not working anymore.
Ex-Corporators from Talabchanchalam and Santhosh Nagar responded on the issues saying that they have done "many" development activities and provided their full services.