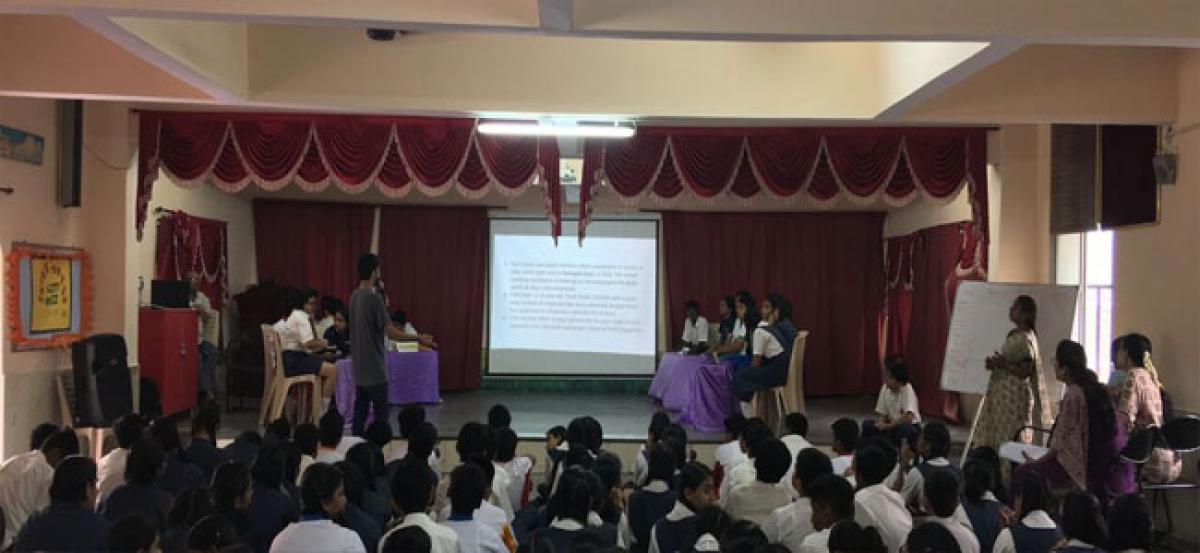 Highlights
Quizzing fascinates every student who has a thirst for knowledge Last week, Gitanjali Devshalas exstudent Sukrut, now a wellknown quiz master visited us Sukrut talked about the kinds of quizzes that are popular He also mentioned about the hard work and preparation that the quiz masters need to put in to organise a successful quiz competition
Hyderabad: Quizzing fascinates every student who has a thirst for knowledge. Last week, Gitanjali Devshala's ex-student Sukrut, now a well-known quiz master visited us. Sukrut talked about the kinds of quizzes that are popular. He also mentioned about the hard work and preparation that the quiz masters need to put in to organise a successful quiz competition.
The quiz master put up some sample questions to the gathering so that we get oriented for the actual competition for the four houses. The students enjoyed getting worked-up by those tricky questions. All the teams tried their best to answer the questions which were intriguing and exciting and made the audience go 'Aah!' and clap when the teams answered correctly. Every round was a mixed bag with questions from history, sports, books, general knowledge, current affairs and science.
When none of the teams could answer, the audience was give the chance. This was a very good exposure for all the students as they experienced the flavour of professional quizzing. This was very beneficial for the students and encouraged them to participate in various quiz rounds.
BY Tejaswini Uma Sudhir
Subscribed Failed...
Subscribed Successfully...