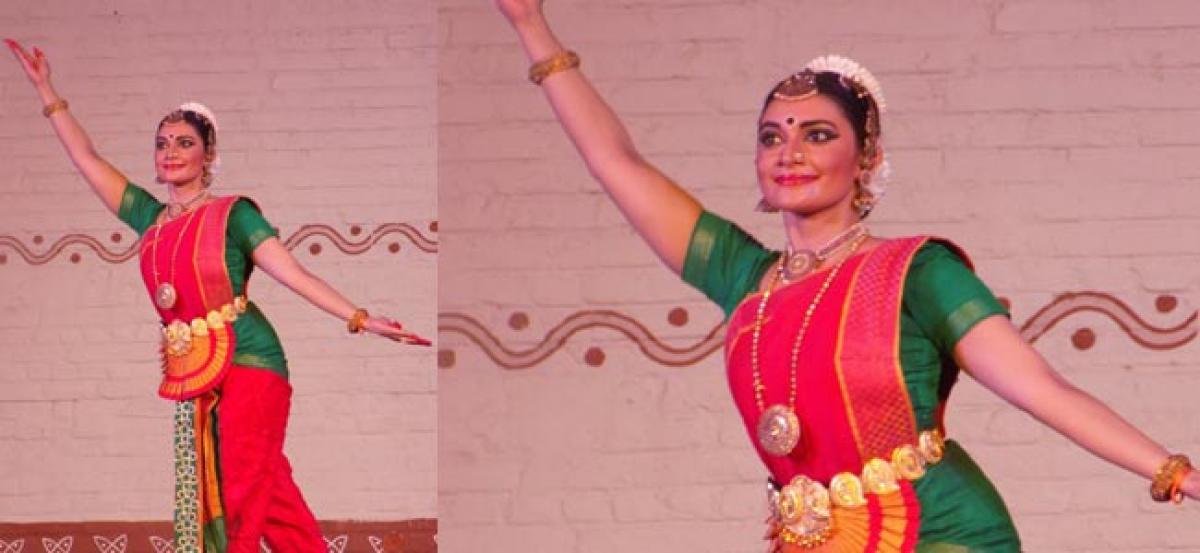 Highlights
The Alarippu was titled -'Vikaasita-'; this depicted the unfolding of the bud into a blossom with stamens and pistil located in the flower-'s centre....
'Manjari - Mystique Fragrances' was the title of a Bharatanatyam recital by Divya Ravi, a student of Guru Soundarya Srivathsa on Sunday at Shilparamam. Naatyasamgraha organised this performance, which had the novel theme of all the items having a flower as the subject. The mythological, spiritual and philosophical significance of several flowers was brought out.
The Alarippu was titled "Vikaasita"; this depicted the unfolding of the bud into a blossom with stamens and pistil located in the flower's centre. The protective sepals and the opening petals in the various directions were beautifully portrayed. "Padma" was in Ragamalika.
The lotus is a trans-culturally revered sacred flower. Kissed by the radiant beams of the morning sun it blooms in splendour. Growing in mud and murky water yet it is blemish free. The lotus is beloved by the gods as both Brahma and Saraswathi are seated on it.
Karthikeya was born in it and Lakshmi is described as lotus eyed. It symbolises the tranquil soul's supremacy. The Javali "Parijatha" describes the desire of Satyabhama to posses the Parijatha flower brought by Krishna, which in fact was informed by the sage Narada to her. Divya exquisitely depicted the emotions of Satyabhama with her flawless Abhinaya.
Satyabhama says she never desired the other flowers like Atasi, Kadamba, etc. Associated with the god who also wears the Vijayanthi garland but grieves that the one Parijatha she wanted was given to Rukmini, not herself!"Ketaki" was a Padam in Saramati and Kalyanavasantam ragas.
The story was about a flower cursed by Shiva for bearing false witness. When Shiva and Vishnu were trying to gain supremacy by discovering the extent of Mahadeva in Jyotirlinga form, Brahma flying upward as a swan, Vishnu going deep as a boar, the Ketaki flower supported the lie of Brahma, who said that he had succeeded.
Concluding item was "Lathangi" aptly in Lathangi Raga, an abstract piece epitomising the beauty of flowers. Flowers are used in prayer and we too can be their reflections as a part of mundane life or spreading joy and love to those around us.
This was the message conveyed. In a brief conversation with the artiste after the programme, several senior artistes appreciated the research and deep thought put into this unusual margam, which was like "a garland of flowers ". Indeed so consummate was Divya's artistry that the fragrance of the flowers was almost felt by the audience!
By Anna Rao
Subscribed Failed...
Subscribed Successfully...