Dattagiri seer demands Katti Mahesh's arrest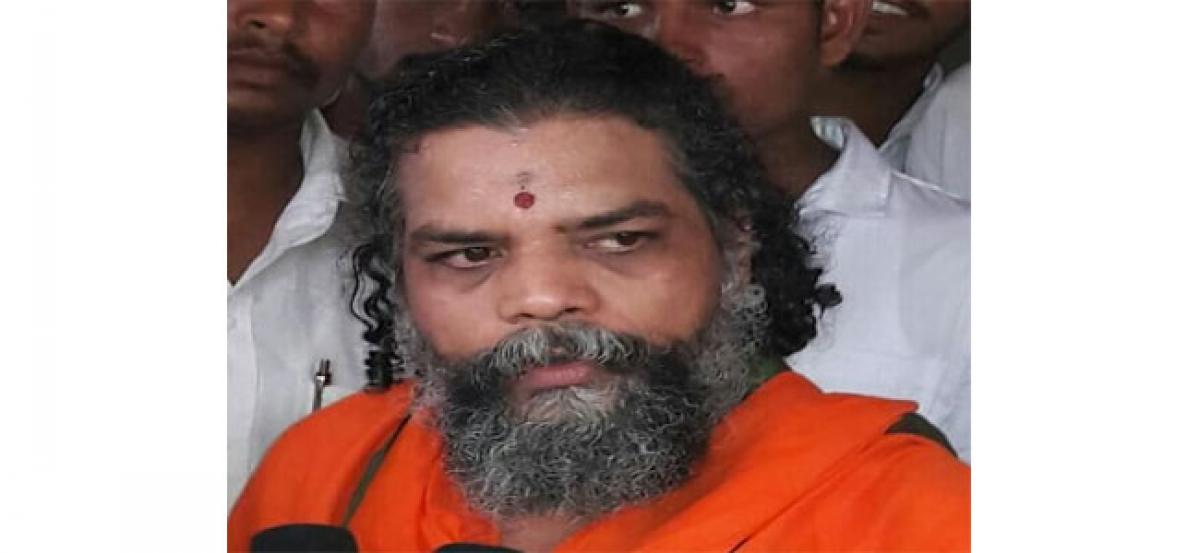 Highlights
Sri Dattagiri Maharaj Ashram seer Dr Siddheswar Swami on Monday termed confining Swami Paripurnananda to house arrest improper and demanded the Swamys unconditional release
ADVERTISEMENT
Birdipur: Sri Dattagiri Maharaj Ashram seer Dr Siddheswar Swami on Monday termed confining Swami Paripurnananda to house arrest improper and demanded the Swamy's unconditional release.
Speaking to The Hans India following Swamy's arrest, Siddheswar sought immediate arrest of Katti Mahesh for his mistake of hurting the sentiments of Hindus by rebuking the Lord Sriram and Goddess Sita. Prohibiting him from entering Hyderabad city would not do, he said demanding Katti Mahesh's arrest.
Interested in blogging for thehansindia.com? We will be happy to have you on board as a blogger.
Write for HANS
.myButton { box-shadow:inset 0px 1px 0px 0px #bbdaf7; background:linear-gradient(to bottom, #79bbff 5%, #378de5 100%); background-color:#79bbff; border-radius:6px; border:1px solid #84bbf3; display:inline-block; cursor:pointer; color:#ffffff; font-family:Arial; font-size:15px; font-weight:bold; padding:10px 21px; text-decoration:none; text-shadow:0px 1px 0px #528ecc; } .myButton:hover { background:linear-gradient(to bottom, #378de5 5%, #79bbff 100%); background-color:#378de5; } .myButton:active { position:relative; top:1px; }