Due to heavy rainfall Deepthi Sree Nagar hit hard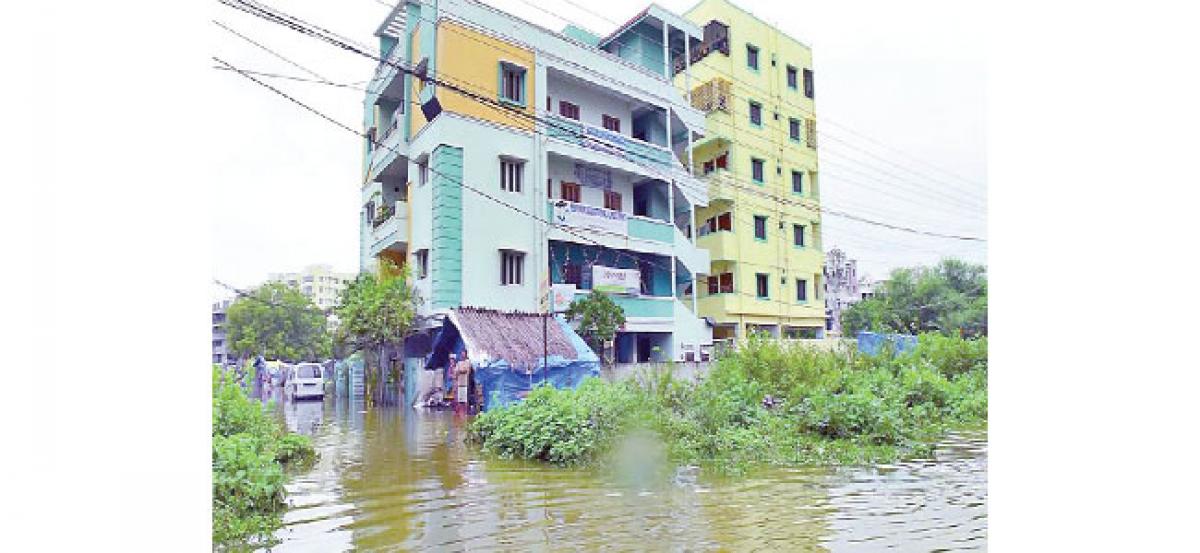 Highlights
Heavy rains that lashed the city night caused a nightmare for the people living in lowlying areas Many localities, roads and thoroughfares were inundated and turned into mini lakes due to rain water Vehicular traffic was affected at several places Deepthi Sree Nagar in Serilingampally area was inundated
ADVERTISEMENT
Serilingampally: Heavy rains that lashed the city night caused a nightmare for the people living in low-lying areas. Many localities, roads and thoroughfares were inundated and turned into mini lakes due to rain water. Vehicular traffic was affected at several places. Deepthi Sree Nagar in Serilingampally area was inundated. The reason for the area to flood with water is due to the encroachment of nalas and the potholes. Though there are many complaints regarding the issue, no officials have taken up the issue to resolve.
Over 15 years, residents of Deepthi Sree Nagar have been facing inundation due to the encroachment. The residents are facing more problems but the officials are not turning up to solve the problem. Especially the school children, employees and the commutes are facing the problem to use this way to travel.
The officials said, "A few builders constructed multi-storied apartments and reduced the nala's width to 6 feet. In Serilingampally constituency, from Deepthi Sree Nagar to Chandanagar, it has been identified that 12 buildings have been built on nalas. There are some changes done in the area and the team is looking into the problem". Srikanth Rao a resident of Serilingampally said, "Deepthi Sree Nagar in Serilingampally is inundated. The residents are fed up of the problem and trying to vacate their houses from the area".